SBU Online students do need to provide a VA Certificate of Eligibility and a DD214 for potential qualifications. Final award status will be discussed on a per student basis upon review.
Post-9/11 GI Bill (Chapter 33)
An educational benefit program exists for veterans who served active duty on or after Sept. 10, 2001.
Chapters 30, 31, 32, & 34
Provide up to 36 months of education benefits to eligible veterans.
Benefits paid 10 years after release from active duty.
Survivors' and Dependents' Educational Assistance Program (DEA) (Chapter 35)
Eligible dependents of veterans who are permanently and totally disabled due to a service-related condition or who died while on active duty as a result of a service-related condition may receive up to 45 months of education benefits.
Montgomery GI Bill — Selected Reserve (MGIB-SR) (Chapter 1606 of 1607)
If you are a member of the Selected Reserve, you may be eligible. The Selected Reserve includes the Army Reserve, Navy Reserve, Air Force Reserve, Marine Corps Reserve and Coast Guard Reserve, and the Army National Guard and the Air National Guard. The Selected Reserve components determine eligibility. Eligible participants may receive 36 months of education benefits; entitlement ends 14 years from date of eligibility of the program or the day the participant leaves the Selected Reserve.
Yellow Ribbon Program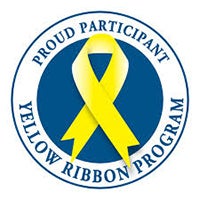 St. Bonaventure is a Yellow Ribbon program school. This means we work to help veterans or their children attend SBU free through GI Education Enhancement Programs. The Department of Veteran's Affairs and the private college split the difference between the GI tuition benefit and private university tuition cost. In order to be eligible, the veteran must have served at least 36 months of duty since September 11, 2001 and have been honorably discharged. The Yellow Ribbon Program is also available to disabled veterans who were honorably discharged from active duty due to a service-related disability after having served at least 90 continuous days after September 11, 2001.