Successful Leadership Secrets Shared at the Southern Tier Leadership Summit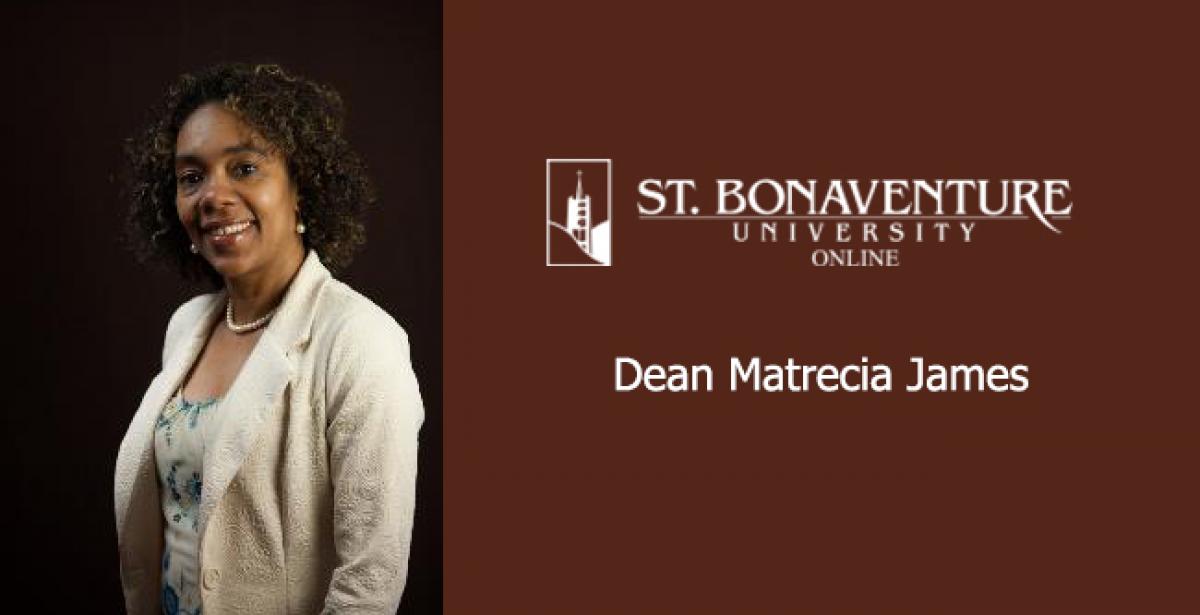 St. Bonaventure University's School of Business Dean will discuss trust as a vital factor of leadership as the keynote speaker at the upcoming Southern Tier Leadership Summit.
Dean Matrecia S. Long James, Ph.D.'s keynote speech "The Trust Factor: A Critical Component of Effective Leadership" will open the one-day event.
Her speech will look at the impact of authentic leadership and how trust is a critical component that helps boosts job involvement and encourages positive citizenship.
Dr. James will also discuss how trust can influence long-term commitment to leaders and organizations by examining how it is built through human interactions, relationships, and influence.
She will draw on her research as part of the Multi-level Sustainable Leadership Consulting program, which has focused on social influence, spirituality in the workplace and leadership as well as the effect of cynicism in organizations.
A leadership expert, Dr. James has been a part of a number of different seminars and has brought together several leadership development workshops and certificate programs including the Leadership Matters program, which was developed with Jacksonville University-Davis College of Business and the Jacksonville Chamber of Commerce-Jacksonville Women's Business Center.
She has been a voice for leadership research and development on an international scale, having worked with the Academy of Management, American Psychology Association, Society for Industrial and Organizational Psychology, Society of Consulting Psychology and the Southern Management Association in the United States, Canada, Germany, and Taiwan.
Dr. James has a Bachelor of Science degree in business administration and a Master's degree in business education. She has been published in numerous journals and is the former associate dean and director of graduate programs at the Davis College of Business at Jacksonville University.
She joined St. Bonaventure University in July of 2016 and at the time she expressed her desire to ensure the School of Business maintains its reputation as an outstanding school.
"I look forward to working in partnership with the corporate community to raise the profile of the school and create an enduring reputation of responsive excellence in both the community and business environments," James said.
"The School of Business has a history of academic distinction and community involvement. I plan to honor and strengthen this legacy."
The Summit has been seen as an opportunity for learning and networking with the top professionals in the region. A total of 13 presenters will cover a variety of topics including mentoring, success in turbulent times as well as social media.
There will be three breakout sessions at the fifth annual event as well as a continental breakfast and lunch. To register or for more information visit the summit website: https://leadershipcattaraugus.org
It will be held on August 3 at St. Bonaventure University. The event is sponsored by Leadership Cattaraugus and Leadership Allegany.
Leadership Cattaraugus was launched in 2004 as an organization to identify future leaders. It was a combined effort of the Great Olean Area Chamber of Commerce, Jamestown Community College, the ReHabilitation Center, and St. Bonaventure University. They have designed a 10-month program that trains about 25 new leaders in Cattaraugus County each year.
As a sign of its commitment to building business and community leaders, SBU has recently designed an online Master of Business Administration program. The University has developed a high-level reputation as a leader as it is among the five per cent of business schools accredited by the Association to Advance Collegiate Schools of Business.