Q&A with Counseling Programs Director Chris Siuta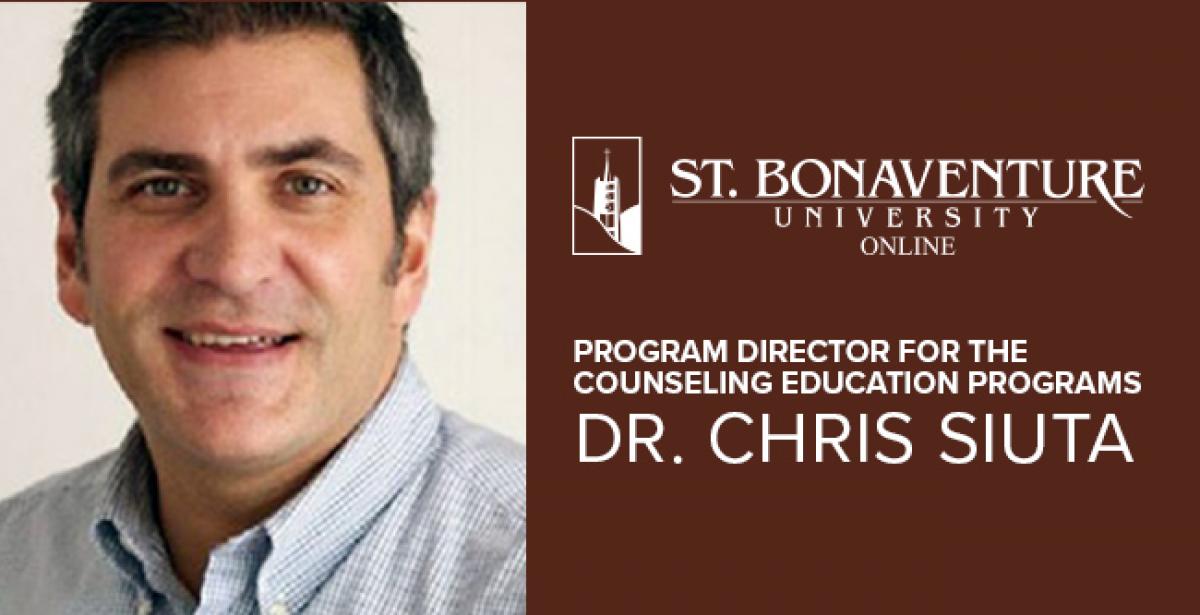 Find out more about our Education Counseling programs by hearing from Counseling Programs Director Chris Siuta.
Q: How did you become interested in your chosen discipline, whether as an educator or as a practitioner?
A: I had a passion for psychology at an early age. While enrolled in my psychology undergrad program, I took a position as a child care worker at a residential treatment facility for emotionally disturbed children and teenagers. I knew that a human services career was best for me, my personality and style, based on the work I had been doing. I continued into a master's program in counseling, then a Ph.D. in psychology.
During those years, I did my best to learn and experience every nuance of the counseling world, delving into the school and mental health counseling communities. I was a school counselor and mental health counselor during those years, which would lend itself to my faculty position at SBU, where I teach both disciplines to graduate students.
Q: Why did you decide to get into teaching?
A: I was mid-program for my Ph.D. and had been supervising graduate students clinically. A few students over several years had told me that I would be an asset in the academic world, highlighting the clinical work that I had done for over 10 years in practice. I began inquiring and quickly became an adjunct instructor at three institutions. During this time, I enjoyed sharing my experiences with students and learning about how best to teach them appropriate strategies and techniques for the counseling world. I had many mentors over the years guide me, and I felt that teaching was a way for me to give back as a mentor as well.
Q: Every educator has a "teaching moment" or highlight. Can you share one of yours with us?
Although very difficult to share just one moment, there was one that stood out to me from many years ago. I was teaching mental imagery and visualization to a group of students in mental health counseling. There is usually an overview and a demonstrated experiential activity by myself in front of the students. Before students practice the technique on their own, I will ask them for feedback about what was just learned. There was a pause in the room. After about 10 seconds, I asked if the technique made sense and if all was OK. One student finally raised her hand and said, "That was the most incredible activity I had ever been through in class, undergrad or grad." After that student's remark, the rest of the class had the same feedback. This told me that I was on track and tapping into what students truly want to learn and experience in the classroom.
Q: What do you like about teaching online and/or working with online students?
A: The flexibility of working within a framework of a "flipped classroom" is exciting. There are so many possibilities to bring the content of counseling to life within an online world. The greatest aspect is that we have known that there are non-traditional students across our country trying to be a part of this growing field and now we have the ability to bring them into it.
Q: What's a common mistake you see online students make and how can they address it?
In many ways, I think students do not understand the workload for an online program. You truly have to be diligent, structured and organized to complete a program online. There is an element that you must be a self-starter, because you do not have the motivator of an on-ground classroom setting. Many students believe an online program will be an easier alternative to a traditional classroom setting, but this is not the case because the intensity of the program delivery is much different in an online program.
Q: What's a favorite job you've had in the past and why?
A: I probably am in the perfect career scenario right now. I am a program director, teach courses and continue to practice in the counseling community privately. It is the best of both worlds, where I get to teach students and practice as a mental health professional. The practice keeps me current and always is brought back to the classroom, where I teach to what I am experiencing within the real world week to week.
Q: What is an interesting thing about you that most people don't know?
A: My specialty area is sport and exercise psychology. I work with professional athletes and teams on a regular basis. Right on the SBU campus, I am proud to be working with the Division I athletes and teams, in helping them succeed within the Atlantic 10 conference. I always call this work "counseling with a twist," where I am helping them traditionally in counseling, but focused on performance enhancement and the mental skills needed to succeed in their sport.
About Dr. Siuta
Dr. Chris Siuta is an Associate Professor and the Program Director for the Counselor Education department at St. Bonaventure University. He achieved a Ph.D. in Psychology from Capella University, and an MSED in Counselor Education at St. Bonaventure University. An experienced educator and practitioner, Chris has a private psychotherapy practice, SportsMind Counseling. He has also served as the mental development coach to the Buffalo Bandits professional lacrosse team, consulted with the Buffalo Bills, Buffalo Sabres, and sports teams at SBU in the area of sport psychology.