SBU Dedicates New Cybersecurity Research Center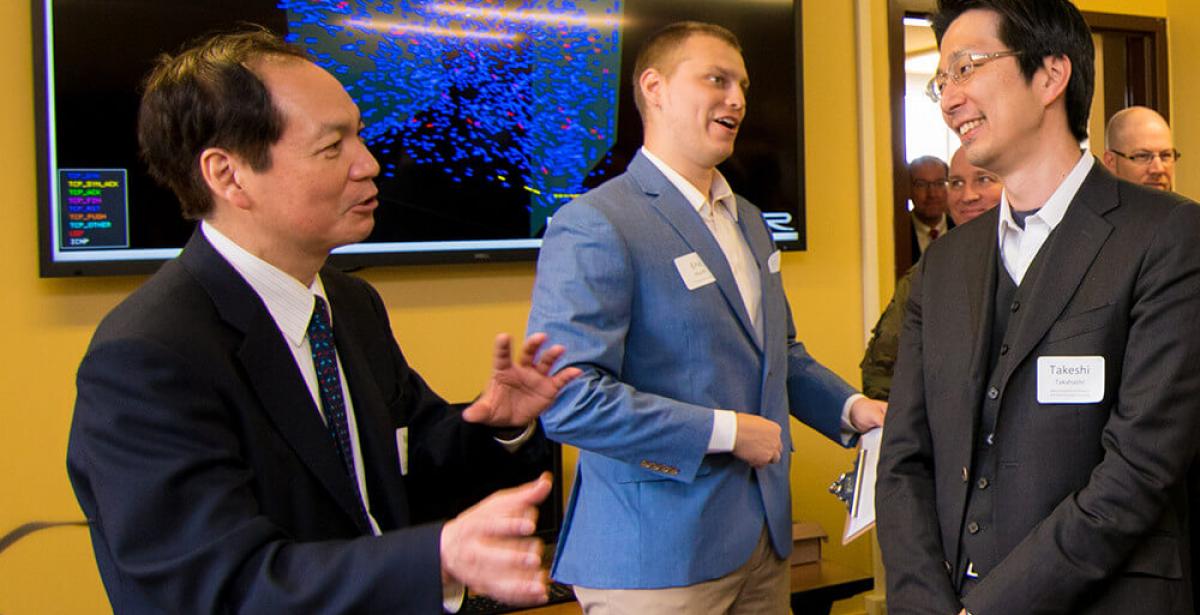 More than 175 business leaders, educators, scientists, students and politicians were on hand Tuesday morning as St. Bonaventure University unveiled the Western New York Cybersecurity Research Center.
The WNY Cybersecurity Research Center is a collaboration between St. Bonaventure, National ICT Japan, Canadian Institute for Cybersecurity and New Zealand Cybersecurity Center.
"Cybersecurity is an enormous issue. It is a 1 percent drag on the Gross National Product," says Dr. Peter Bloniarz, executive director of Gov. Andrew Cuomo's Cybersecurity Advisory Board. "Our resources to deal with the problem are not enough to keep up with the challenges."
The center will engage in cybersecurity research using various state-of-the-art technologies including machine learning, data mining and opinion mining.
"The center will do monitoring, alerting and forecasting to help make Western New York safe from cyber attacks," says Dr. Hossein Sarrafzadeh, director of St. Bonaventure's cybersecurity program.
"Through this new asset, our students will be the next generation of ethical leadership in Western New York," notes Dr. Joseph Zimmer, provost and vice president for Academic Affairs at St. Bonaventure.
The university partnered two years ago with Hilbert College to begin offering a Bachelor of Science degree in cybersecurity. Sarrafzadeh was the founder and co-director of New Zealand's first Cybersecurity Research Center.
The center will have two functions: as a center for faculty and students to perform research, and as a Security Operations Center (SOC) to provide monitoring services to external clients. The SOC is scheduled to open in the fall.
The SOC will be operated in partnership with Buffalo-based Silo City IT, a managed security service provider and solutions architecture firm specializing in artificial intelligence-based solutions. Jeff Rathmann, SBU Class of 2007, is president and CEO of Silo City.
The SOC will provide 365/24/7 continuous monitoring and defense, email defense, managed endpoint security, managed email defense, threat hunting and intelligence, incident response, managed security automation and customer support.
The SOC will give students the opportunity to gain real-life work experience while they study, Sarrafzadeh said. Students will be screened and trained rigorously before working in the SOC.
"The center will become a Western New York success story in cybersecurity," Sarrafzadeh said. "The center will help raise the awareness of cybersecurity risks in local communities and businesses."
Students will also have opportunities to travel to Japan, Canada and New Zealand and work on cutting-edge equipment, Sarrafzadeh explains.
The center also plans in the future to offer short courses and seminars for the public to combat cybersecurity risks.
In addition to the bachelor's program in cybersecurity, St. Bonaventure also offers several postgraduate degrees online including a Master of Business Administration, Master of Arts in Integrated Marketing Communications, a Master of Arts in Strategic Leadership, a Master of Science in Education - School Counseling and a Master of Science in Education - Clinical Mental Health Counseling. Like the cybersecurity program, the online postgraduate programs address top industry issues and best practices in their fields. All programs are accredited and the majority of the coursework is 100% online.To learn more contact an Enrollment Advisor at 1-844-424-4960 .
Interested in learning more about the center? Check out Director of the Cybersecurity Laboratory at National Information Communication Technologies in Japan, Dr. Daiskue Inoue's interview with WIVB 4.
Want to see all the photos and behind-the-scenes action? Check out our press release here!