Online Master of Arts
Communication
Online Master of Arts[br]Communication
Create. Resonate. Elevate.
Master the Art of Strategic Storytelling
Learn to use critical thinking and create laser-focused stories consumers value in the ever-changing communications landscape while you experience academic excellence at an extraordinary value. Through the online Master of Arts in Communication program, you will gain the necessary tools for creating a campaign vision, crafting the strategy, developing high-touch content for target audiences, analyzing data and measuring success. Our alumni are among the most forward-thinking professionals in their fields, working at Fortune 500 companies and using their cutting-edge knowledge and creativity to create change. SBU also is one of just three schools offering ACEJMC-accredited online graduate programs.
In our flexible, fully online program, you will choose one of three specializations – integrated marketing communication, content marketing or public relations – that best aligns with your career interests. This innovative program design will allow you to master the following concepts crucial for today's innovative communications professionals:
Conceptual Thinking – Tap into creative thinking to develop original ideas for traditional and digital media content and empathetic consumer experiences.
Strategic Thinking – Identify communication problems, create strategic campaign plans and use data analytics to measure public relations and content marketing campaign goals.
Visual & Written Communication – Create engaging, integrated content and visuals across all major media platforms that demonstrate an understanding of diverse audiences and messages.
Professional Readiness – Develop a deeper understanding of global business topics through the lens of ethical decision making, gaining experience creating and presenting a formal communication plan.
Emphasis on Integrity – Connect with diverse audiences while embodying empathy, ethical principles and freedom of expression.
COM 500 Finding Your Voice: Introduction to Marketing Communications
COM 540 Embracing the Brand: Branding, Strategy & Execution
COM 580 Embracing the Audience: Empathy & Ethics
COM 590 Embracing Strategic Thinking: Marketing Strategy & Planning
COM 510 Embracing Analysis: Making Meaning from Data
COM 520 Embracing Research: Marketing Communications Research
Integrated Marketing Communications Specialization
COM 640 Integrating Digital Media, Mobile, and Emerging Technologies
COM 620 Integrating Creative Strategy and Design
COM 650 Integrating PR in a Global Market
COM 720 Integrating Visuals: Communications Design
Content Marketing Specialization
COM 640 Integrating Digital Media, Mobile, and Emerging Technologies
COM 662 Integrating Content Marketing: Planning and Strategy
COM 664 Integrating Content Creation: Visuals, Copy, and Optimization
COM 720 Integrating Visuals: Communications Design
Public Relations Specialization
COM 650 Integrating PR in a Global Market
COM 652 Integrating Media Relations
COM 654 Integrating Crisis Management
COM 656 Integrating Event Management and Experiential Marketing
COM 555 Mastering the Research: Fieldwork
COM 800 Mastering the Field: Thesis
COM 830 Mastering the Project: Final Defense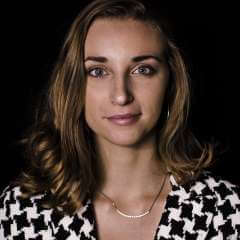 I put together presentations every other day here… the volume of data I can sift through, put into a presentation, and present out without practicing is now a seasoned tool in my tool belt!
- Beth Moore
Senior Marketing Associate, Fischer-Price
Master of Arts in Integrated Marketing Communications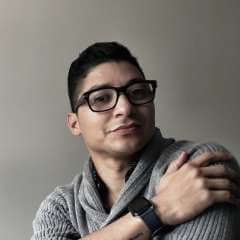 I began actively working at a marketing agency when I started the Master of Arts in Communications program. I found myself putting learning to practice on client projects, giving me added confidence in executing campaign and brand development work. After graduating, I started my agency, GoldenSnow. In the seven months that we have been in operation, we've worked on campaigns for a major liquor distributor, a heavy-hitting cosmetics company, and a non-profit organization, to name a few. Without my experiences at Bona, I don't think I would be where I am.
- Jerry Nieves
Principal, GoldenSnow
Master of Arts in Communication