Online Master's in Integrated Marketing Communications
Online Master's in Integrated Marketing Communications
Online IMC Program Overview
Gain the knowledge, experience and skills you need to be a successful communicator with an online marketing communications degree. As part of your degree, you complete a comprehensive integrated marketing communication plan for an organization of your choice and present it to a mixed panel of faculty and professionals.
This plan shows what you know to potential employers and includes an executive summary, market research, SWOT analysis, IMC strategy, IMC objectives, marketing strategy, audiences, creative brief, public relations, advertising, marketing and new media campaigns, campaign timeline and budget, ROI and campaign evaluation.
Fast Facts
No GRE/GMAT Required
100% Online, designed to fit your busy schedule
Customize your IMC degree with two electives
Financial Aid Available
Graduate with an ePortfolio that demonstrates your credentials
Top 300 Best College Values - Kiplinger's Personal Finance
Best 384 Colleges - The Princeton Review
#2 Best Value Schools - U.S. News and World Report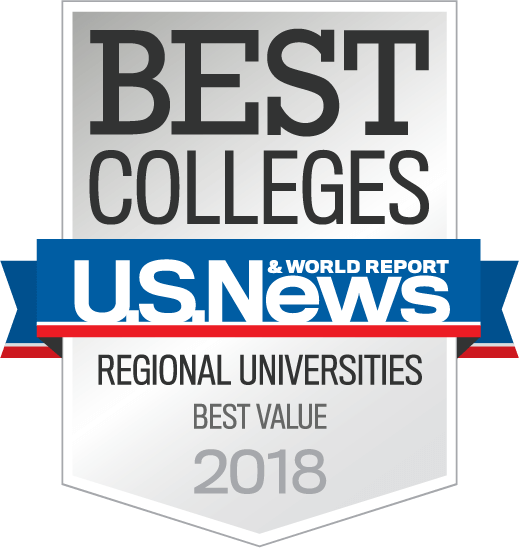 Online IMC Program Curriculum
Below is a sample list of courses you will be required to complete for the online IMC program. To view a full list, please download a program brochure.

For more information about how our online Master's in Integrated Marketing Communications can advance your career, please download our job guide.
IMC 500 IMC Principles and Practices
This is the foundational IMC course. It reviews the functional marketing communications areas such as advertising, PR, sales promotion, business communications and writing, and direct response in terms of their strengths and weaknesses in an integrated program. This course focuses on strategy and planning, with students concentrating on integrating targets, timing, and message strategies. It provides an overview of both U.S. and global marketing communication practices.
IMC 520 Marketing Communications Research
This is an introductory course in the field of marketing research designed to provide the student with an overview of the purposes, procedures, and applications of marketing research. Students will learn not only to use market research but to do market research, through a step-by-step marketing research process. Students will learn how to obtain and use secondary data and syndicated information services, and to design and conduct both qualitative and quantitative primary marketing research. Finally, basic statistics, data analysis, and reporting, as well as how to use statistical software, will be studied.
IMC 560 New Media: Digital Communications for IMC
The web has become an increasingly important communications tool. Not only must IMC professionals present their information in a credible fashion, they must also present it in an easy-to-use, well-organized fashion. This course will look specifically at digital  communication as it influences the IMC practitioner, ensuring students learn how to design and manage corporate websites in order to best meet an organization's goals as well as the needs of various Web audiences. Students will be encouraged to incorporate animation and video into their final website project and to fully demonstrate their ability to utilize the latest technology in website design.
IMC 600 Strategic Marketing Management for IMC
This course is designed to develop decision-making skills by examining selected topics including marketing strategy, analysis of strategic marketing opportunities, dominant themes in strategic marketing planning, and the design, implementation, and control of strategic marketing plans. Also, this class examines segmentation procedures, competitive analyses, portfolio lectures, case analysis, and a computer-based simulation of strategic marketing management.
IMC 610 Financial Tools for IMC and the International Economy
This course provides expert training on the financial tools with which the IMC executive must work while processing the translation of cold numbers into skilled communication. By offering a background in economics, time value of money, capital budgeting, financial markets and quantitative analysis, this course will prepare the IMC executive to oversee and make informed financial and budgetary decisions regarding an organization's IMC plan on the national and/or international scale.
IMC 620 IMC Creative Message Strategy
This class focuses on strategic thinking and critical skills in the development of a variety of marketing communications messages. Students will learn to develop strategy, to evaluate creative work, and to maintain strategic continuity across media. Students will also position products in terms of the competitive situation, the circumstances of use, and the cultural environment.
IMC 700 Integrated Communication Practices and Procedures
A directed learning class in which students work with a professor to develop a full marketing communications plan. Students will integrate research, strategy, marketing, and communication tools into their plans. Plans will be prepared in electronic formats.