Online Master's in Integrated Marketing Communications
Online Master's in Integrated Marketing Communications
Develop as a Creative Communicator and Marketer
St. Bonaventure University's online Master of Arts in Integrated Marketing Communications (IMC) will prepare you to lead and innovate at the intersection of marketing and communications. Through engaging coursework, you'll develop, refine, and make the connection between the left brain and right brain skills that drive modern marketing.
Employ a Different Way of Thinking — Blend your creative and analytical skills to develop clear marketing communication strategies for your organization, brand, or team.
Develop the Strategy that Drives Communication — Utilize research and analysis to develop campaigns that resonate with your target audience.
Become a More Complete Professional — Gain a holistic perspective of marketing while developing the practical skills that employers demand, including those in market research, strategy development, campaign planning, creative development, social media, digital marketing, and more.
Advance your Technical Skills — Grow your verbal, written, and visual communication skills while building proficiency in industry tools such as Google Analytics, Google Ad Words, Adobe Creative Cloud, Facebook Ads Manager, and more.
As a graduate, you'll be able to think strategically, analyze information, develop meaningful content, and solve the challenges facing modern advertising, marketing, public relations, and digital and social media professionals around the world.
Academic Excellence and Value — Online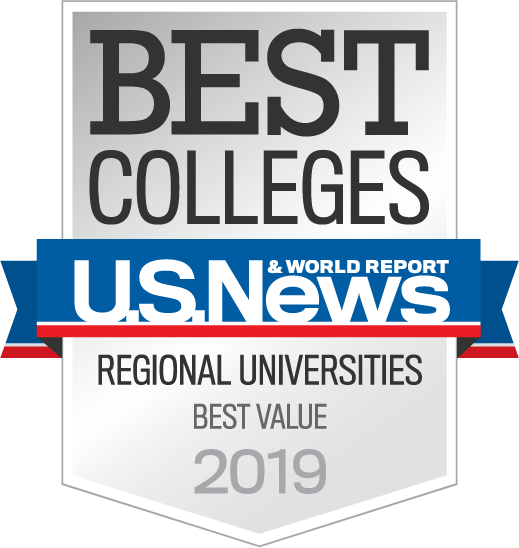 Define Your Career Path with IMC
Earning your degree in Integrated Marketing Communications (IMC) online can facilitate an array of career opportunities in marketing, communications, advertising, social media, and public relations. It can also open doors to different sectors of business that require innovators who can think critically about the connectedness of marketing communication efforts within an organization.
The online IMC program builds skill in integrating the development and management of all marketing communication tactics across all mediums to build positive and lasting relationships with consumers, stakeholders, and audiences.
Our alumni have distinguished themselves in a variety of marketing communications careers across industry segments. As one of the leading IMC master's degree programs, Bona graduates have a competitive edge in meeting the evolving demands of the professional world.
Job titles of SBU IMC graduates include:
Art Director
Chief Communications Officer (CCO)
Chief Marketing Officer (CMO)
Content Marketing Manager
Corporate Communications Manager
Creative Director
Digital Marketing Manager
Director of Creative Services
Director of Marketing
Director of Marketing & Communications
Director of Membership & Communications
Marketing Communications Manager
Marketing Manager
Public Information Officer (PIO)
Social Media Marketing Manager
Sr. Copywriter
Sr. Marketing Strategist
Develop the Skills Organizations Need
Formulate and execute integrated marketing, communications, and creative strategies.
Write, design, create, edit, and post high-impact consumer content.
Ideate, develop, and present cross-platform, consumer-driven experiences.
Interpret research and analytics informed by consumer data.
Translate and shape data into compelling stories aligned with a brand's target market.
To speak with an enrollment advisor about how these skills can shape your career, contact us.
The World of Marketing is Changing
Marketing should be a balance of creativity, research, and strategy. Today's marketing communications professionals need to utilize both their left and right brain to develop strategies that make authentic connections. In the St. Bonaventure online IMC program at the Jandoli School, we call this process symphonic thinking. In this data-driven world, this way of thinking is the differentiator that helps organizations to improve their relationships with consumers and helps marketers create messages that resonate. It's also one of the factors that position a St. Bonaventure IMC graduate for lasting success at the forefront of communications.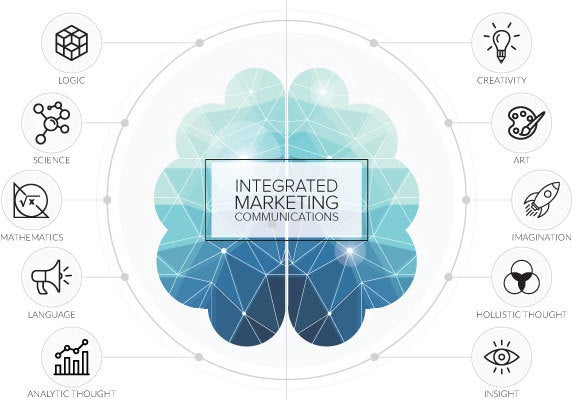 Is an IMC Master's Degree Right for You?
Our online IMC program is the perfect choice for you if you want to evolve as a marketing communications professional who can think without constraints. You'll learn how to blend logic, imagination, storytelling, intuition, and systematic reasoning into your marketing, advertising, and communication plans. Compared to other similar programs, which only deliver theory or are purely focused on technical skill, our program presents a balanced approach and provides experiential learning opportunities that help you practice and retain what you learn.
What is Symphonic Thinking?
Symphonic thinking is the ability to put all the pieces together. It's focused on developing the intellectual capacity to see the harmony or interrelated nature of all things. In the area of Integrated Marketing Communications, it's about learning to recognize the relationships between seemingly unrelated fields: creative thinking and analytical thinking. Facing a challenge or problem holistically can help you develop fully realized solutions and allows you to innovate based on data and creativity.
Earn Your IMC Master's Degree Online with SBU
St. Bonaventure University brings the academic excellence found on its New York campus into every online program. To facilitate learning and engagement, we are committed to maintaining an excellent student-faculty ratio of 12:1. It's one of the factors that helps us deliver a world-class learning experience. Students are encouraged to dive deep into communications problems to find creative solutions. Our problem-solving process involves both analytical and creative thinking and focuses on research, analysis, audience empathy, and creative development to construct significant marketing communication messages.
IMC Core Curriculum Highlights
IMC 520 Finding the Path: Marketing Communications Research
This introductory course in the field of marketing communications research is designed to provide the student with an overview of the purposes, procedures, and applications of marketing communications research. Students will learn how to obtain and use secondary data and how to design and conduct both qualitative and quantitative primary research to answer the questions an IMC practitioner will face. Finally, basic statistics, data analysis, and reporting, as well as how to use statistical software, will be studied. This course serves to guide students as they complete their final IMC campaigns by directing them in their own research design. (3 credits)
IMC 560 Finding Connections: Digital Communications
The web has become an increasingly important communications tool. Not only must IMC professionals present their information in a credible fashion, they must also present it in an easy-to-use, well-organized manner. This course will specifically look at how digital communications influences the IMC practitioner, ensuring that students learn how to design and manage digital communications in order to best meet an organization's goals, as well as the needs of various web audiences. Students will incorporate responsive design into their final project to demonstrate their ability to design a digital strategy plan that effectively promotes a business or service. (3 credits)
IMC 580 Finding Significance: Social Media & Consumer Insights
Consumer adaptation of new communication applications and technologies such as social media, blogging, social bookmarking, micro-blogging, and consumer-generated content development is changing the communications landscape. This course is designed to empower students to become disciplined and astute discoverers of consumer behavior with regards to digital technologies. Students will develop a thorough understanding of how consumers use the digital space to enhance their lives, work, and relationships and learn how to uncover consumer insights that help to develop empathy for audiences. Current research in consumer behavior and digital technologies and case studies of best practices will help inform the creation of messaging that engages consumers. This course will expand upon many of the concepts presented in IMC 560. (3 credits)
IMC Elective Curriculum Highlights
(6 credits; must choose two of the following)
IMC 570 Finding Meaning in Data: Analytics, Data Visualization & Interpretation
Big data, media analytics, and geographic information systems (GIS) have changed the face of marketing communications research by allowing us to dig more deeply into data and research to find specific answers to general questions. This course examines big data and analytics and delves into GIS, allowing students to visualize and interpret data in a number of ways. This class also focuses on evaluating messages and determining their delivery. Students will analyze primary and secondary data to solve marketing communications problems and address the distinct problems created by large databases. Emphasis is on analytical technology and multivariate methods. The course stresses the strategic use of analysis through application and project examples. (3 credits) Prerequisite: IMC 520
IMC 590 Finding Them Where They Are: Mobile Marketing Communications
Mobile devices have revolutionized the way in which consumers communicate, shop, and interact with brands. Research shows that global mobile data traffic is projected to increase nearly sevenfold in the next several years. IMC practitioners are now required to have an in-depth knowledge of mobile marketing practices to accommodate current consumer expectations, as well as the expertise to create, lead, and execute a mobile-first marketing strategy. In this course, students will gain a comprehensive understanding of mobile marketing, will research, strategize, and implement applicable actions that will maximize brand discoverability, credibility, and new audience potential, and will learn how to construct strategies that exceed mobile user experience expectations. (3 credits)
IMC 650 Embracing Your PR Skills: Developing a Public Voice for your Client
This course provides a comprehensive analysis of public relations practices for the IMC practitioner in a global society. Topics include how to research, define, develop, and deliver an effective public relations campaign, how to use social media platforms for brands, work with for-profit and not-for-profit organizations, and how to manage and mitigate crisis communications situations on a local, regional, national, and/or international level. Course pedagogies include case studies, guest speakers, simulations, and live-client consulting. Finally, the course examines the use of computer technology and dialogue through social media and how they apply to the public relations executive and IMC practitioner. (3 credits)
The Support You Need to Get Started and Graduate
As a student at St. Bonaventure University, you will find that help is always at hand. At first, you will interact with your personal enrollment advisor who will guide you through the admissions process and get you started in the online IMC program. Once you are enrolled, you will have a dedicated student success advisor to guide you through the program until you graduate.
IMC 500 IMC Principles and Practices
This is the foundational IMC course. It reviews the functional marketing communications areas such as advertising, PR, sales promotion, business communications and writing, and direct response in terms of their strengths and weaknesses in an integrated program. This course focuses on strategy and planning, with students concentrating on integrating targets, timing, and message strategies. It provides an overview of both U.S. and global marketing communication practices.
IMC 520 Marketing Communications Research
This is an introductory course in the field of marketing research designed to provide the student with an overview of the purposes, procedures, and applications of marketing research. Students will learn not only to use market research but to do market research, through a step-by-step marketing research process. Students will learn how to obtain and use secondary data and syndicated information services, and to design and conduct both qualitative and quantitative primary marketing research. Finally, basic statistics, data analysis, and reporting, as well as how to use statistical software, will be studied.
IMC 560 New Media: Digital Communications for IMC
The web has become an increasingly important communications tool. Not only must IMC professionals present their information in a credible fashion, they must also present it in an easy-to-use, well-organized fashion. This course will look specifically at digital  communication as it influences the IMC practitioner, ensuring students learn how to design and manage corporate websites in order to best meet an organization's goals as well as the needs of various Web audiences. Students will be encouraged to incorporate animation and video into their final website project and to fully demonstrate their ability to utilize the latest technology in website design.
IMC 600 Strategic Marketing Management for IMC
This course is designed to develop decision-making skills by examining selected topics including marketing strategy, analysis of strategic marketing opportunities, dominant themes in strategic marketing planning, and the design, implementation, and control of strategic marketing plans. Also, this class examines segmentation procedures, competitive analyses, portfolio lectures, case analysis, and a computer-based simulation of strategic marketing management.
IMC 610 Financial Tools for IMC and the International Economy
This course provides expert training on the financial tools with which the IMC executive must work while processing the translation of cold numbers into skilled communication. By offering a background in economics, time value of money, capital budgeting, financial markets and quantitative analysis, this course will prepare the IMC executive to oversee and make informed financial and budgetary decisions regarding an organization's IMC plan on the national and/or international scale.
IMC 620 IMC Creative Message Strategy
This class focuses on strategic thinking and critical skills in the development of a variety of marketing communications messages. Students will learn to develop strategy, to evaluate creative work, and to maintain strategic continuity across media. Students will also position products in terms of the competitive situation, the circumstances of use, and the cultural environment.
IMC 700 Integrated Communication Practices and Procedures
A directed learning class in which students work with a professor to develop a full marketing communications plan. Students will integrate research, strategy, marketing, and communication tools into their plans. Plans will be prepared in electronic formats.