Clinical Mental Health Counselor Job Descriptions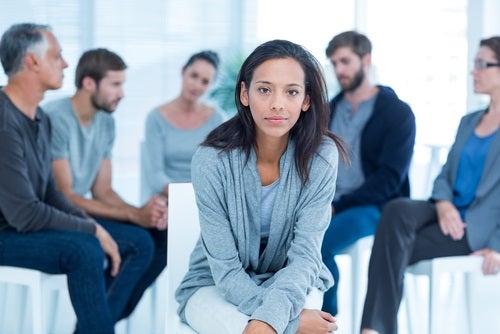 Working as a Clinical Mental Health Counselor
If you are considering pursuing an education in the helping professions, perhaps with a Clinical Mental Health Counseling master's degree, you may be wondering what your job prospects will be like after graduating from an online clinical mental health counseling master's program.
More specifically, you will want to make sure that the degree you earn will match the job you want. Get familiar with typical job descriptions for different types of mental health counselor positions, know what keywords to look for in the positions you are interested in, and decide what options are right for you:
Mental Health Counselor with Veterans
When you look at job descriptions for mental health counselors with veterans you will see common requirements. Mental health counselors who work with veterans need a range of skills. Counselors in this setting are expected to work with many other professionals as part of a multidisciplinary team.
When mental health counselors work with veterans they need to be able to treat a complex mental illness that is often alongside other physical ailments. Prior to treatment, mental health counselors of veterans will need to conduct thorough triage assessments and psychosocial assessments to best understand the client's presenting concerns.
After assessing the client, a clinical mental health counselor for veterans will need to design a treatment plan that targets the multiple causes of the client's mental health concerns. Counselors will need to be ready to provide services in individual and group therapy, along with performing case management. These services should be done using evidence-based and measurement based approaches.
Mental health counselors who work with veterans will need to earn a master's degree or a doctoral degree and have supervised experience in their therapy work. This includes one year of post-masters counseling experience. These counselors will typically need to be licensed to work in this setting.
Mental Health Counselor for Substance Abuse
The requirements for a mental health and substance abuse counselor job are very similar to those for a mental health counselor that works with veterans. When working with clients, who have substance abuse issues, you would also need a variety of skills.
In this setting, mental health counselors need to be able to conduct assessments and develop appropriate treatment plans that will help the client. Counselors provide psychotherapy and case management services, along with other behavioral health interventions. Services will have to be modified to match the client's current functioning and level of substance use. Over time, the therapy work may shift from direct intervention to monitoring the client as they maintain sobriety. When working with substance abusing clients, mental health counselors must often collaborate and communicate with many other professionals within and outside the agency. These can include client's family/guardian, social workers, health care providers, and judicial providers, such as probation officers.
Mental Health Counselor with Youth
When you are looking at a youth mental health counselor job description, you will see some common themes, but you will also see some variety in the work settings and tasks described. Mental health counselors who work with youth can be in many different settings.
Generally, these mental health counselor positions require at least a master's degree in social work or counseling, with state licensure showing the proper training has been attained. The training should include at least a knowledge of assessing youth, diagnosing their mental health concerns, designing treatment plans, and providing services directly to youth for their mental health concerns.
Some mental health counselors for youth work in typical therapy settings where they meet with the child or teen weekly. Some work in residential settings, where the youth lives full time. There, the counselor may address the youth's mental health as well as any behavioral problems they tend to exhibit. The counselor may also help the youth develop basic life skills needed to leave the facility.
Working with youth often demands a strong ability to monitor and track many different parts of their treatment and current functioning. Mental health counselors that work with youth must be able to handle several tasks at once in a calm, organized fashion. They also must be patient, flexible, and adapt well to fluctuating needs. It is also helpful to be able to collaborate with parents and other providers.
Final Recommendations
No matter what setting you want to work in or what population you want to work with, mental health counseling jobs have certain education and training requirements for licensure. That education and training also help clinical mental health counselors to develop the skills needed to perform the work. These include skills for assessment, treatment planning, providing therapy, and case management.
Many people earn their mental health counseling masters degree from an online clinical mental health counseling program. This is an ideal option for people who are currently working or who have families to take care of. You can learn the knowledge and skills needed for the profession of Clinical Mental Health Counseling at your own pace and convenience.
One good option is the St. Bonaventure University Online. They offer a CACREP accredited program that can help you learn all you need to know, prepare for licensure, and be a good candidate for the job you want. You will be prepared to work in multiple settings with youth, veterans, and people recovering from addiction. If you want to learn more about pursuing your Master of Science in Education Clinical Mental Health Counseling, check out the website for more information on the curriculum and benefits.
Read more of SBU Online's top Clinical Mental Health blog posts below:
1. Celebrity Mental Breakdown Proves No One is Immune
2. Where Does a Mental Health Counselor Work?
3. Coping with Isolation: 25 Strategies for Optimizing Mental Health
4. Education and Training for Clinical Mental Health Counselors