On Cyberbullying: Q&A with Constance Hanel - School of Education Faculty Member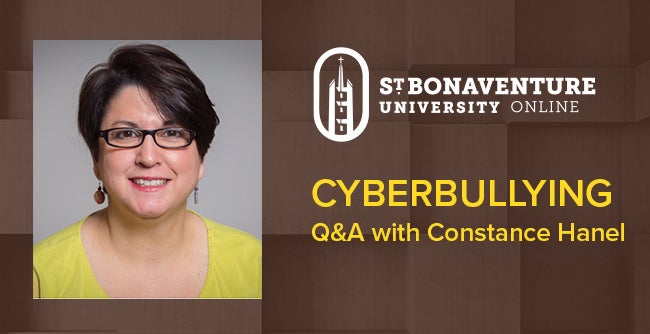 Constance Hanel is an adjunct faculty member for the online counseling programs at St. Bonaventure University and runs a company called Independent Learning Systems that works with school districts, families and psychologists to teach behavioral skills that promote independent learning. She has co-authored three books on cyberbullying and speaks at national conferences, television shows and radio on the topic.
Q: How should we train students to spot cyberbullying? What should they do if they are being bullied?
Cyberbullying is often difficult to spot. Unlike traditional schoolyard bullying that is visible to those around the victim, cyberbullying can be more private and personal. Cyberbullying takes many different forms and that can also make detection difficult. It can be as simple as an exclusion to dissing or intentional threats. Youth are usually hesitant to report problems connected to technology because they are afraid they will lose their privileges. Educating youth, educators, and parents on alternative measures for protecting against cyberbullying while maintaining an open-minded dialogue can promote healthy exchanges between youth and adults. This promotes transparency which provides an opportunity for education and intervention before the cyberbullying escalates.
One technique that can be taught is Stop, Save and Share.
Stop: Stop what you are doing and do not respond if the information you are receiving seems scary, upsetting or wrong.
Save: Save the information you are concerned about, do not delete it.
Share: Share the information with an adult to help make a safe choice.
The natural reaction is to respond back to the person sending or posting hurtful information. This can cause an escalation and make matters worse. 
Youth often delete upsetting information, making support difficult if or when they decide to report. Saving the information to share with an adult provides an opportunity for intervention and education. Technology does not allow for voice inflection which can create confusion and lead to misunderstandings. When an adult reads the item in question they can help determine if it is innocent or meant as bullying.
Q. What can schools be doing to prevent bullying/cyberbullying?
Early education, promote bystander reporting, clear policies and procedures on cyberbullying amended into the schools' bullying programs.
Q. Cyberbullying has been a growing concern in schools for the last several years. As a scholar in this area, do you see the incidence of bullying and responses to it trending positively?
Awareness is definitely improving, which is a positive move in the right direction. My colleague and I started educating parents, school systems and youth as far back as 2006. We discovered that many individuals made the assumption that because they used technology, they knew how to manage technology in their family unit. Creating awareness and participation in our cyberbullying program was a difficult sell. When parents and educators would participate in our workshops they left the program astonished at what they did not know and how youth could be impacted. Our books have sold better in the last three years than they did in 2006. Most of what was predicted has become reality.
In 2006 we presented in national conferences lobbying schools to amend their bullying guidelines to include cyberbullying. At that time most educators believed that because cyberbullying could take place off of school property they had no jurisdiction to get involved. In fact, if cyberbullying impacts a student during school the school has the legal right to intervene. The publicity, growth, and exposure to devastating events connected to cyberbullying has opened the door to address this issue. Cyberbullying is like schoolyard bullying on steroids. It is hard to openly see, it reaches larger numbers, the bully can be hard to identify and it often leaves an unerasable trail of destruction.
As technology grows so does the ways in which it can be manipulated, which makes it difficult to stay ahead of the problem. Early education is the key to setting the stage for responsible technology use. Healthy rules and boundaries at home also play a key factor. When youth can avoid social interaction through technology they lose what is called their empathy radar. The instant feedback people receive from human interaction helps to wire our understanding of communication and its power. Video games provide instant gratification and reproducible lives. In reality, lives do not regenerate and most accomplishments come from hard work. Technology creates a now need and low tolerance level for discomfort creating a perfect storm for acting out inappropriately and stepping into the act of cyberbullying. Promoting a healthy cyber-balance, education early and ongoing with clear rules and support will only mitigate cyberbullying.
Q. You've co-authored 3 books on cyberbullying, including Cyber Kids, Cyber Bullies, Cyber Balance. How does this book help professionals, including school counselors, navigate the cyberbullying epidemic?
The books start by educating the reader on what cyberbullying is, the different forms it takes and the impact it can have on individuals. It outlines prevention, assessment, interventions, and evaluations for educators. We include charts for identifying warning signs, provide scenarios with true-life stories and have reproducible forms. We have technology agreement forms and certificates of understanding for youth with DVD of songs about cyber safety and respect.
Even with the advancement of technology and cyberbullying they are a great resource to use to start a conversation about how to stay safe and begin a program of cyber education and cyberbullying support.