Top 6 Effective Leadership Communication Skills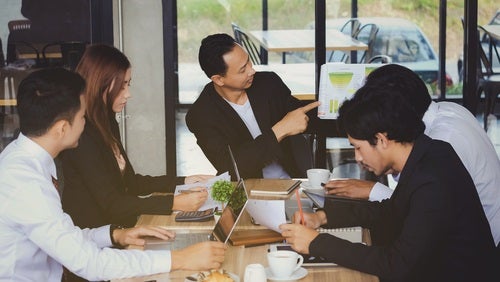 To be a great leader, you must be a great communicator. The world's greatest leaders have all been exceptional communicators who can talk about their ideas in ways that speak to the emotions and aspirations of their supporters. Fortunately, you can learn and develop some of the top communication skills adopted by some of the greatest leaders of all times.
All Great Leaders Share These Top Communication Skills
Leaders spend a great deal of time engaging in some type of interpersonal situation, such as talking with individuals one-on-one, leading a meeting, or speaking in front of large crowds. Although each situation requires a different skill set, some general communication skills apply across the board.
Here are the top six effective leadership communication skills as demonstrated by some of the world's greatest leaders.
Listen more than you speak
Richard Branson once said, "If you want to stand out as a leader, a good place to begin is by listening."
Listening is one of the best ways to communicate, as it is a good way to gather information, learn new ideas, and gain a new perspective. Listening also is essential to building trust. Great leaders listen to understand rather than listening merely to respond. Listening to understand improves the flow of information, shows respect to the speaker, and builds trust among your team.
Be transparent
Forbes noted that the CEO of the marketing company Moz, Rand Fishkin, posted his own performance review. The company also has opened its funding deck to the public, in addition to making many of its failures and successes public.
Speak to each individual, even when addressing mass audiences
Great leaders can connect in an intimate, personal way with the people they talk to, even when they are speaking to a large audience. Audience members who feel the speaker is talking directly to them often develop stronger feelings about the issues the speaker has brought up.
Author and co-founder of the world's leading provider of emotional intelligence tests and training TalentSmart, Travis Bradberry, says "Great leaders know how to work the room and make every single person feel as if he or she is being spoken to directly."
Dole out praise
While financial reward is a good way to communicate pleasure with someone's work, praise and recognition are powerful tools for every leader. Catherine the Great once said, "I praise loudly, I blame softly" because she knew recognition motivates followers much better than does criticism.
Embrace lifelong learning
President John F. Kennedy once said, "Leadership and learning are indispensable to each other." This especially is true when it comes to learning better communication skills. Online education makes it easy to learn how to get your message across as a leader.
Make use of integrated marketing communications
The modern Information Age makes communication both easier and more challenging. The internet has made it easier to reach wider audiences, but getting noticed and creating meaningful dialogue can be difficult. The leaders of today and tomorrow will use advanced techniques, such as integrated marketing communications, to help you build positive and lasting relationships with consumers.
Integrated marketing communications combine functional marketing communications areas, such as advertising, PR, sales promotion, business communications and writing, to communicate a single message about a product or company across multiple platforms. Integrated marketing communications also build meaningful dialogue between great leaders and their audiences. Integrated marketing communications unify messaging and communications strategies across all channels and ensure that the messages and communications center on the customer. An online degree provides business leaders with the integrated marketing communications skills they need to succeed.
St. Bonaventure University's (SBU) online Master's in Integrated Marketing Communications program helps you develop the top communication skills needed to succeed in the business world today and tomorrow. Contact SBU today to learn more about how you can develop the top communication traits of a great leader.