First Online MA in Journalism Students Are Entering the Workforce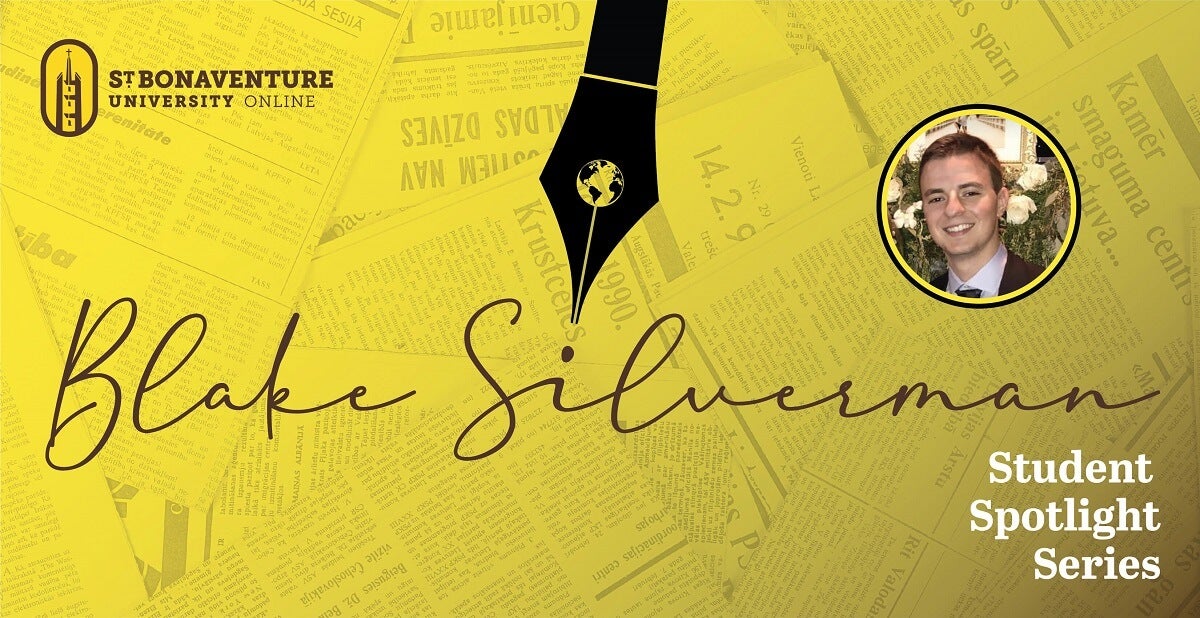 Our first cohort of online Master of Arts in Sports and Digital Journalism students graduated this May.
Students from all over the country enjoyed 100% online coursework through our renowned Jandoli School of Communication, which has produced five Pulitzer Prize winners and numerous Emmy, Peabody, and Edward R. Murrow award winners.
Jack Milko and Richard Vara's stories about their transition to professional life are described below by graduate assistant Blake Silverman. Congratulations to the entire class of 2023.
---
Article by Graduate Assistant, Blake Silverman
ST. BONAVENTURE, N.Y. - The first students to receive an Online Master of Arts in Sports and Digital Journalism from St. Bonaventure University walked across the stage inside the Reilly Center. Remote learning presented students from all walks of life the opportunity to meet and celebrate individual accomplishments. Previously, most students had only met through a computer screen.
Jack Milko from Rochester, New York who is currently living in New York City is a proud member of the first graduating cohort of St. Bonaventure's Sports Journalism Master's program . Richard Vara from Houston, Texas traveled to the Reilly Center to receive his MA through St. Bonaventure's Digital Journalism program .
A culmination of the inaugural cohort's 18-month journey to receive their degree, all done in a fully digital learning environment. Now, the newly graduated Bonnies look to charter new waters as professional journalists.
Throughout the program, students learned all the skills necessary to become modern-day journalists, based on the highest journalistic standards.
"The one thing that I can say that Bonaventure really, really instilled in me is that I feel more confident in my writing." Vara said in an interview following St. Bonaventure's commencement.
Vara was selected to address his fellow graduates during the commencement ceremony in May.
He reminded his classmates, who he had only met digitally prior, to not forget to include themselves when thanking their support systems who helped reach this accomplishment.
"When it comes down to actually accomplishing (your degree), it is one's self determination and will that actually does it," he said in the interview.
As a full-time media engineer for the University of Houston-Downtown, Vara remembered his initial motivation for getting his MA in Digital Journalism as he was juggling many responsibilities at once.
"Remember those outcomes, remember your motivation," Vara said. "Those things really do work. Stay with it. Because when you hold your degree, a lot of doors and a whole other world is opened (to you)."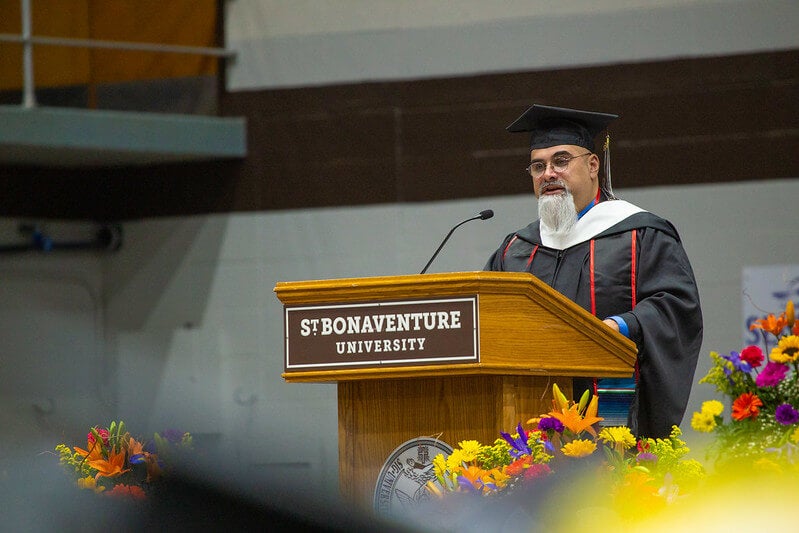 Richard Vara addressing classmates, faculty, and the audience at St. Bonaventure's 2023 commencement ceremony. Photo courtesy of St. Bonaventure University.
Vara is starting a new position as a Communications Specialist for the city of West University Place, a small municipality in the Houston area. He will be creating informational content, managing social media, and reporting on newsworthy events around the city.
Milko is now working as a Golf Staff Writer for SBNation, helping launch a new golf focused site for the outlet titled Playing Through, which aims to charter golf through its pivotal year.
Milko's daily work includes sourcing golf-specific stories for SBNation. Once his research leads to a story, it's time to get to writing. Coincidentally, the PGA Tour agreed to join forces with LIV Golf, a Saudi-funded upstart league, during Milko's early days covering the sport in a full-time capacity–one of the game's biggest stories in recent years.
"I remember learning at Bonaventure that the important thing about breaking news is you have to be not only first, but you have to be accurate," Milko said of his work covering the merger. "Accuracy is the key to journalistic success and integrity. You don't want to be wrong, you don't want to jump the gun and do something too quickly."
Milko grew up rooting for the Bonnies basketball team as he had numerous family members attend the University. This led him to cover the Bonnies for A10Talk, becoming the outlet's lead beat writer for the team beginning in the 2020-21 season. Once St. Bonaventure University unveiled the online master's program in March 2021, Milko decided to go for it.
After completing the program while working as a paralegal for a New York City law firm, he now looks to sports journalism as his full-time career.
"I love golf. The fact that I get to cover the sport now as a full-time gig is frankly a dream come true," Milko said.
"But, (that opportunity) would not have been made available to me had it not been (for) my experience at Bonaventure."
Milko, and other students, appreciate the coursework's flexible outline as it caters toward those who also have outside full-time jobs and responsibilities, while they work towards making journalism their career.
"We're in the modern 21st century. Everybody learns differently. Everybody learns at their own speed. Online technology, online learning, (welcomes) people of all walks of life, no matter their background," Milko said. "It helps intellectually diverse people learn differently and all obtain the same degree.
"There's a lot of support there for you, and the best part of it is the people involved with it. The faculty, students and staff are all tremendous resources to help you succeed, so I think (SBU's online MA Sports Journalism program) is really one of the best decisions I ever made."
As additional Bonas students work to reach their MA's in both digital and sports journalism, the first graduating cohort aims to provide a guide for the new program moving forward, becoming distinguished alumni in their own right. The online master's in journalism program through St. Bonaventure's Jandoli School of Communication will continue to provide their students with a path to become professional journalists, from any background that leads them to the school.
"(Future) cohorts, I know that they're going to go on and do really great things because going through this program really opened up things for me and it made things happen quickly." Vara said, reflecting on his time at St. Bonaventure.
---
Blake Silverman Biography
Blake graduated from Michigan State University with an undergraduate degree in advertising in 2017. He has worked in the advertising industry ever since.
In Fall 2022, Blake enrolled in St. Bonaventure University's online MA Sports Journalism program to undergo professional training in a field that has long been of interest. Blake plans to graduate with his master's degree in May 2024, hoping to enter the sports media industry, specializing as a basketball writer and reporter.
Aside from coursework, Blake covers the Bonnies men's basketball team for A10Talk.com, an online website that covers the Atlantic 10 Basketball Conference. He also covers the Women's National Basketball Association for Winsidr, a website that exclusively covers the WNBA, and writes about his local Detroit Pistons for DetroitBadBoys.com, the SBNation network's website dedicated to the Pistons.
Through his affiliation with SBU and hometown ties to Detroit, Blake covered the Pistons Bob Lanier tribute for TAPinto Greater Olean, providing news stories and multimedia content around the honoring of the late St. Bonaventure and NBA legend.
Blake currently resides in the metro Detroit area with his wife Kelsey, their dog, and two cats.