How to Become a School Counselor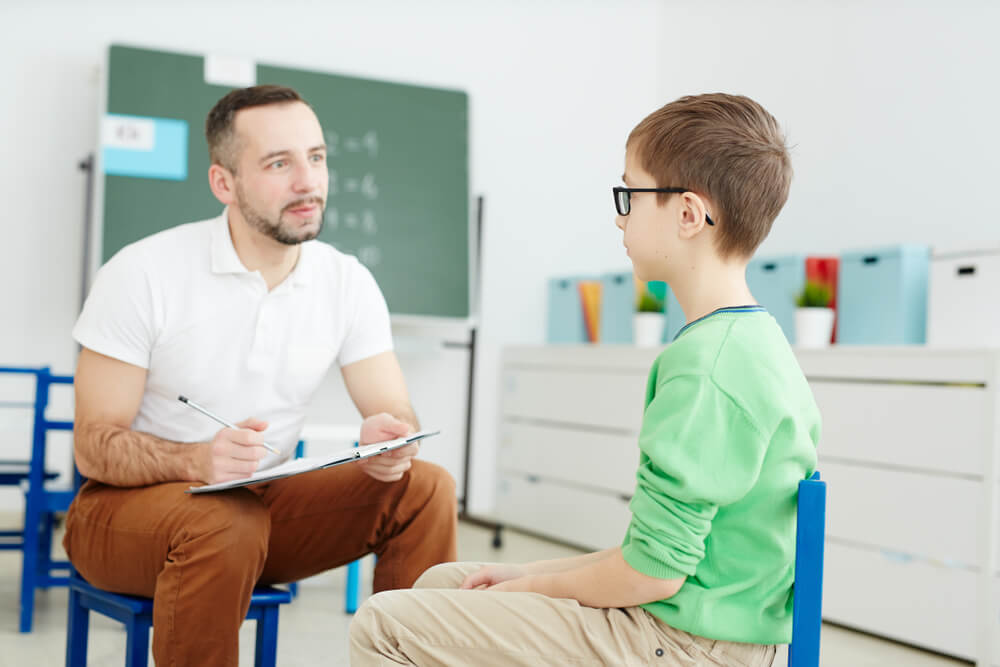 Becoming a certified school counselor is a prime career option for those with a desire to help others and make an impact on the lives of young people. School counselors support and guide children and young adults through their school years, offering assistance in a range of subjects including career and education guidance, along with social and emotional health.
Those with interest in making a difference in young lives can begin a rewarding career as a certified school counselor by earning a master's degree in school counseling. Here's what you need to know about how to become a school counselor.
The School Counselor Role
Some consider the school counselor role to be somewhat ambiguous.  While we all know they "support" students, how do they do that? According to the American School Counselor Association (ASCA), school counselors ".... help all students in the areas of academic achievement, career, and social/emotional development, ensuring today's students become the productive, well-adjusted adults of tomorrow."   
School counselors take an active role in the growth of their students. Students pass through developmental stages with particular challenges at each level. From crying to credits, peer issues to parent expectations, grades to graduation, and careers to colleges, a school counselor deals with it all.  Students are complex, and as educators, we are unable to just "input data" into their brains. While one student is trying to figure out what a possible career could be, another may be facing a genuine learning disability. 
Students come with all kinds of concerns that impact their learning. A school counselor is first and foremost a student advocate. School counselors work within the system and with all parties, including parents, teachers, students, and administrators to ensure that the child is getting the best education possible.
What is it like to be a school counselor?  
The role of the school counselor is a very fulfilling profession.  Each day you return home with a job satisfaction that warms your heart. Even on the toughest days, you can reflect on celebrations of student success and the listening ear you provided the troubled student.
However, as with all professions, it also comes with its challenges.  Often a school counselor has multiple demands on their time and must learn to assess and prioritize while staying calm.   People will expect you to be a miracle worker, a genie, a motivator, etc., and hopefully, you can accomplish all that with the student in just five minutes.  You will meet some angry parents and occasionally encounter some disrespectful people.  In spite of this, however, you will treat everyone with respect and dignity.  This is one of the primary ethical standards of being a school counselor as proposed by the American School Counselor Association.  School counselors are held to a high standard.  
If you are considering this rewarding profession, you might also have a few questions on how to become a school counselor. Let's take a look at the most commonly asked questions.
Learn more about SBU's Online Master's in School Counseling
How much does a school counselor make?
U.S. News and World Report has the profession of a school counselor as number six in the top twenty-five social services jobs in 2019 with a median salary of $55,410.  The Bureau of Labor Statistics reports that a 13% growth of the profession is expected between 2016 and 2026.
Education Requirements for School Counselors
School counselors begin their careers by first earning a bachelor's degree. It's common for students interested in becoming counselors to earn a degree in a health or social science field such as psychology, sociology, or social work. While a degree in one of these fields is certainly helpful, it's not a requirement.
After obtaining a bachelor's degree, students then pursue a master's degree in the counseling field, which makes them eligible to take the licensure exam to become a licensed counselor.
You need a masters in school counseling to grow in your counseling career.  The coursework prepares you with the background in the history of the profession, psychology, human development, and the theories and techniques of personal counseling. Some specific subsets such as special education counseling and crisis counseling are also explored. Check out the curriculum details of St. Bonaventure's University Master of Science in Education School Counseling program.
In addition, there are practicums and internships required to develop these skills in the school setting. This is the hands-on experience and practice that provides the real-life application of the theories and concepts.  It builds your confidence in your new skill set.
A licensure exam is required after the completion of the degree to become a licensed professional counselor.  NCMHCE (National Clinical Mental Health Counselor Examination) is the exam used in the state of New York.  Certification to become a counselor in school is done by application with the state certification board.
Pursuing a School Counseling Master's Degree Online
Many working professionals choose to pursue a master's level degree online.  Gone are the days when you have to leave your job after a long day to travel to the university and sit in class all evening. Online coursework provides some distinct advantages like flexibility and self-paced learning.  However, only you can decide if it is the right choice for you.
Coursework for St. Bonaventure's online master's in school counseling is available 100% online. Students begin a 100-hour practicum in their second year, of which 40 hours are completed directly with clients. After completing the practicum, students then complete two 300-hour internships. The practicum and internships help counseling students develop and refine their counseling skills and become more comfortable working with students.
Apart from the internships and practicum, students also attend two, four-day residencies at St. Bonaventure University to deepen their studies and get to know their faculty members and classmates.
Certification Requirements
After graduating with a master's in school counseling, graduates must prepare to take the licensure exam to become a counselor. St. Bonaventure University's accredited education counseling program prepares students to take the National Clinical Mental Health Counselor Examination, or NCMHCE. Passing this exam leads to a professional counseling license.
Certification requirements for school counselors vary by state. In New York State, those employed in schools must hold a certificate issued by the Office of Teaching Initiatives. This certificate indicates that the individual has met specific education, experience, and assessment requirements. Counselors first apply for a provisional certification to practice as a school counselor in New York state. After obtaining experience and completing the application requirements, school counselors can then obtain a permanent certification.
The Rewards of School Counseling
School counselors serve an important function in school systems. Young people face many challenges while growing up and often have difficulty adjusting to change. Counselors help children and young adults navigate the many challenges of growing up, from social and emotional problems all the way to considering different education and career paths. School counselors have the unique benefit of getting to watch their clients and students grow up.
Students of all ages benefit from a strong mentor with a compassionate ear. If you're considering a career in counseling, St. Bonaventure's Master of Science in Education Counseling sets you on the right path to a fulfilling career as a certified school counselor.