Why Is Integrated Marketing Communications Important?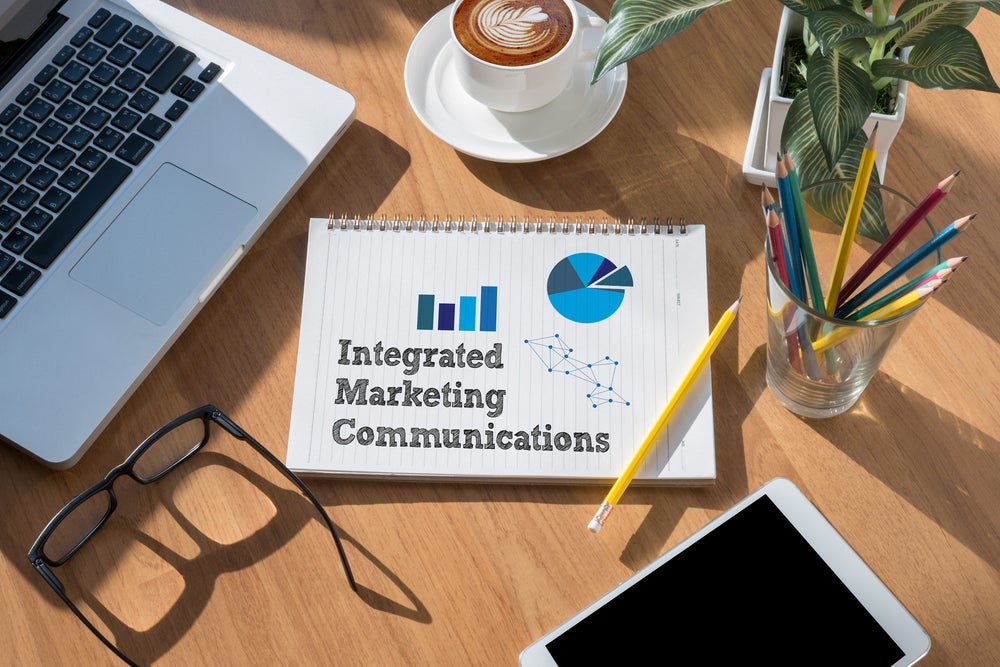 It's official: communication in the workplace is changing. Recent studies have shown that in the past two decades, the time employees spend on "collaborative activities" has increased by almost 50 percent (Singh, 2019) and work tools like Slack that make it easier than ever to communicate between teams have become billion-dollar success stories. The need for holistic marketing can also be marked by the demand for integrated marketing communications experts. Businesses recognize that they need to make sure teams are on the same page before launching products, services, and even brands. Learn more about how integrated marketing is changing the way teams communicate and how it's been so effective at transforming marketing efforts and results.
What is integrated marketing?
Integrated marketing rejects the silo mentality and breaks down barriers between departments to embrace holistic marketing. According to Belch (2013), integrated marketing is seen as "an approach to creating a unified and seamless experience for consumers to interact with the brand/enterprise; it attempts to meld all aspects of marketing communication such as advertising, sales promotion, public relations, direct marketing, and social media, through their respective mix of tactics, methods, channels, media, and activities, so that all work together as a unified force."
Treating marketing departments as separate entities limits communication and reduces operational efficiency. An integrated approach to marketing communications ensures that all channels are aligned and following the same strategy, overarching business objectives and company values.
What are a few Integrated Marketing Communications Examples?
Integrated marketing communications is the method by which a company ensures different promotional methods within a marketing campaign are clear, consistent and working toward the same goals. For example, if an advertising agency is planning on launching a creative campaign, they should first use integrated marketing communications to guarantee that various marketing tools convey the same message and branded experience. An integrated approach would use a variety of communication tools to convey the same branded message, including traditional advertising, online marketing, public relations activities, sales campaigns, and email marketing.
Case Study: Always Uses Integrated Marketing to Launch the #LikeAGirl Campaign
The feminine care products brand Always launched a massively successful #LikeAGirl campaign in 2014. Their team came together to deliver a moving message about female empowerment to a wide audience. First, market research was completed to determine that girls' self-esteem begins to worsen as they reach puberty. This insight was paired with the market research that determined many Always' consumers have their first touchpoint with the company at the same age. The marketing team would then create an "audience persona" around this demographic. Next, Always' strategists used these insights to create a powerful message, their copywriters coined the iconic hashtag and supporting headlines, and their graphic designers produced a series of eye-catching ad sets.
But they didn't stop there, Always went on to create the #LikeAGirl campaign video that was considered a documentary and won eight different awards from the British charity, Design and Art Direction. The video currently has more than 65 million views on YouTube (Pinegar, 2018). The aforementioned tools and teams are only a select few of many that were probably involved in the #LikeAGirl campaign. 94% agree Always #LikeAGirl encouraged girls to be more confident after the empowering campaign gained traction, indicating the success of the brand's integrated marketing efforts (Always, 2019).
Why Is Integrated Marketing Communications Important?             
Builds Brand Recognition and Trust
If a brand is able to reach its intended consumer multiple times, across various channels, they begin to resonate with its audience. If the various channels do a good job of communicating the brand and message consistently, then the person is even more likely to recognize and trust the brand. An integrated marketing communications strategy makes this consistent delivery possible. Without this communication, the audience receives a disjointed brand experience and it becomes less likely that the intended message will translate.
Allows You to Reach Larger Audiences
Using more channels to communicate increases the number of people a company is able to reach. If a brand launched an advertising campaign strictly on subway car posters, they would be missing the audience that drives to work by overlooking radio advertising and billboard ad. Having an awareness of integrated marketing communications allows a company to create a multi-pronged marketing campaign that targets wider audiences. A master's in integrated marketing communications teaches students how to determine the right channels that will target the right audience with the right messaging.
Yields Higher Revenues
After a company is able to deliver a clear branded message across various channels to wide audiences, naturally revenue growth will increase. Businesses are highly competitive and use a combination of efforts to rake in revenue, including their research team, strategists, public relations team, digital and social media marketing team, design team and more. It no longer makes sense to focus on one department independently. If a business wants to remain competitive in their given industry, they have to get comfortable communicating between all departments.
What Do You Learn in An Integrated Marketing Communications Master's Program?
Companies have changed from the inside out and masters programs are changing just as quickly to match this rapid shift. Some schools have introduced a Masters of Arts in Integrated Marketing Communications program, which teaches graduates how to combine their creative and analytical mind to conduct research, create strategies, and translate their findings into tangible returns for the agency or company they work for. 
Schools are amending outdated teaching models so that graduates are able to easily transition into the workplace with experience working with tools like Google Ads, Adobe Creative Cloud and social media platforms like Hootsuite and Canva. Masters programs are also becoming more holistic. Rather than just teaching students how to turn marketing research and analytics into a marketing strategy, programs have started to add in elements of digital advertising, public relations, content marketing and design. Graduates now have an understanding of each facet of a business so they can ensure integrated communications across teams. 
The Future of Integrated Marketing Communications
Graduates with a Master of Arts in Integrated Marketing Communications have a bright future ahead of them. The Bureau of Labor Statistics projects integrated marketing communications jobs to grow between 13 and 32 percent through 2024 (SBU, 2016). There are a variety of highly creative and engaging career opportunities, including a role as a social media manager, media brand manager or art director. PayScale reports that holders of master's degrees in integrated marketing communications can earn up to $135,500 annually depending on seniority and location (SBU, 2016). Learn more about how you can earn a Master of Arts degree in Integrated Marking Communications online from St. Bonaventure University.
Check out St. Bonaventure online's top marketing blog posts below.
References:
Always (Updated 2019). Our Epic Battle #LikeAGirl. Retrieved from
https://always.com/en-us/about-us/our-epic-battle-like-a-girl
Belch, G. E., & Belch, M. A. (2004). Advertising and promotion: An integrated marketing communications perspective (6th ed.). New York: McGraw-Hill/Irwin.
Gleeson, Brent (2013). The Silo Mentality: How to Break Down the Barriers. Forbes. Retrieved from https://www.forbes.com/sites/brentgleeson/2013/10/02/the-silo-mentality-how-to-break-down-the-barriers/#1ca3ccb8c7e9
Pinegard, Grace (2018). What is IMC? A Beginner's Guide to Integrated Marketing Communications. G2. Retrieved from https://learn.g2.com/integrated-marketing-communications
Singh, Pooja (2019). Why Open Plan Offices Are Bad News For Employees. Entrepreneur. Retrieved from https://www.entrepreneur.com/article/325959
St. Bonaventure University (2016). Top Career Paths With a Master's Degree in Integrated Marketing Communications. SBU. Retrieved from
/news/2016/10/13/top-career-paths-masters-degree-integrated-marketing-communications