Jandoli School of Communication Earns ACEJMC Accreditation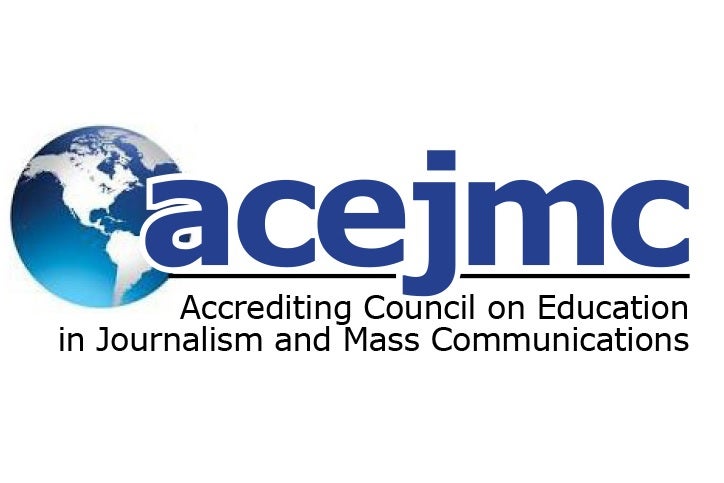 As a university that strives for excellence across the board from its students to its various departments, St. Bonaventure University is always proud when this pursuit is celebrated by nationally recognized organizations and accrediting bodies. St. Bonaventure University is thrilled to announce that the Jandoli School of Communication has just received accreditation from the Accrediting Council on Education in Journalism and Mass Communications (ACEJMC). 
Approved through a unanimous vote of the ACEJMC council in late April 2019, this accreditation commends both the undergraduate programs within the School of Communication as well as the online master's degree programs in Strategic Leadership (MSL) and Integrated Marketing Communications (IMC).
In receiving this new credential, St. Bonaventure University's Jandoli School of Communication enters an elite echelon of programs as it is an accolade reserved for only the upper fifth of journalism and mass communication programs administered across the country. Even more impressive is that St. Bonaventure is one of the less than 20 private schools among this top tier of national programs. 
Earning this landmark accreditation is a testament to the hard work that has been poured into the development of the Jandoli School of Communications, which began in the late 1940s when Russell J. Jandoli established a journalism department at the school. The department evolved over the years to officially become the Russell J. Jandoli School of Journalism and Mass Communications in 1995. In 2016, it was rebranded as the Jandoli School of Communication to echo its growing array of programs, which today includes undergraduate degrees in journalism, strategic communication, sports media, and broadcast journalism alongside its MSL and IMC graduate tracks.
The quest to achieve ACEJMC accreditation began in 2016 under the leadership of then-Dean Dr. Pauline Hoffman. The review of the program by external committee members resulted in provisional approval. Since then, St. Bonaventure University's President, Dennis R. DePerro Ed.D., and the Jandoli School of Communication faculty and staff have worked diligently to ensure ongoing progress. Dean Chimbel, the new Dean of the Jandoli School of Communications, also played a crucial role in monitoring the accreditation process and offering the resources necessary to keep it moving forward. Thanks to these combined efforts, the Accrediting Committee of the ACEJMC first voted in March of this year to unanimously support the accreditation of the Jandoli School of Communication, which was validated by the Council with this most recent April voting decision.
The new accreditation bolsters St. Bonaventure University's external recognition, including its 2019 designation as #1 Best Value in New York by U.S. News and World Report. Moreover, it serves as a reminder that these successes come from St. Bonaventure University's core value of striving for excellence in everything that they do.
For more on this ACEJMC accreditation, please find the press release here: https://www.sbu.edu/about-sbu/news-events/latest-news/news-release/2019/04/26/jandoli-school-of-communication-earns-prestigious-accreditation
For more on the Jandoli School of Communications and its various programs, please visit: https://www.sbu.edu/academics/schools/communication