Online Counseling Infographic: How a New Generation is Changing Therapy Forever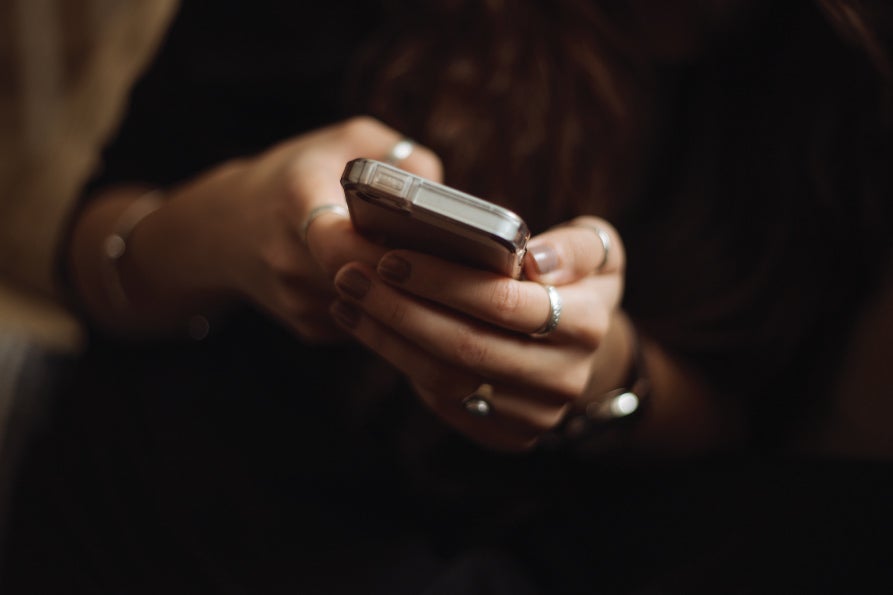 Like many services in today's technology-saturated world, the advent of online counseling means therapy no longer requires a physical meeting between patient and therapist.
Now, the habits of the millennial generation are transforming how people feel about therapy as well as how they seek it out.
Today, online counseling, meaning meeting with a therapist on your computer, tablet, or smartphone, is rapidly becoming the norm, especially among younger people, who are often most in need of treatment.
Click here to view and download the full infographic.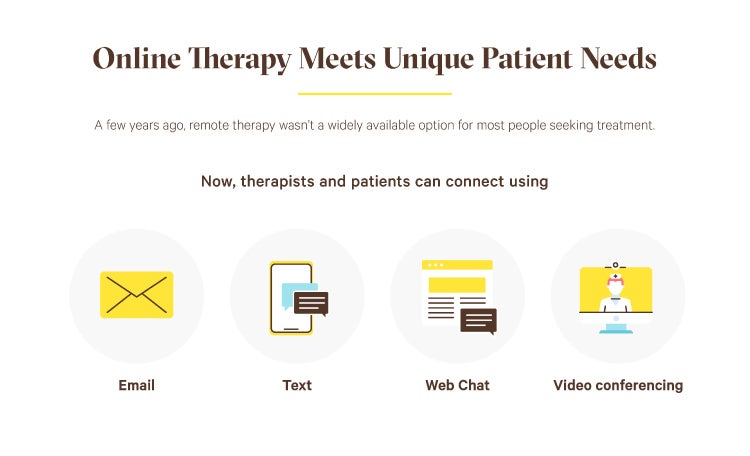 Online Counseling Meets Unique Patient Needs
A few years ago, remote therapy wasn't a widely available option for most people seeking treatment. 
Now, therapists and patients can connect using:
Email
Texting
Web chatting
Video conferencing
Email allows therapists to stay in touch with hard-to-reach patients, who may otherwise not be able to meet the rigorous schedule of regular office visits. Online counseling allows therapists to email important information to patients, who can access that information any time they wish.
Texting has replaced phone conversations among a wide swath of today's population. For online counseling, texting is a non-intrusive way for mental health professionals to reach patients without adding to their mental health burden.
Web chatting is the perfect solution for patients who, for whatever reason, cannot visit a counselor's office, but still require a more one-on-one theraputic approach. Online counseling via web chatting is also immediate, meaning patients with urgent needs can have those needs met regardless of location or time.
Video conferencing, a natural extension of web chatting, adds the personal element of face-to-face communication to online counseling. Therapists can schedule regular check-ups to monitor patient progress and be sure prescribed medication and therapies are being taken.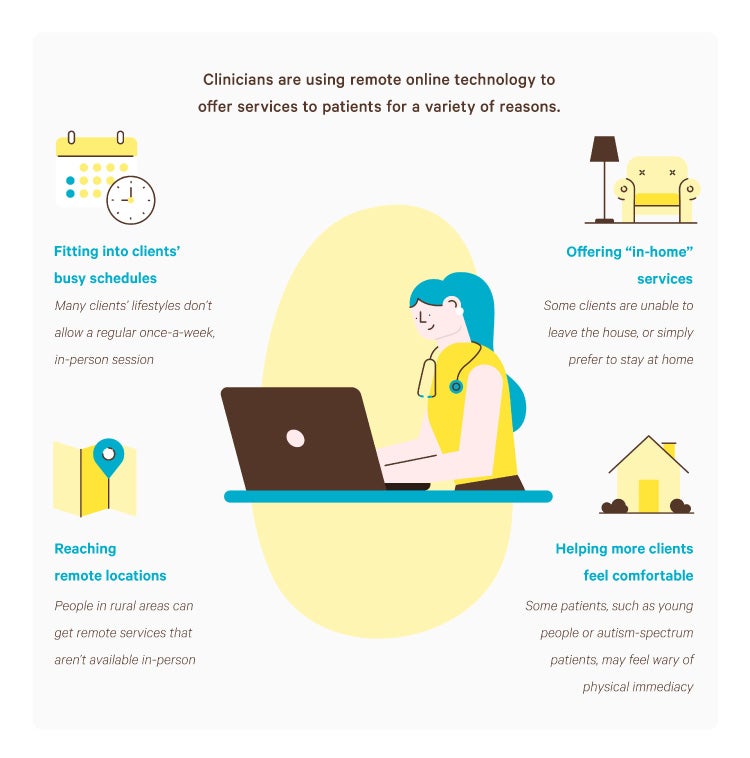 Clinicians Use Remote Technology to Offer Online Counseling
Clients often have busy schedules that don't allow for traditional approaches, whereas online couseling is far more flexible.
Likewise, client lifestyle may make regular once-a-week, in-person sessions nearly or completely impossible. Online counseling allows such patients to receive virtual "in-home" sessions from their therapist.
At the most extreme end of the spectrum, sometimes the clients most in need of treatment simply cannot leave their homes. For example, the COVID-19 pandemic caused shelter-in-place orders in many states, leaving those seeking therapy to look for alternatives to face-to-face visits.
Others may simply prefer to stay home or feel more comfortable receiving online counseling there.
Another benefit of online counseling is how it facilitates reaching rural and remote locations. People in these areas typically are unable to receive in-person treatment, meaning online counseling may be their only option.
Ultimately, online counseling helps a larger number of clients feel more comfortable. Some patients, like the young or those with autism-spectrum issues, may prefer to avoid being in close proximity with others.
Online counseling simply allows therapists and other mental health professionals provide care to more of those most in need.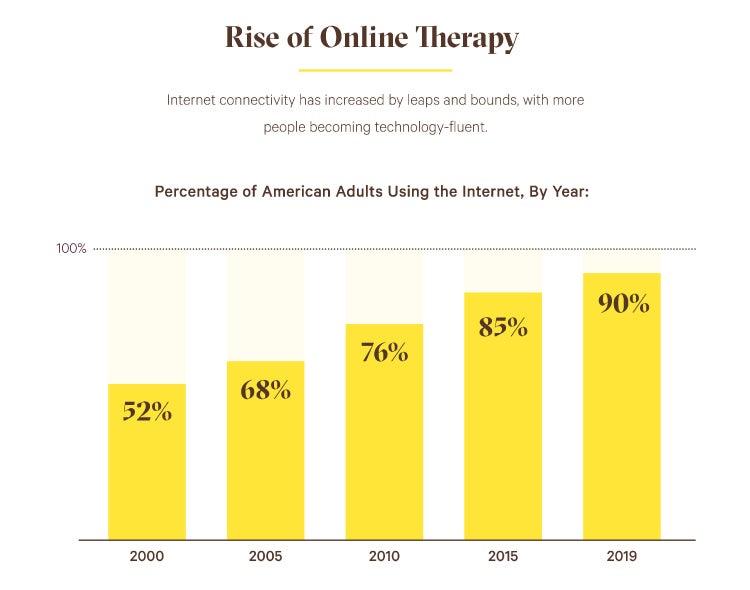 The Rise of Online Counseling
Internet connectivity has increased by leaps and bounds, with more people becoming technology-fluent, more open to using new technologies, and more likely to own a device that grants them access to the Internet.
Percentage of American adults who use the Internet, by year (source):
2000: 52%
2005: 68%
2010: 76%
2015: 85%
2019: 90%
By any measure, it's clear Internet use by Americans has grown by leaps and bounds over the last 20 years.
While that growth has slowed as it's approached 100%, the chance that it will decrease any time soon is slim to none.

Online Counseling on a Smartphone?
The average smartphone user unlocks his or her phone 110 times a day (source).
While this number certainly isn't uniform across all age groups in society, the likelihood of owning a phone has increased in the past 20 years.
Today, all Americans, regardless of age, gender, or where they live, are more likely to own a cellphone than they were in the past.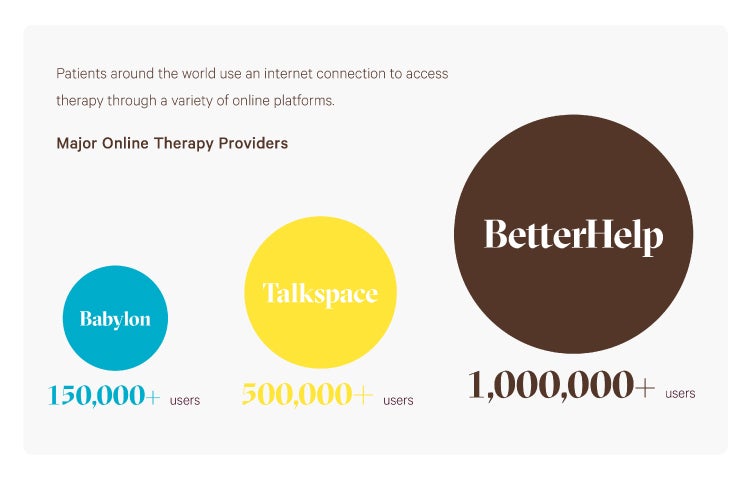 Major Online Therapy Providers
Patients around the world use the Internet to access therapy through via a variety of online platforms: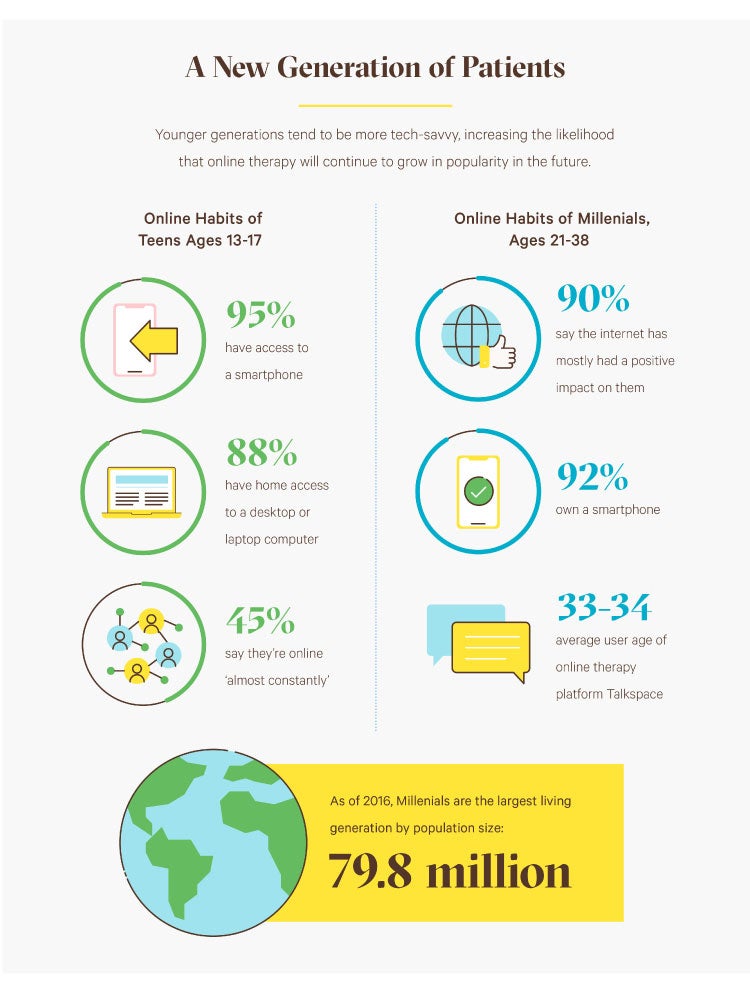 A New Generation of Patients
Members of the younger generations tend to be more tech-savvy.
This means the likelihood online therapy will continue to grow in popularity in the future is only going to increase. 
Online Habits of Teens Ages 13-17 (source)

95% have access to a smartphone
88% have home access to a desktop or laptop computer
45% say they're online 'almost constantly' 
As of 2016, Millennials as a generation make up the largest segment of the population with 79.8 million individuals.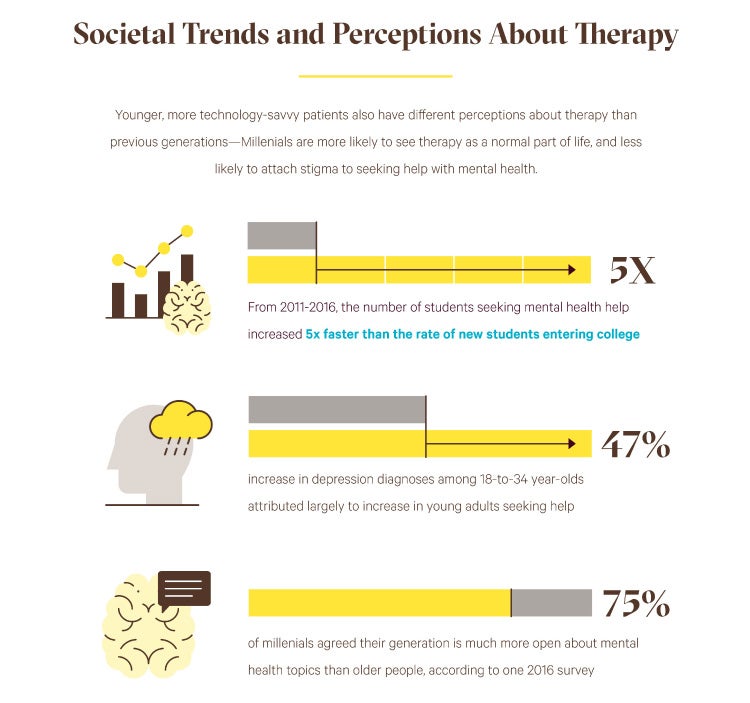 Societal Trends and Perceptions About Therapy
Younger, more technology-savvy patients look at and think about therapy differently than previous generations.
For one, millennials are more open to understanding therapy as a normal part of their lives.
They are also less likely to attach the same kind of stigma as those of older generations to the act of reaching out for help with mental health issues.
From 2011-2016, the number of students seeking mental-health help increased 5x faster than the rate of new students entering college (source)
47% increase in depression diagnoses among 18-to-34 year-olds attributed largely to increase in young adults seeking help (source)
75% of Millennials agreed their generation is much more open about mental health topics than older people, according to a 2016 survey (source)
Technology and changing perceptions about mental health are transforming clinical practice.
As technology advances and perceptions continue to change, online counseling is sure to become ever more common.
This shift represents a sea change in how mental health counseling is delivered in the United States, meaning learning how to counsel effectively over the Internet is a skill that is already in demand.
St. Bonaventure University's online MSED in Mental Health Counseling teaches you the skills and techniques necessary to be an effective 21st century counselor.