What Is the Difference Between a Masters in Strategic vs. Organizational Leadership?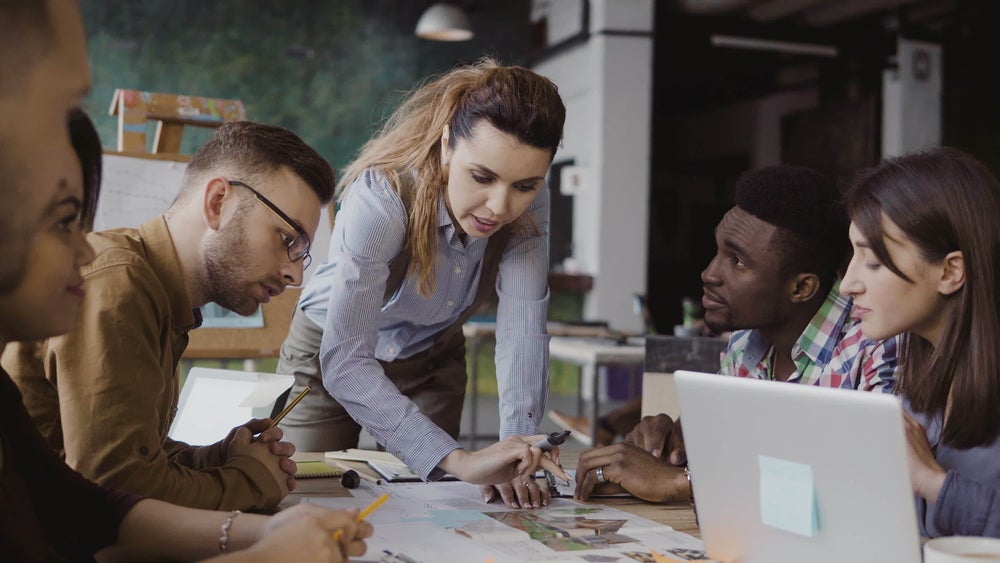 In the search for graduate business degrees, professionals can get lost in the weeds when reading about different leadership specialties. Graduate school applicants have to consider whether to pursue an MA in Strategic Management, similar to degrees such as Master of Business Administration. The choices continue within these degrees with concentrations like strategic leadership and organizational leadership.
The differences between strategic management degrees and organizational leadership degrees include required skills, job prospects, and salaries. An aspiring executive interested in large-scale goals and processes should consider a master's in strategic management. Programs like the online MA in strategic leadership from St. Bonaventure University turn professionals into visionaries and disruptive forces in their respective industries.
Defining terms
Strategic leadership and organizational leadership degrees are distinct because each career path requires different skills. According to the American Society for Quality, strategic leadership involves the creation of core elements like a company's mission and long-term vision. Strategic management professionals also develop durable processes and systems to achieve these goals. In short, a master's in strategic management structures a student's thinking to anticipate challenges and adjust tactics.
Organizational leadership degrees train students to manage teams and develop initiatives that are people-focused. An organizational management mindset takes into account employee motivation, customer demands, and international business trends. U.S. News & World Report says that an organizational leadership specialist deploys interpersonal skills rather than technical competencies to achieve professional success. While strategic leaders focus on long-term achievements, organizational leaders are concerned with day-to-day activities that impact professional relationships. 
Personality profiles
Before delving into advanced management degrees, prospective applicants should consider which path works well for their personalities and interests. Harvard Business Review examined personality traits that are essential to successful strategic thinkers. 
Strategic managers are gifted in anticipating challenges and trends through simulated business scenarios and examination of competitors. The best strategic leaders don't accept common knowledge or built-in assumptions. These leaders ask for honest feedback and include skeptics in strategy sessions. The publication also noted that successful strategists can combine anecdotes and data to find solutions that aren't visible to other companies. Strategic leaders like to explore new ideas, identify the core of each problem, and develop elegant processes. 
Organizational leadership experts start to solve problems by considering the needs of stakeholders prior to collaboration. An aspiring organizational manager wants to improve how they convey information to diverse audiences. Graduates with this specialization are also trained to consider the interactions of inside and outside forces on their departments. This career path rewards professionals who are naturally inclined toward helping people meet their goals in the service of a larger mission. 
The Myers-Briggs Type Indicator
The Myers-Briggs Type Indicator offers a simple method for defining personalities that best fit into strategic and organizational degree programs. Strategic leaders often fall into the Introversion-Intuition-Thinking-Judgement (INTJ) personality type. INTJs, often known as the architect personality, establish goals and use logic to achieve their missions. Strategic leaders also fall into the INTJ type because they treat challenges as complicated puzzles that can be solved through extensive deliberation. 
Organizational leaders are often connected to the Extraversion-Intuition-Feeling-Judgement (ENFJ) type or the diplomat personality. ENFJs are optimistic about people and help others achieve their goals. Professionals in this personality type develop relationships easily and find common ground with a variety of people. An organizational leadership degree is ideal for enthusiastic and outgoing students who want interpersonal relationships at the center of their careers. 
Required coursework
Every graduate degree in business lays a foundation for working in the modern economy. The distinctions between strategic and organizational degrees are based as much in tone as the types of courses. Strategic management degrees from SBU and other institutions promote faculty, courses, and materials that deal with high-level business thinking. For example, SBU's program features classes in global leadership and leading change ideal for developing and achieving large-scale goals. This type of MA leadership degree also develops an awareness of business functions and problems common across multiple industries and departments. 
The varied career paths of organizational leaders are made possible with degrees that allow customization and specialization. A typical master's degree in organizational leadership might feature concentrations in human resources, marketing, communications, and international commerce. Graduate students also work with their academic advisors to find internships and elective courses that allow further specialization in the field. Organizational leadership degrees prepare students for departmental management, while strategic leadership degrees train future executives and business owners. 
Career outlook
The Bureau of Labor Statistics (BLS) projected an 8% growth in management jobs in the United States from 2016 to 2026. This projection is on par with overall job growth in all occupations, but current and future managers should not assume all management positions are equal. Professionals with strategic management degrees should select career paths that maximize opportunities for future growth and jobs. 
Financial managers use strategic leadership skills to position their employers toward good investments and long-term profits. High demand for executives with financial industry knowledge means a 19% estimated job growth for the occupation. Administrative services managers are responsible for accounting and operations planning within companies. The BLS estimates a 10% growth in similar positions by 2026. 
Organizational leadership positions tend to stick closer to the 8% growth estimate by the BLS. Human resources management jobs are expected to grow by 9% during the 10-year period, while sales management positions have an estimated growth of 7%. These estimates show a higher premium placed on the long-term planning skills of strategic leaders compared to the soft skills of organizational leaders. Graduates of both specializations, however, can expect plenty of opportunities in their chosen fields. 
Salaries
Choosing between strategic management degrees and organizational management degrees can also depend on future earnings. Graduates of organizational leadership bachelor's programs earned an average of $63,000 in 2019, according to PayScale. The site found an average salary of $57,000 per year for professionals with bachelor's degrees in strategic leadership. A study of salaries for experienced professionals, however, reveals a long-term shift in average earnings for these specializations. 
U.S. News & World Report reported that professionals in organizational leadership positions earned average salaries of $83,750 after 10 years of experience. PayScale placed the median salary for strategic planning managers at $92,985 in 2019 with a top salary of $133,000. The BLS also reported a median salary of $104,980 for top executives in 2018 with many executives possessing strategic leadership backgrounds. 
A master's in strategic management creates opportunities for high-level business challenges and financial rewards. SBU's online Master of Arts in Strategic Leadership program moves graduates from their first class to graduate in one year with accelerated courses. Every student completes a leadership portfolio prior to graduation that demonstrates familiarity with strategic management concepts. With an MA in leadership, professionals can help companies around the world navigate sudden shifts in the corporate world.