St. Bonaventure University - Student Spotlight - Bonnie Walker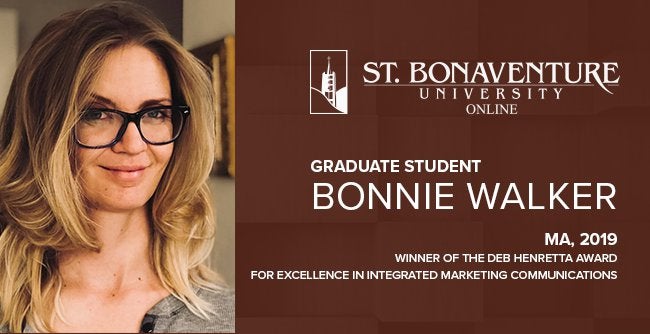 Graduate Student Bonnie Walker, '19, MA
An interview with Bonnie Walker, the 2019 winner of the Deb Henretta Award for Excellence in Integrated Marketing Communications.
Q: Could you share your professional background and how you came to choose the IMC program?
A: I've been in the workforce for some time since my undergraduate days, and in a series of industries and positions. One constant always seemed to be my "helping out" with web design, social media, logo development, overall branding etc. Despite the obvious, I never really thought of it as marketing! When I finally left my last position, I decided to reverse engineer my next career path by going online and seeing what jobs were out there. I would click on positions that interested me, and before long marketing came to the forefront as a common thread. That is when I began researching programs, and eventually came upon St. Bonaventure University's IMC curriculum. I'd had first-hand, in-industry experiences on the necessity of an integrated skill set, and so SBU quickly became my top choice.
Q: When you first began the IMC program, what did you find difficult or intimidating, and how did you overcome it?
A: As I worked exclusively online throughout the program, discipline and time-management were my dominant concerns. As well, translating my "boot-strap" experience into a formal educational setting confounded me at times. My best work came when I let myself play with the materials, and allowed my creativity to take me down paths I would not have otherwise considered. And lots of coffee.
Q: What did you learn about yourself through your IMC journey?
A: At the beginning, I thought that I needed to become a "MARKETER" in order to succeed. By the end of my time in SBU's IMC program, I had discovered that it was when I was the most "myself" that I was the most successful. This lesson is one of the most important that I've learned.
Q: Now that you are finished, what would you advise to those who are interested in pursuing a degree in IMC?
A: We are all endowed with different strengths. Allow the program to challenge you, so you might discover throughout your IMC journey what you, uniquely, might bring to your assignments, your IMC plan, and eventually your career.
Visit our site to find out more about St. Bonaventure's Integrated Marketing Communications and Leadership graduate programs.
Click here for the full spring issue from the Jandoli School of Communications.