Student Spotlight: Jack Milko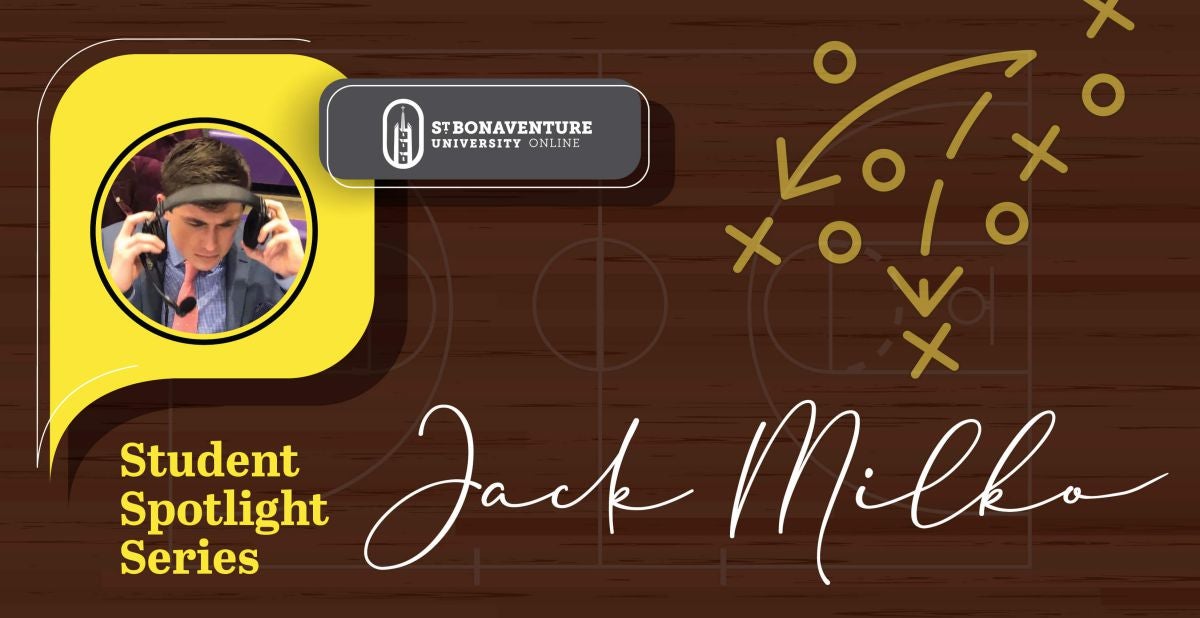 A unique benefit of St. Bonaventure's Sports Journalism Master's program is, without doubt, the expert-led masterclasses. Each seven-week course contains a video lesson where students gain priceless insights from accomplished alumni or industry professionals. We recently asked Jack Milko, a current student, to summarize what he learned from a recent sports journalism masterclass. 
"Perhaps the best part about this program is the ability to interact with distinguished St. Bonaventure alumni who hold prominent jobs in the sports media industry. Last month, Tim Bontemps '07 of ESPN and Ryan Talbot '06, who covers the Buffalo Bills, sat down with our class to discuss modern sports reporting.
As a beat writer in training, I wanted to focus on and ask questions about the modern game story. So here is what I learned from these two distinguished alumni and my Sports Reporting professor, Dr. Tammy Rae Matthews."
-Jack Milko, current student
We've included a copy of Jack's bio underneath his article and want to express gratitude - we appreciate your work on this Jack. Best of luck in the program.
The Modern Game Story
ST. BONAVENTURE, N.Y. – The game story may be considered as the atomic unit in sports journalism, but the traditional game story can be thrown out the window in today's media landscape.
The traditional Associated Press game story, which provides statistics, play-by-play, and who scored what, does not exist anymore.
Instead, sports journalists today focus on takeaways, trends, and what is most important.
"If you are writing about a game, you need to tell me what the most important thing was—and you got to do it fast," said Tim Bontemps '07, who is an NBA reporter for ESPN. "People run out of steam quickly. There are a million different places for people to get attention now. You must grab somebody at the beginning of your story and explain why this is important. If you draw them in, then they will keep reading. But you have to make them interested."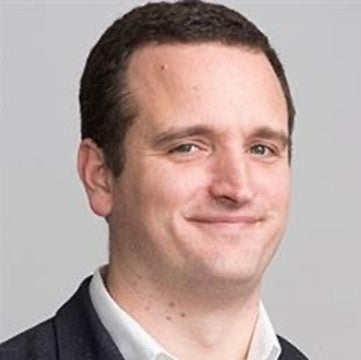 Tim Bontemps, NBA Writer for ESPN.
People's attention spans have diminished during the smartphone era, so getting that important information across quickly is imperative.
"Now we have live streams and live tweets," said Dr. Tammy Rae Matthews, who is in her first year as a professor at the Jandoli School of Communication at St. Bonaventure University. "You know what the score is instantly. So, you must look and find that additional information for the modern game story."
Sometimes that additional, vital information happens during a game.
Julius Randle, who plays for the New York Knicks, made an obscene gesture towards his hometown fans in a game at Madison Square Garden last year.
This image was on the back cover of the New York Post, and Randle's actions was the story.
Then there are instances where important information emerges from outside of the game.
NBA All-Star Kyrie Irving's vaccination status has no impact on a game between his Brooklyn Nets and the New York Knicks. Irving's hesitancy to get the COVID-19 vaccine is an important story. He was not allowed to play for the Nets because of New York City's vaccination requirement at the time.
Other times, journalists need to find the better angle.
Before working at ESPN, Bontemps spent time working at The New York Post. In 2010, on Thanksgiving Eve, he was assigned to cover a game between the New York Rangers and the Tampa Bay Lightning.
 "The Rangers are in Tampa Bay, and they got annihilated by the Lightning," Bontemps recalled. "Henrik Lundqvist, who is a Hall of Fame goalie, gave up five goals and got pulled in the second period. Everybody was writing a Lundqvist story because he got pulled and the Rangers got shelled."
"After the game, John Tortorella, New York's head coach, comes out in the press conference and destroys Marion Gaborik, who is the team's best player besides Lundqvist.
Instead of focusing on New York's goaltending, Bontemps felt that Tortorella's press conference was the main story. For a coach to rip into his team's highest-paid player is rare.
Bontemps was right.
The next morning, Bontemps' story on Tortorella's outburst was the main headline on ESPN.com.
"You don't have to follow the crowd," Bontemps added. "You have to learn to trust your gut and figure out what you think the most important thing to come out of the game is."
Sports journalists should never follow the pack, but they should follow trends.
If something is trending—such as an off-the-field spat between two players—then journalists should keep an eye on that development and then see how a game plays out relative to that.
During training camp in 2018, Jalen Ramsey of the Jacksonville Jaguars called out Buffalo's Josh Allen. Ramsey said that Allen was "trash" and that Buffalo made "a stupid draft pick."
Ryan Talbot '06 covers the Buffalo Bills for NewYorkUpstate.com. He paid close attention to Ramsey and these comments.
Later that season, Jacksonville played in Buffalo.
Josh Allen and the Bills defeated the Jaguars 24-to-21 on Nov. 25, 2018.
"Everyone's going to the Bills locker room to try and get Josh Allen to talk about it," Talbot reminisced. "Anyone who has covered Allen knows he's not going to out of his way to run an opponent down. So, I went to [Jacksonville's] locker room to talk with Ramsey and asked him what he thought of Allen."
At that point in the 2018 season, both Buffalo and Jacksonville had losing records and were out of play-off contention. It was a meaningless game.
Since he paid attention to a five-month-long trend, Talbot turned a meaningless game into a meaningful one. He wrote about how Ramsey ate his words, which ignited the Buffalo fan base.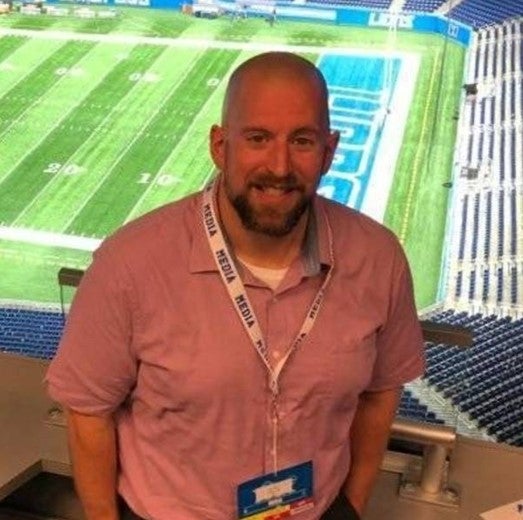 Ryan Talbot, Beat Writer for the Buffalo Bills.
Obviously, game stories still exist today. But more thought needs to be put into them instead of just focusing on the box score and play-by-play.
"If I am sitting on press row covering a game," Bontemps said, "I'm always thinking about, 'what is the most important thing that happened today?'"
Jack Milko Bio
Back in high school, at McQuaid Jesuit in Rochester, NY, I started my own radio station where we would broadcast our school's basketball games online. I served as the lead play-by-play announcer while we also had a color commentator, a statistician, and a producer.
Ironically enough, during my senior year, a 6'7" freshman by the name of Isaiah Stewart enrolled at McQuaid. He would go on to dominate, averaging close to 25 points and 15 rebounds per game. Watching him light up the Rochester basketball scene as a 14-year-old was incredible, but selfishly speaking, I can proudly say that I am the first play-by-play announcer to call an Isaiah Stewart game. If you do not know Stewart, he starred for the University of Washington and was then selected 16th overall in the 2020 NBA Draft by the Detroit Pistons. 
In the Fall of 2016, I began my undergraduate studies at the College of the Holy Cross in Worcester, Massachusetts. While there, I served as the lead play-by-play Announcer for the Holy Cross Men's and Women's basketball teams as well as the Baseball and Softball teams. By the time I was a Junior, I was appointed as President of WCHC Sports, as WCHC 88.1 FM is the Holy Cross student radio station.
Perhaps the highlight of my undergraduate career occurred on January 25, 2020. On a cold, snowy Saturday in Worcester, I planned and hosted a panel discussion that featured some true Holy Cross legends: the late Tom Heinsohn--otherwise known as "Mr. Celtic," Togo Palazzi, Earle Markey, Ron Perry Sr., and Boston Globe columnist Dan Shaughnessy. My questions, and the ensuing discussion, revolved around a documentary titled "Purple Reign," which showcased the glory days of Holy Cross basketball in the late 1940s and early 1950s. The Crusaders won the 1947 National Championship and the 1954 National Invitational Tournament.
Then the pandemic hit during my senior year at Holy Cross. We were sent home, and finding a job in that climate was impossible.
Growing up, I was always a St. Bonaventure basketball fan as I have had numerous family members attend the University. My fandom of the Bonnies led me to A10Talk.com, an online website that covers the Atlantic 10 Basketball Conference.
Since January 2018, I have written for the Bonnies, and during the 2020-21 COVID season, I was the lead beat writer for the Bonnies for A10 Talk. Thus, when St. Bonaventure University unveiled this program in March 2021, I decided to go for it.
It was one of those life decisions where I immediately knew I made the correct decision, and I cannot believe how much I have learned already.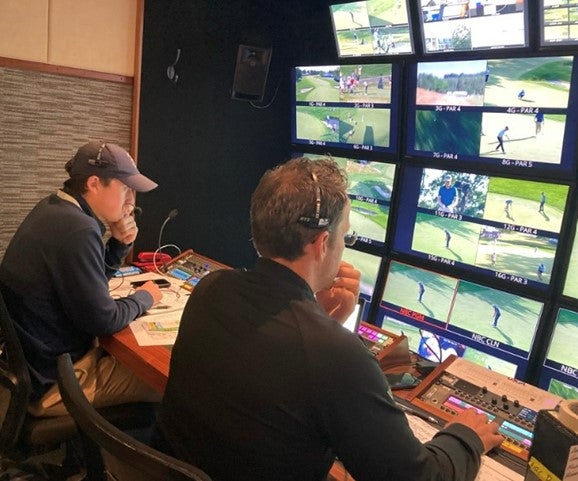 Jack Milko and Producer Ray Jacobs at the 2022 U.S. Open in Boston, where he helped produce the broadcast in a TV Truck.