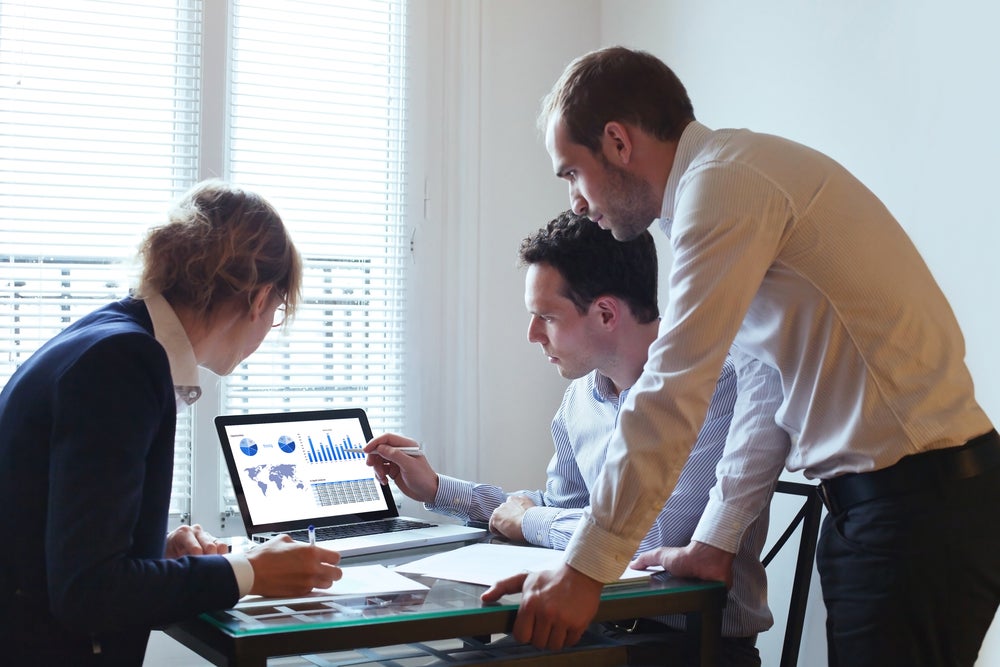 Choosing an MBA specialization supplements a program's core business curriculum with a focused study on a specific area of business, from finance and accounting to IT and international business. Not only do MBA specializations allow students to really focus on an area of business they're passionate about, but they can give them a professional edge too: According to the Graduate Management Admission Council's 2017 Corporate Recruiters Survey Report, 25 percent of employers surveyed are willing to pay extra for graduates with specialized degrees.
Of the myriad MBA specializations offered by business schools, marketing is one of the most popular and high-paying. A marketing MBA combines creative mindsets with marketing strategies and business leadership skills. Ideally, a master's in marketing MBA is suited for aspiring and established marketing leaders who want to spearhead international marketing campaigns, lead market research, and analyze customer behavior.
If you're wondering what you can do with an MBA in marketing, there are numerous opportunities across multiple industries, including media, energy, healthcare, technology, and software. The following list summarizes some of the most in-demand MBA marketing jobs available. By no means is this list exhaustive; it's an introduction to a few of the many opportunities for marketing MBA grads.
Business Development Executive
These executives are more sales-focused than some of their marketing peers, tasked with the goal of attracting new customers to a business. Business Development Executives find new prospective clients, pitch products and services, and keep current customers happy. Their strengths include identifying growth opportunities and using deep marketing skills to put strategic growth plans into action.
Average Annual Salary (per Glassdoor): $74,932
Companies Currently Hiring: Dell, IBM, Unilever
Chief Marketing Officer
Also known as a CMO, this executive-level role is often the top marketing job a professional can hold. Chief Marketing Officers oversee a company's marketing plan; developing marketing, branding, and advertising strategies; shape future marketing goals; and oversee an entire marketing staff. The end goal: generate revenue for a company by efficiently promoting its products and services.
Average Annual Salary (per the Bureau of Labor Statistics): $183,270
Companies Currently Hiring: Honeywell, Penn State University, Third Love
Market Research Manager
A great marketing campaign usually has an excellent market research manager working behind the scenes. These professionals are responsible for helping leaders determine measurable goals and techniques for marketing campaigns. They gather data and research that can help marketers execute effective campaigns. This role tends to be more analytical than other marketing positions, and ideal candidates usually have sharp marketing, data analysis, and business skills.
Average Annual Salary (per Glassdoor): $85,880
Companies Currently Hiring: Bloomberg, Liberty Mutual Insurance, Microsoft, Uber
Product Marketing Manager
These professionals work closely with product managers. But while it's a product manager's job to determine strategy for a specific product, the product marketing manager is focusing on how that product should marketed. They conduct market research and competitive analysis studies, help create content marketing plans, and define and establish positioning strategies for the product. Their goal isn't to create or develop the product, but to use marketing insights to figure out the very best way to promote it.
Companies Currently Hiring: Bridge Partners, IBM, Quicken Loans, Uber
Chief Communications Officer
This executive is typically the gatekeeper of a brand's voice – in charge of setting the guidelines for all of a company's internal and external communications. They handle everything from creating marketing campaigns and communications strategies to developing internal brand initiatives and serving as spokesperson for a CEO. While this role may feel more aligned with the public relations or communications field rather than marketing, those with an MBA in marketing have found success here as well. Chief Communications Officers typically move up into this role from leadership roles in public relations, communications, sales, and marketing.
Companies Currently Hiring: The State Bar of Arizona, City of Palo Alto
Senior Market Research Analyst
A market research analyst's main goal is to study the current state of the market to determine how a product or service might perform. They forecast trends, measure the effectiveness of company marketing campaigns, collect and analyze data, and present all of these findings to key company stakeholders. An ideal senior market research analyst has a solid background in marketing, statistics, and computer science. They're critical thinkers with an analytical frame of mind, but they've got a creative flair too.
Average Annual Salary (per Payscale): $71,014
Companies Currently Hiring: Apple, iHeartMedia, Progressive Insurance
Senior Marketing Strategist
Similar to a Market Research Manager role, marketing strategists are responsible for providing sound marketing recommendations for a company's campaigns. They gather data and work with clients to analyze and determine how best to market a product. Great strategists can approach a marketing campaign with an analytical mindset, but also have the creative marketing skills to make a plan of action.
Average Annual Salary (per Glassdoor): $90,759
Companies Currently Hiring: Advent Health, Deloitte, Disney, Grubhub
St. Bonaventure University's online MBA program offers a concentration in marketing that prepares marketing professionals for roles at the executive level. Beyond core MBA courses, marketing-centric areas of study include market research and strategy, consumer behavior, international marketing, and more. Online courses give professionals flexibility to study while working full-time, without sacrificing their quality of education. St. Bonaventure's online MBA programs are ranked in the top 5 percent of business schools worldwide by the Association to Advance Collegiate Schools of Business (AACSB).