What is Business Analytics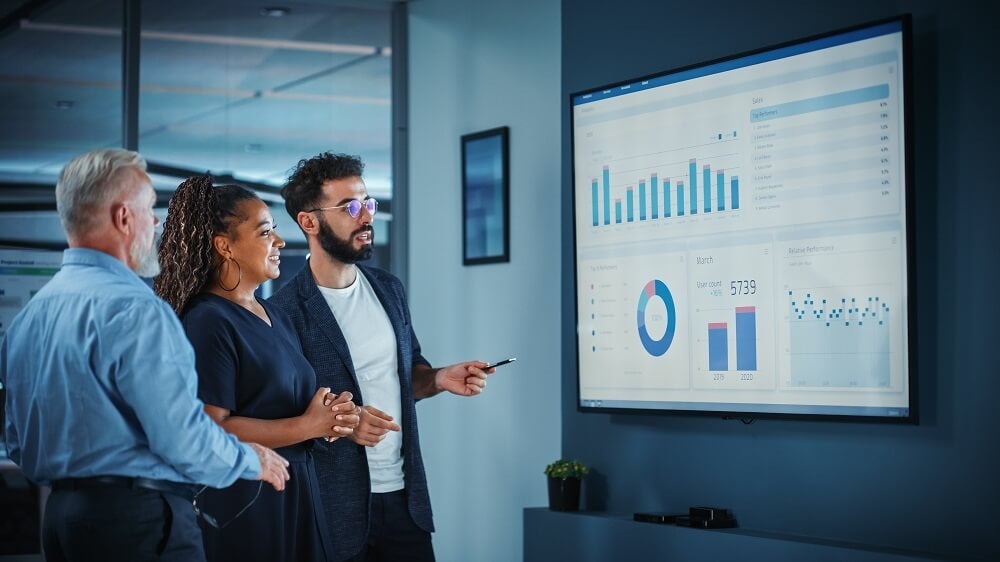 Measuring the strengths and weaknesses of any business is a challenging task. It takes time, effort, and expertise to drill down into the nuts and bolts of what's working or needs improvement. When you're knee-deep in execution, management, and administration, it can be difficult to shift out of everyday decision-making to get that bird's-eye view of what you could be doing differently.
Enter: Business analytics. These metrics include data analysis, interactive dashboards, custom visualizations, and statistical models that objectively demonstrate how your business can be better streamlined. These tools empower, inform, and serve your business needs by providing a new perspective through deeply accurate and immediately actionable insights.
Types of business analytics
Business analytics gathers information from various sources, including sales figures, employee productivity measurements, customer feedback, website statistics, or social media interactions. This information is then aggregated, analyzed, and presented.
Types of business analytics include:
Descriptive analytics, which visualizes and presents information about past events
Diagnostic analytics, which aggregates information in an effort focused on troubleshooting and identifying problem areas
Predictive analytics, which analyzes data to forecast future events based on statistical models and algorithms
Prescriptive analytics, which analyzes data with an emphasis on offering applicable solutions
Successful business analysts know what type of information to look for and how to translate insights from data into applicable strategies. Business analytics goes far beyond spreadsheets and presentation decks, providing an overarching vision that includes practical steps to maximize success.
What tools does business analytics use
Business analytics relies on various data-gathering, visualization, and interpretation tools. These tools can vary in complexity, from simple spreadsheets to layered data science platforms to entire programming languages built to derive insights from data sets.
Data entry for business analytics can be straightforward, but knowing what type of data to gather and how to do the analysis can require advanced training and even a master's degree.
Popular business analytics tools include:
Cloud-based analytics platforms, such as Adobe Analytics, Google Analytics, and Microsoft Azure
Statistical analysis software such as R, SAS, and IBM SPSS for analyzing data and presenting insights
Python, a programming language that offers libraries to facilitate data analysis
Data visualization libraries that create interactive visualizations by combining several sets of data
Data-mining tools such as RapidMiner and Weka, which can identify trends in large numerical data sets
Text-mining tools like NLTK and TextBlob used to analyze customer reviews, social media reactions, and other natural language feedback
SQL (Structured Query Language), which is used to manipulate and manage data
Business Intelligence (BI) software, such as Tableau and PowerBI, can create reactive dashboards and custom reports
Dynamic spreadsheet software, such as Google Sheets or Microsoft Excel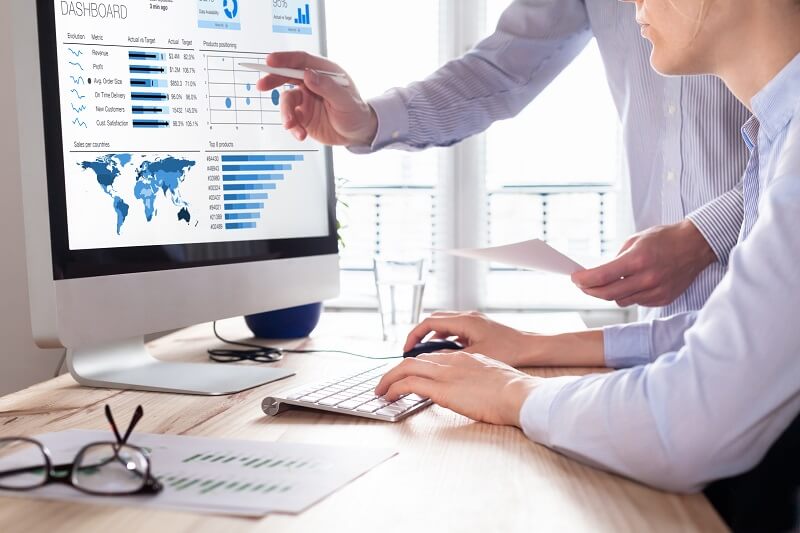 Why successful businesses rely on business analytics
Business analytics provides an objective foundation for better business outcomes. Here are a few key motivators for businesses to employ business analytics.
Improve strategic decision-making
Executives face hundreds of consequential decisions, big and small, through the course of every week. These decisions can have a real impact on profit margin, customer satisfaction, quality control, and employees' day-to-day lives. Without a clear strategy, these decisions won't cohere.
Data from analytics puts you in control of execution in an objective and linear way. Your plan illuminates the path to your business targets, and analytics help light the way.
Gain insights into business performance
If you think of your business as a powerful vehicle, business analytics provides a look under the hood and into the engine. Business analytics allows you to visualize future success and analyze what didn't work well in the past.
A comprehensive overview of your analytics can help you set KPIs (key performance indicators) to track ongoing, real-time feedback that goes beyond profit and loss. When everything should be working right, but things are still not taking off how they should, diagnostic analytics can be the key to identifying the problem.
Business analytics also provides a dynamic and complete record of your choices so the past doesn't repeat itself with every leadership change or reorganization. Keeping the past in mind is crucial to adapting for the future, and understanding what's been tried before will keep you from wasting precious time on ideas that won't serve your long-term goals.
Stay ahead of the competition
Prescriptive analytics, in particular, dives deep into the data to find what's working and what's not. Redundancies, inefficiencies, and waste can be hard for executives and managers to spot when they're occupied with high-level strategy and decision-making. Troubleshooting the bottlenecks in your current business plan means improved efficiency and faster growth.
Analytics can also help you spot opportunities for growth. Some tools even allow you to compare your business to the competition, scouting for opportunities they may need to include. Monitoring your competitor's performance helps healthy companies identify their competitive advantages.
Grow sales and cultivate customers
For sales-based businesses, analytics are crucial in understanding your customer base and measuring success.
Analytics can give you a descriptive picture of who is buying your product and their behaviors and preferences. Aggregating sales data with customer information helps you determine who your product is appealing to and spot potential customers you might be overlooking. You can also find the moments in your sales process where you lose potential conversions.
A clean and well-executed analytics presentation can provide insight into a new product development or expansion plan that makes sense based on your current market position.
Develop marketing strategies
Business analytics helps you understand your target audience so that you can market to them most efficiently. It's a great way to optimize who you market to and how.
Analytics will show you clearly whether you're getting a return on investment in marketing through social media, email marketing campaigns, paid advertising, radio advertising, or whatever other channels you're using to drive sales. A/B testing powered by analytics helps you see how customers want you to communicate with them in real time.
You can analyze direct feedback, such as customer comments, and metrics, like time spent on your website or clicks-per-ad. By leveraging predictive analytics and forecasting models, you can gain insight into what your customers will want from you. This will ensure you are ready for an influx (or drop) in demand.
Analytics also equips businesses with information to create targeted or personalized promotional campaigns aimed at leads and even helps you set competitive pricing based on current trends and marketplace shakeups. When a pivot in pricing or strategy becomes necessary, business analytics puts you in the optimal position to make the necessary shift.
Hire the best people
HR analytics provides a window into your employee's productivity, morale, anticipated turnover, and more. These metrics can tell you who you need and how to attract new talent and retain your best employees.
Forecasting analytics makes talent acquisition a streamlined, planned process instead of a hiring emergency to fill holes in an overworked staff. And succession planning helps identify employees with potential who can be fast-tracked and mentored by your current leadership. Targeting high performers and helping them develop the skills they need to move up in your business can motivate your workforce and increase company morale.
Analytics can also make hiring decisions easier. Candidate pre-screening and selection can narrow the field to your absolute best prospects, which increases the quality of your hires while reducing the number of interviews necessary to fill a position.
Improve financial efficiency
As every manager and CEO knows, a streamlined and efficient financial strategy is the foundation of a healthy business. Prescriptive analytics makes the hard financial decisions easier by laying out, in clear terms, the economic realities of your business.
Easily-accessible business intelligence through analytics keeps bigger businesses nimble and makes smaller enterprises more competitive, even in the fastest-paced industries. Expense management, fraud detection, cost-benefit analysis, and risk assessment are ways that business analytics can serve your bottom line.
Forecast the future
Predictive business analytics gives you a powerful way of understanding your business needs today and tomorrow.
On a practical level, forecasting and modeling can help you anticipate customer demand, adjust your inventory when necessary, optimize promotions to drive sales and take advantage of historical trends to maximize impact. By minimizing excess, a business can reduce overhead while maximizing cash on hand.
Business analytics helps on a more conceptual level by giving you the tools you need to cast a vision for the future. As you look at opportunities and obstacles that may lie ahead, you can be confident in your ability to plan.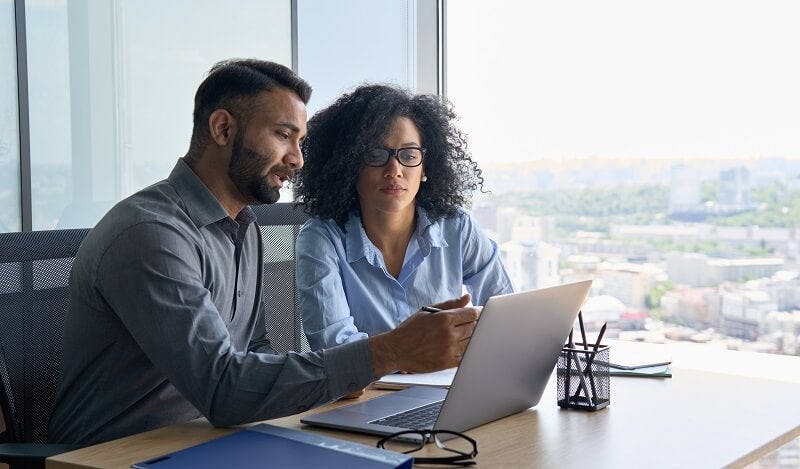 Maximize your impact with a Master's in Business Analytics
If you want to make a difference for your organization, you can do so with a Master's in Business Analytics from SBU.
As a business analytics graduate student, you will develop real-world experience analyzing information using data warehousing, business intelligence, and advice from expert faculty. Our courses are grounded in Franciscan values and embody ethical leadership – at a time when technology creates new challenges to privacy, security, and sustainability.
Flexible: 100% online coursework. Study anywhere at any time
Become proficient in industry-leading software like Tableau, SQL, Python, Excel, and more
Easy enrollment: No application fee. Apply with a BA or BS in any field. No GRE or GMAT is required.
Competitive tuition
Graduate in just under two years
St. Bonaventure University's dedicated staff are ready to answer your questions and help you prepare for what's next in your career. Connect with an Enrollment Advisor to discuss your future in business analytics.