Ethics in Journalism Masterclass by Jack Milko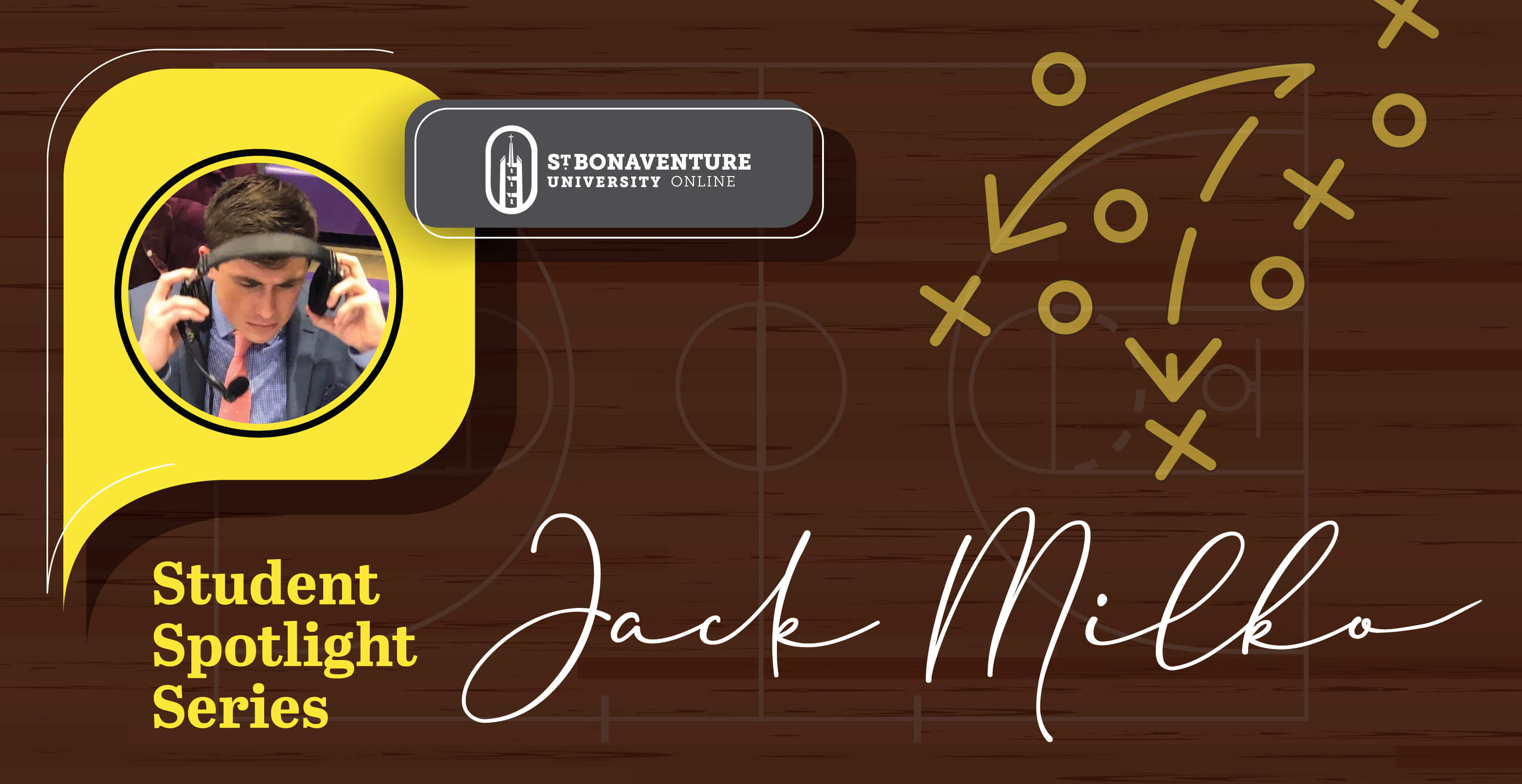 We recently started highlighting the great work coming out of our Master's in Journalism programs by asking students to summarize the content they're learning during their seven-week courses. We are taking this opportunity to spotlight another one of our expert-led journalism masterclasses because students enjoy hearing from accomplished industry professionals.
Jack Milko did an exceptional job on his Modern Game Story piece, so we asked him to also cover this masterclass on ethics. Check out Jack's bio underneath his article, and thanks again to Jack for helping us share these insights more broadly.
Ethics in Journalism
Reporting on difficult and sensitive matters is no easy task, especially when crime, abuse, or death are involved. This is why award-winning investigative journalists Charlie Specht (2010 graduate) and Joe Enoch (2006 graduate) were the perfect alumni to speak to a class centered on journalistic ethics.
Specht, who was named the Jandoli School Alumnus of the Year at the 2021 Hellinger Award Ceremonies for his outstanding reporting efforts, is now an investigative reporter at The Buffalo News.
Investigative Reporter at The Buffalo News and St. Bonaventure graduate Charlie Specht.
"I don't really have a beat per se, but pretty much anything that seems interesting that we want to sink our teeth into [is what I work on]," Specht explained to Jandoli School graduate students in the sports journalism and digital journalism program during a Zoom Masterclass session in July 2022. "I have been working on a lot of stories related to the shooting at the supermarket and that racist massacre. Over this past week, I've been working on a story about racism in Buffalo."
Enoch now works as an investigative producer at NBC News. His work mostly appears on NBC Nightly News with Lestor Holt and produces stories for The Today Show.
"The kinds of stories that I do are consumer investigative type stuff," Enoch told the students in Dr. Tara Walker's Journalism Ethics class. "It can be a story about how to keep your kids safe when you're going out to watch the fireworks all the way to really heavy hidden camera investigations. We have done some sports stories, [but] we kind of have opened our umbrella to just about anything."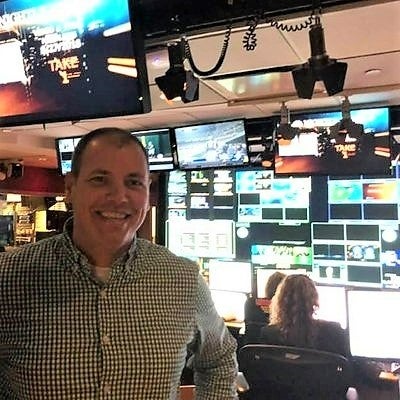 Investigative producer at NBC News and St. Bonaventure graduate Joe Enoch.
Before working for The Buffalo News, Specht worked as an investigative reporter for WKBW-TV, which is the ABC television affiliate in Buffalo.
While working at WKBW-TV, Specht spearheaded an investigation into the sex abuse scandals taking place within the Catholic Diocese of Buffalo. Dozens of victims came forward and shared their harrowing experiences. Specht spent more than two years reporting on the matter and put together more than 200 stories, which ultimately led to the resignation of Buffalo Bishop Richard Malone.
One of Specht's biggest sources was Bishop Malone's administrative assistant.
"I tried knocking on her door," Specht explained. "Unfortunately, she had just moved so she didn't have an address that I knew, so I ended up following her to work, which I don't recommend doing this with every story you do. But we ended up meeting, and she told me that she was upset with what she had seen."
"So at this point, I said, 'Okay. Can you make copies, can you take pictures?' I think I used one of my phones to take pictures too."
Unsurprisingly, the Diocese's lawyers were claiming that these documents were stolen. According to Specht, however, how he obtained the evidence did not violate any law, nor did it raise any ethics violations.
"These documents are not classified documents from the US Government," Specht noted. "So, it's not actually illegal to steal any of these."
Malone's assistant was worried that she would face a lawsuit.
"I was honest with her," Specht said. "I said, 'You may get sued by your employer and there is nothing I can do to stop that.' But then I said, 'Think about how ridiculous it would look if the Diocese of Buffalo sued you for exposing these crimes. It would bring all sorts of negative publicity to them and they're not going to do that.'"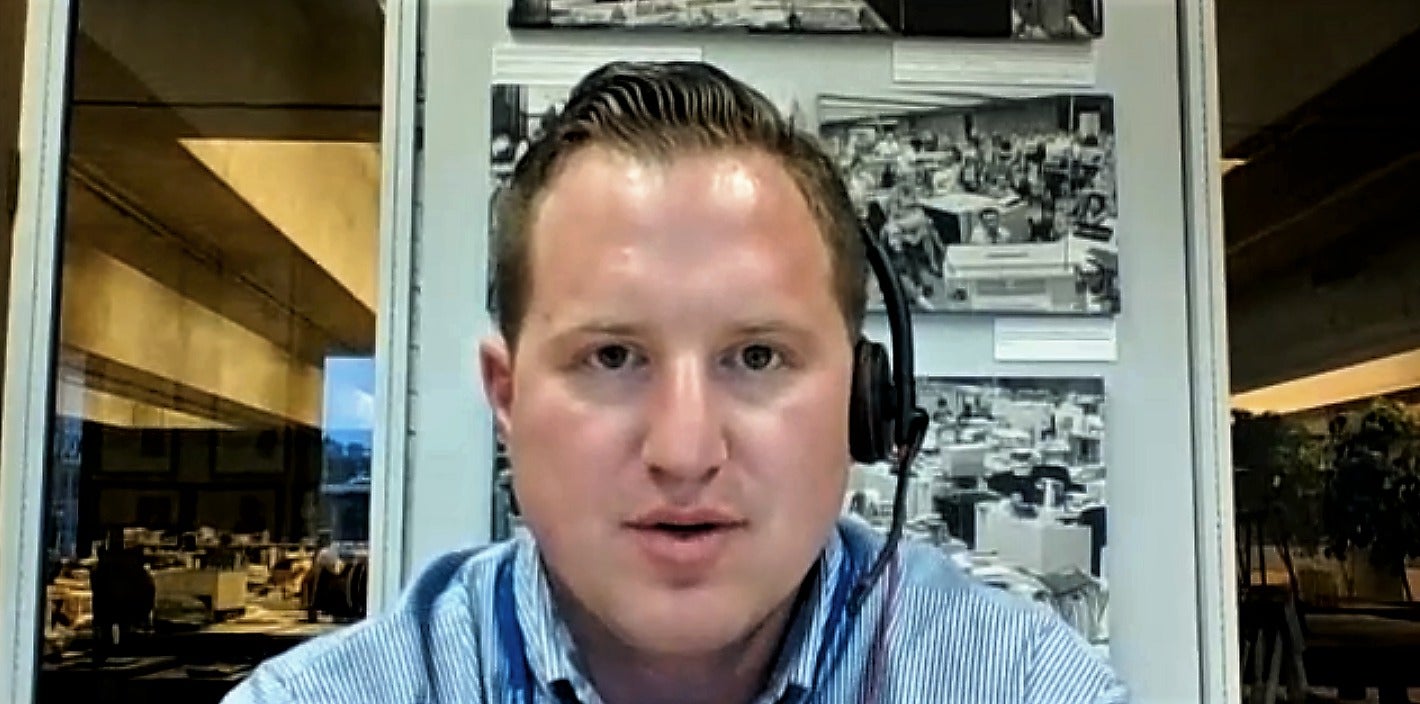 Specht speaking to students during the ethics in journalism masterclass.
Having people come forward—especially in light of such grave circumstances—is not easy to do. Nonetheless, Specht explained that her decision to support the story helped the greater good.
Specht also spoke with numerous victims.
"The average male sex abuse victim comes forward between the age of 45 and 55," Specht said. "They're embarrassed."
Specht took this fact and made a point about someone's motives and credibility, which is especially important for future journalists to understand.
"There isn't really an incentive to come forward and get some publicity," Specht said. "There are a lot better ways to get paid and a lot better ways to get famous. So, it's important not to assume that everybody's lying necessarily either, and to weigh one's motives and understand what they might be. You have to know what the risk is to them and what they might get out of it. [At the same time,] you are trying to make that judgment as to whether they're credible."
He worked diligently to get to the bottom of this story and was awarded the 2020 Alfred I. duPont-Columbia University Award for doing so.
"The searing compilation of investigative reports took clergy sex abuse and cover-up by the Catholic Church, and revealed hidden, long-standing problems within the diocese in Buffalo," Columbia University said in a statement announcing the award winners.
Four years ago, a 79-year-old woman died after being struck by a foul ball at Dodger Stadium in Los Angeles, which led Enoch to launch an investigation into fan safety at Major League Baseball games.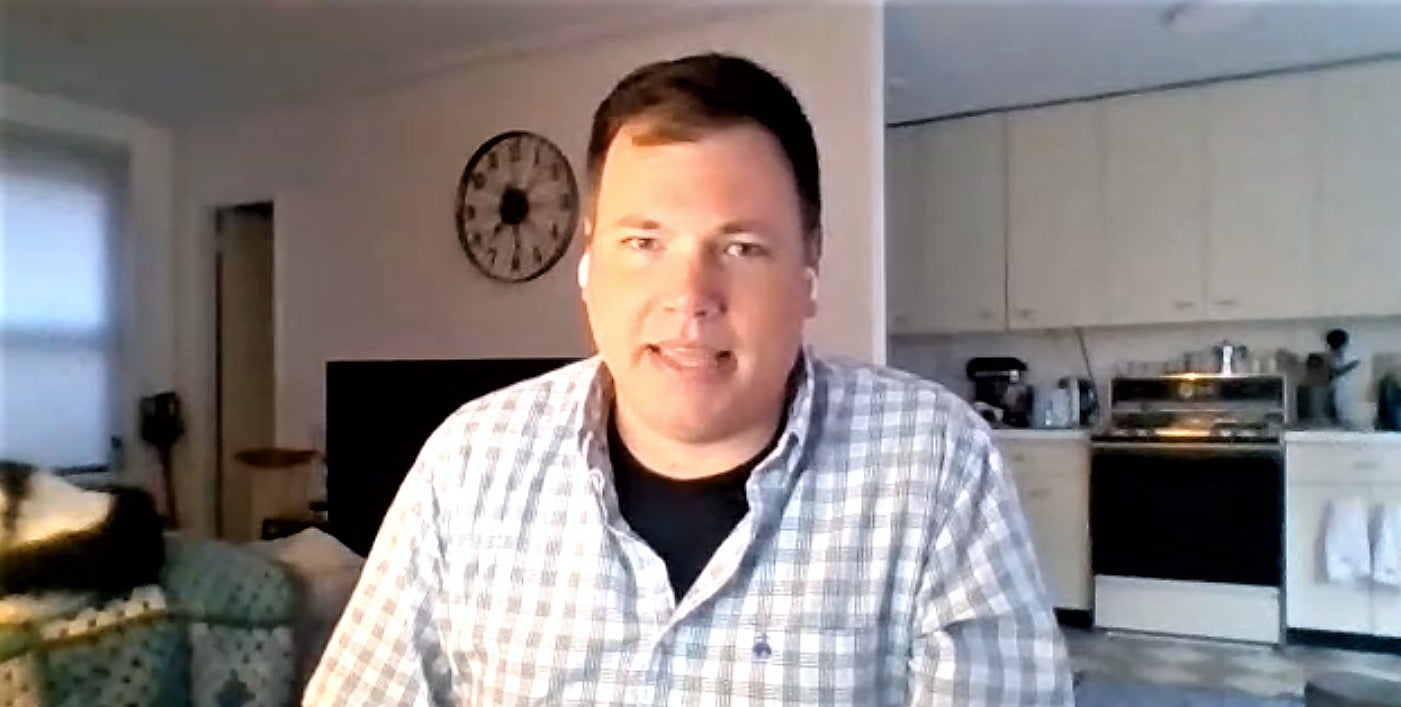 Enoch speaking to students during the ethics in journalism masterclass.
Enoch and his team of reporters discovered that fans were not adequately protected in a vast majority of major league ballparks. After this NBC News investigation, more than a dozen teams extended netting down the first and third base lines to give fans better protection from wayward bats and foul balls.
As a part of Professor Walker's Ethics Class, students read The Elements of Journalism: What Newspeople Should Know, and the Public Should Expect, which is authored by Bill Kovach and Tom Rosenstiel, who are both experts in the modern media landscape.
"The primary purpose of journalism is to provide citizens with the information they need to be free and self-governing," Kovach and Rosenstiel wrote. Furthermore, "journalists must serve as an independent monitor of power."
Enoch and Specht exemplify these principles outlined in Kovach and Rosenstiel's book, and the values taught at the Jandoli School of Communication.
The conversations that were had in this masterclass touched on much more. Both journalists answered good questions and provided sound advice. Interviews, reporting, and diversity were all important talking points, but at the end of the day, what is most important for Enoch and Specht—and the future journalists within this program—is to stick to the fundamentals of reporting and act objectively.
Jack Milko Bio
Back in high school, at McQuaid Jesuit in Rochester, NY, I started my own radio station where we would broadcast our school's basketball games online. I served as the lead play-by-play announcer while we also had a color commentator, a statistician, and a producer.
Ironically enough, during my senior year, a 6'7" freshman by the name of Isaiah Stewart enrolled at McQuaid. He would go on to dominate, averaging close to 25 points and 15 rebounds per game. Watching him light up the Rochester basketball scene as a 14-year-old was incredible, but selfishly speaking, I can proudly say that I am the first play-by-play announcer to call an Isaiah Stewart game. If you do not know Stewart, he starred for the University of Washington and was then selected 16th overall in the 2020 NBA Draft by the Detroit Pistons. 
In the Fall of 2016, I began my undergraduate studies at the College of the Holy Cross in Worcester, Massachusetts. While there, I served as the lead play-by-play Announcer for the Holy Cross Men's and Women's basketball teams, as well as the Baseball and Softball teams. By the time I was a Junior, I was appointed as President of WCHC Sports, as WCHC 88.1 FM is the Holy Cross student radio station.
Perhaps the highlight of my undergraduate career occurred on January 25, 2020. On a cold, snowy Saturday in Worcester, I planned and hosted a panel discussion that featured some true Holy Cross legends: the late Tom Heinsohn--otherwise known as "Mr. Celtic," Togo Palazzi, Earle Markey, Ron Perry Sr., and Boston Globe columnist Dan Shaughnessy. My questions, and the ensuing discussion, revolved around a documentary titled "Purple Reign," which showcased the glory days of Holy Cross basketball in the late 1940s and early 1950s. The Crusaders won the 1947 National Championship and the 1954 National Invitational Tournament.
Then the pandemic hit during my senior year at Holy Cross. We were sent home, and finding a job in that climate was impossible.
Growing up, I was always a St. Bonaventure basketball fan as I have had numerous family members attend the University. My fandom of the Bonnies led me to A10Talk.com, an online website that covers the Atlantic 10 Basketball Conference.
Since January 2018, I have written for the Bonnies, and during the 2020-21 COVID season, I was the lead beat writer for the Bonnies for A10 Talk. Thus, when St. Bonaventure University unveiled this program in March 2021, I decided to go for it.
It was one of those life decisions where I immediately knew I had made the correct decision, and I cannot believe how much I have learned already.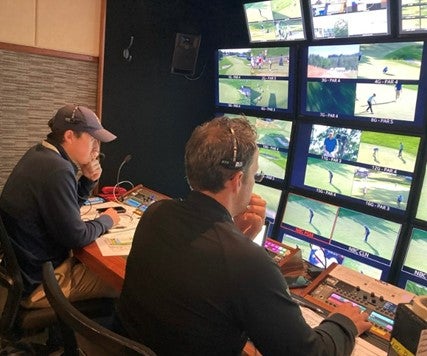 Jack Milko and Producer Ray Jacobs at the 2022 U.S. Open in Boston, where he helped produce the broadcast in a TV Truck.
Learn more about SBU's Online Master's in Journalism Programs