How Long Does It Take to Get an MBA Online?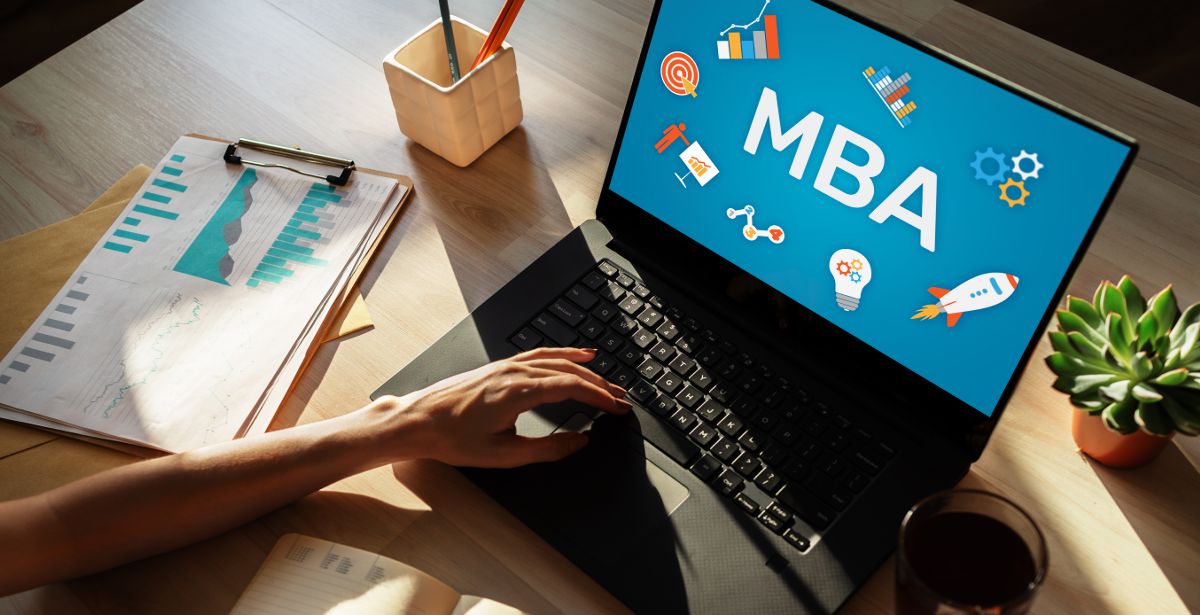 An online MBA program is an attractive option for any professional who wants to prepare for a more senior or executive role. When researching these programs, you may ask, "How long does it take to get an MBA online?" However, increased demand for business school graduates, along with innovations in higher education, make the answer more complex.
Affordable online MBA programs offered by schools like St. Bonaventure University (SBU) allow students to complete their degrees in less than two years. At SBU, students complete one course per seven-week term, allowing them to focus on advanced topics one at a time while moving quickly through the program as a whole.
As you consider your options, researching the individual components that factor into an MBA program's length can help you find the best fit for your educational goals.  
What kind of MBA degrees are there, and how soon can I graduate?
Today, there are a variety of MBA programs to suit the needs of many different types of prospective students. According to The Princeton Review, a myriad of MBA programs are offered in the United States, allowing current undergraduates and full-time employees alike to pursue the type of program that best suits their goals and schedule availability. Traditionally, MBA studies will fall into one of three categories:
Full-time MBA
Part-time MBA
Online MBA
A two-year residential MBA is one of the most common options among business schools in the United States. This program typically caters to current or recent undergraduates who are prepared to continue their education as full-time students.
A one-year MBA program offers the same degree at an accelerated pace, allowing students to hone in on their education in a short, albeit sometimes intense, burst, allowing them to enter the workforce sooner than the traditional two-year option.
Online MBA programs can often be completed in under two years, and offer the most flexibility of all, allowing students to work at their own pace as they balance education, career and personal commitments. At SBU, the MBA program offers a customized option, combining networking and skill development with specialized tracks in marketing, finance, and business analytics.

When should I pursue an online MBA degree?
Many students elect to continue their education without pause, moving seamlessly from undergraduate studies to a subsequent MBA program. Other applicants are accepted into MBA programs after spending years in the workplace, which brings real-world experience to their classes. These workplace experiences allow MBA students to share differing viewpoints on business practices that lead to innovations in the classroom. 
Life Stage and Schedule
There is no one right answer for the right time to pursue an MBA. Prospective students must consider a wide range of factors, including which type of program offers the best pace for their education and current life stage. Even most organized graduate students can find themselves under immense stress if they attempt to balance a full-time course load with full-time work and personal obligations. Applicants should research the program requirements before committing to a university, selecting the option that best suits their needs.
The average age of participants in full-time MBA programs ranges widely, according to a 2021 U.S. News report – from just 26.5 for full-time MBA students to 30 for part-time enrollees and 37 for Executive MBA entrants.
While an MBA program can be a great option at any age, business professionals with a decade or so of experience who want to step into the next level of leadership may find the online MBA to be the best option. An online MBA is also a great option for new graduates who want to work towards their master's while building up their resume and expertise for the future.
Previous Work Experience
Today, most programs look for the best applicants across different career stages. On average, MBA candidates apply to their degree programs after 3-4 years of work experience, but this bell curve allows for many students with more experience — or no experience — to earn their place in the classroom as well. Regardless of what workplace experience an applicant brings to the table, a demonstrated interest in MBA specialties, including management, math skills, and military or public service experiences that translate well into leadership positions, will cause any admissions committee to take note.
By pursuing online MBA programs, students can place less strain on their networks and achieve professional goals in less time than traditional degrees. With these factors in mind, it makes sense to look for affordable online MBA programs like SBU's that are less expensive and more flexible than traditional university degrees. 
How much does an online MBA cost? 
One of the biggest concerns for potential MBA students is how they will pay for years of graduate school. Professionals are not asking, "How long does an MBA take?" simply because of scheduling concerns. Tuition, fees, and housing can add up quickly, especially when applied on top of monthly personal expenses. Pursuing an accelerated or online MBA program can save students from loan debt that can be damaging to future financial prospects.
According to Experian, MBA costs range widely depending on the university and the type of program a student selects. Some online programs are available for as little as $15,000, while top-rated traditional programs can reach $160,000. The average tuition cost for a traditional MBA comes in right between those two figures — $66,300.
Business students can sometimes find grants or scholarships to offset tuition costs, and some workplaces even offer to chip in on continuing education costs for employees with promising leadership abilities. Additionally, over half of all MBA students take out a student loan during the course of their program.
No matter what direction you want to go in, it's important to factor in additional costs to your decision. Other potential costs include:
Textbooks
Equipment and supplies
Housing
Transportation
Non-tuition fees and costs
For students who are looking for financially expedient options for their business schooling, online MBA programs may offer a perfect solution. Online MBA options offer expedited paths and lower overhead costs than their traditional counterparts. By spending less time on their degrees, online MBA candidates can reduce their loan needs, which enables them to secure a degree while remaining on sound financial footing. 
What is the job and salary outlook for MBA graduates?
An MBA is a powerful part of a graduate's resume because it demonstrates advanced competency in skills needed for leadership positions, which often come with a higher pay rate. In a lengthy MBA program, however, students can accrue debt years before they will achieve improved salaries. The good news is that MBA graduates across the United States can typically find good salaries in their post-graduate positions. A 2021 survey from The Graduate Management Admission Council estimated that MBA recipients received job offers with base pay that averages $115,000.

Obtain Your MBA Online with St. Bonaventure in as Few as 20 Months
Taking each of these factors into consideration, the returns on investment for affordable online MBA programs like SBU are high, thanks to relatively low costs and strong salary outlooks. An online MBA degree at SBU is undoubtedly the right choice for professionals who desire a flexible degree program that offers a top-quality education without the associated top-tier cost.
SBU's online Master of Business Administration program allows students to become generalists or specialize in areas like business analytics, finance and marketing. The curriculum incorporates interactive coursework customized to each student, allowing them to become well-rounded professionals who are equipped to lead well in a wide variety of business environments.
With an online MBA from St. Bonaventure University, you can be poised to achieve extraordinary outcomes for the greater good and the bottom line.