Is Journalism a Good Career Path?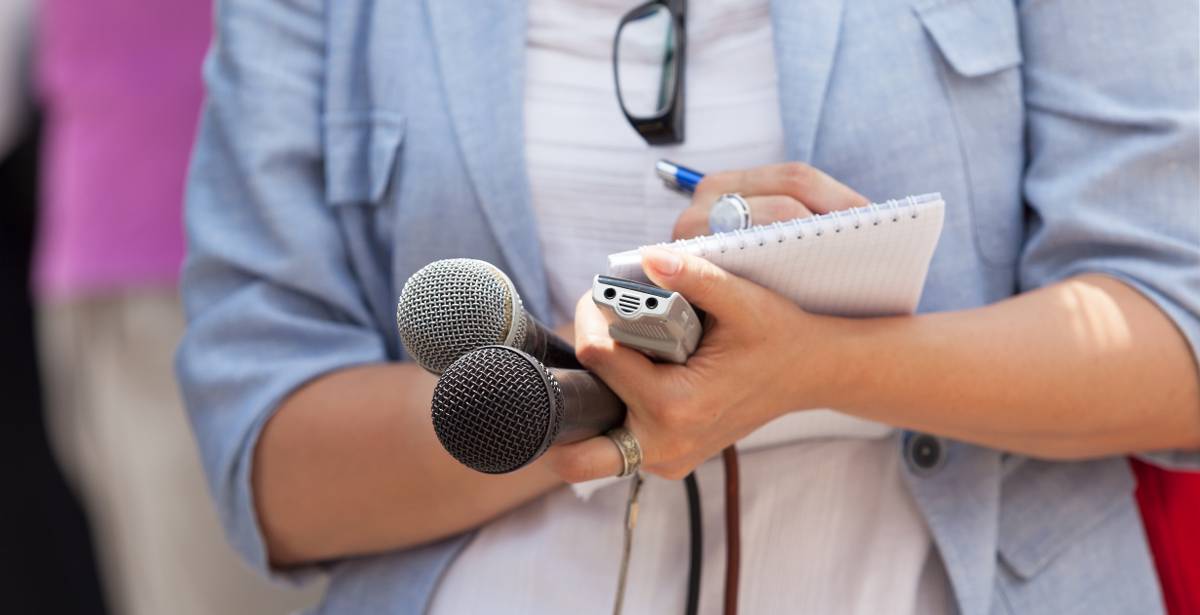 If you love to tell powerful stories, you may be considering a journalism career. But perhaps the shifts in the media industry have you wondering — is journalism a promising field? Will I have to worry about job security? I thought newspapers were laying off reporters and magazines closing down altogether? 
Don't give up on a journalism career path just yet. Many of the recent changes in journalism are positive. Technology and digital media have created new opportunities for aspiring journalists.
Whether you dream of a career as a beat reporter or are fascinated by internet journalism, the following roles are just some of the positions for you to look at as you consider what a journalism career may look like for you. 
News Analyst, Reporter, and Journalist
While these are some of the first titles that come to mind when people think about job cuts in the field of journalism, the Bureau of Labor Statistics projects a 6% growth in job opportunities between 2020–2030, which is about as fast as the average for all occupations. Much of this growth will likely be a recovery effort in response to the effects of the COVID-19 pandemic, but the good news remains the same: there should be a reasonable number of job openings for some traditional journalism roles over the next decade.
Many of these professionals work for newspapers, magazines, and websites creating written content. Others find employment in television or radio where they report through video and audio formats.
So what is a day in the life of a news analyst, reporter, or journalist? Here are some of the tasks they perform:
Researching topics assigned to them by an editor or news director
Cultivating experts and contacts who can serve as sources and provide tips
Interviewing subject matter experts and other relevant individuals 
Pitching and writing stories, scripts, and articles
The online Master of Arts in Digital or Sports Journalism at St. Bonaventure University prepares students to succeed in these tasks and more through courses like Digital Reporting and Social Media Storytelling. By combining the well-honed skills of traditional journalism with expertise in online media and reporting, the degree program equips you with the skills required for a sustainable career as a journalist, news analyst or reporter. 
Podcast Host
Until about ten years ago, most people had never even heard of a podcast. But now, over half of Americans say they have listened to a podcast and over three-quarters claim familiarity with the medium. Much of the growth in popularity happened between 2018 and 2021, a three-year span that saw a 29.5% increase in podcast listeners. Combine that fact with the knowledge that two-thirds of podcast listeners are young — between 12-34 — and there is a lot of evidence to suggest that the field of podcasting will only continue to grow.
Podcasts hosts may be employed by a magazine, newspaper, television station, or media company. Others go out on their own, building up an audience as podcasting freelancers. Here are just a few examples of podcasting in journalism:
The New York Times hosts a range of podcasts covering everything from daily news and cultural issues to pop culture and book reviews.
ESPN produces several sports podcasts, including "The Woj Pod" hosted by SBU alumnus Adrian Wojnarowski.
Major broadcasting networks like ABC, CBS, and NBC offer large libraries of podcasts featuring news, analysis, interviews, storytelling, and more.
Public radio stations like NPR and WNYC regularly produce a range of podcasts across the spectrum of journalism from investigative reporting to deep dives into niche topics.
A podcaster may spend their day:
Conducting interviews with podcast guests
Writing scripts for podcast segments or entire shows
Researching topics and speaking to sources for upcoming podcast episodes
Interacting with listeners through social media, email, or special events
Courses like Digital Journalism Today and Digital Reporting, both part of SBU's Master's in Digital or Sports Journalism, teach aspiring professional podcast hosts the critical skills they will need to contextualize their show within a constantly changing media landscape. You will learn reporting skills specifically designed for the digital age that correlate directly to podcasting, such as interview techniques and best practices for sharing content with digital audiences.
The BLS considers podcasts hosts to be a subcategory of announcers, alongside broadcast announcers and radio disc jockeys. They list a projected job growth rate of 15% between 2020-2030, which is faster than the average for all occupations. 

Broadcast Journalist
Broadcast journalists report and tell stories for television, radio, or online. They tend to perform many tasks, including production, writing, field reporting, and anchoring. A day in the life of a broadcast journalist may look like:
Generating ideas for new stories and presenting them to their team
Calling potential sources to talk about participating in a story
Conducting interviews with sources
Writing scripts for live or recorded segments
Recording audio voice-overs and video broadcasts
Some of the job titles for broadcast journalists include television news anchor, commentator, and announcer. For example, SBU alumnus Neil Cavuto (class of 1980), is now the Sr. Vice President, Anchor and Managing Editor of Business News, Fox News Channel & Fox Business Network. His prior titles included commentator and business journalist. 
The Bureau of Labor Statistics projects 6% growth for journalism roles between 2020–2030, which is about as fast as the average for all occupations.
Investigative Reporter
Investigative reporters may work for a variety of news outlets, including newspapers, magazines, websites, television channels, or radio stations. They conduct extensive research, reporting, and analysis in order to present untold stories regarding news and current events to the public. Stories reported by investigative reporters often cover serious issues like crime, corruption, and coverup. 
For example, Charlie Specht, SBU Class of 2010 is the Chief Investigator at 7 Eyewitness News in Buffalo, New York. Specht has won awards for his investigative reporting that has covered, among other things:
Gambling, corruption and pollution in Niagara Falls.
Bid-rigging of contracts and mishandling of sexual assault by college administrators at Niagara County Community College
An unlicensed physician who was advertising medical procedures under a fake name after his release from prison
The daily tasks of an investigative reporter may include:
Conducting interviews and research 
Speaking with professionals and experts in the field of the developing story
Collaborating with fellow journalists and editors
Working with fact-checkers to make sure their story is accurate
In terms of job growth, investigative reporters fit into the broader category of news analysts, reporters, and journalists, so their projected job growth rate is 6% as well. 
Producer
Producers work in broadcast journalism settings such as television and radio to shape and present stories and segments. They are often responsible for piecing together a cohesive newscast from the various segments and stories reported on that day. Producers work with everyone from reporters to the studio crew to visual designers to create a high-quality broadcast. 
Kerry Byrnes, SBU class of 1993, was an NBC News Producer for the TODAY show from 2000–2020. As a producer on a morning show, Brynes recalls several career highlights of telling diverse stories, including:
Ten Olympic Games
Three days in an RV through Nebraska with Bono, the lead singer of U2, while he educated high school students about the AIDS epidemic in Africa
Presidential conventions, concerts, and celebrity interviews
The daily tasks of a news producer may include:
Overseeing a live TV news broadcast
Writing scripts for news anchors
Arranging (and rearranging) news stories to put together a complete broadcast
Managing schedules and budgets
Leading the control room crew in executing a broadcast
The Bureau of Labor Statistics projects a 24% job growth rate for producers and directors between 2020–2030. 

Sports Journalist
From ESPN producers to USA Today investigative reporters, the journalism program at St. Bonaventure University has equipped many professionals for flourishing careers in sports journalism. Their journalism career paths shed a bright light on the opportunities for aspiring journalists who are interested in sports, athletes, and the stories behind it all.
For example, Mike Vaccaro, SBU class of 1989, is a Senior Sports Columnist at The New York Post. What began as a burgeoning sports journalism career covering the SBU Bonnies basketball team has evolved into a 30-year career of sportswriting. Or Rayna Banks, class of 2003, a Senior Managing Producer at ESPN. Banks leads investigative and enterprise projects all the way from conception to production.
The Sports Reporting and Art of the Sports Interview courses in SBU's Sports Journalism graduate program will prepare you to do just that. With a sharp focus on interviewing athletes and working with media relations professionals, the class equips aspiring sports reporters with the skills they need to be successful.
Some job titles within sports journalism:
Sports Writer
Sports Reporter
Sports Journalist
Investigative Reporter
Managing Producer
Columnist
Additional Jobs for Journalism Graduates
The positions described in the post thus far are just a few of the exciting job possibilities available to professionals who study journalism. Some of the others include:
Staff Writer
Content Writer
News Editor
Photojournalist
Public Relations Specialist
Editor
Many of the roles available to journalism graduates today are rather new and have less projection information available than others. Some of those titles include Content Creator, Branded Content Writer, and Digital Copywriter.
Confidently Enter the Media Landscape with a Master's in Digital or Sports Journalism from St. Bonaventure University
Do you want to spend your career discovering and sharing meaningful stories? The Online Master of Arts in Digital Journalism at SBU was made just for people like you. Maybe the sidelines or the fieldhouse fascinate you — if so, consider our Online Master of Arts in Sports Journalism.   

Each affordable program can be completed in just a year and a half and occurs 100% online. Join a strong alumni family of working reporters and storytellers with a master's in digital journalism or sports journalism.