How To Use Marketing Analytics To Attract And Retain Customers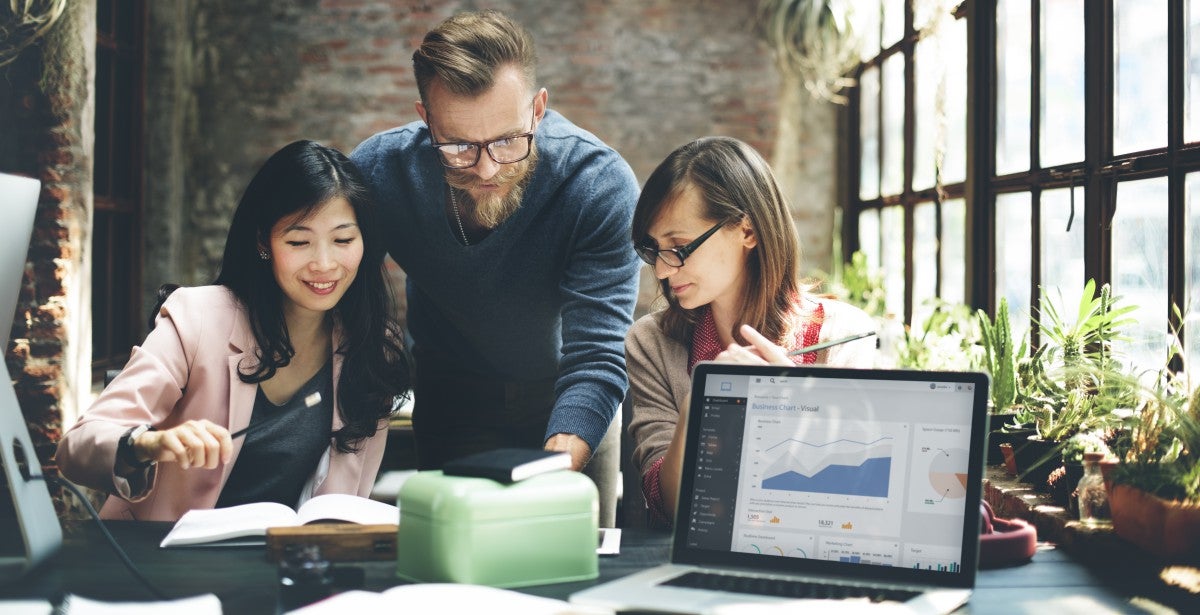 Business growth depends on customer acquisition. In response, marketing leaders constantly seek creative ways to reach broader audiences, appeal to new markets, and attract more people to their products and services. However, it costs five times more for a business to attract a new customer than it does to keep an existing one. As a result, marketers aim to deepen existing relationships with their current customer base to promote loyalty, cross-sell, and turn one-time buyers into lifetime fans. Data is one crucial tool that can help marketers to attract and retain consumers. In particular, marketing analytics allow marketers to understand their audience, create data-driven strategies, and deliver powerful marketing campaigns that people remember.
St. Bonventure's online Master of Business Analytics prepares graduates to solve complex business challenges using marketing analytics, business strategy, new technologies, and advanced communication skills.  
What is Marketing Analytics?
Customers rule the market, and enhancing customer experiences is increasingly essential for businesses to drive results, impress digital-savvy generations, and retain existing customers. In 2022, the average American spends approximately 5.4 hours on their smartphones, and on a global scale, consumers average 2 hours and 24 minutes on social media platforms daily. Today's marketers have a surplus of data they can track, including preferred content, time spent browsing products, online shopping behaviors, and more. Marketing analytics are used to consolidate business and marketing data to paint a clearer picture of an organization's current performance and improve customer experiences by harnessing the power of data.   

How Does Marketing Analytics Drive Business Results?
There are several primary ways marketing analytics help marketers drive short- and long-term results for their business. Marketing analytics allow marketers to develop strategies targeted at different stages of the marketing funnel, from awareness to consideration to conversion.  
Gather Meaningful Marketing Insights
Building a robust strategy is the first step to kickstarting any successful marketing campaign. Before advanced marketing analytics, brands spent millions of dollars on mediums like print, radio, television, and out-of-home ads (ex. billboards), hoping to capture the right customer and create intrigue. Nowadays, marketing analytics allow businesses to conduct investigative research on current trends, expectations, and audience demographics that enable hyper-targeted campaigns. Next-gen technologies allow marketers to utilize data and insights from their sales, websites, social media, customer relationship management (CRM), and more. Analysts can plug their own first-party data into machine learning algorithms that inform best practices for future marketing and business strategies.    
Create Audience Segments And Use Predictive Analytics
The next stage to launching an impactful marketing campaign is understanding your consumers. With so much focus on customer experience, audience segmentation is increasingly valuable for marketing success. Customers are 40% more likely to spend more than planned when experiences are highly personalized. In the strategy stage, marketers liberate data from siloes and break up a large population into smaller, more specific audience segments. Each audience segment should detail the type of consumer, from employment and education to preferences and habits. When used in conjunction with predictive analytics, audience segmentation allows marketers to forecast their unique audience's future behaviors and preferences.
Market researchers interviewed marketing executives at Coca-Cola to investigate how the enterprise with viral campaigns and a global reach use data to enhance advertising efforts. The Coca-Cola executives said, "We want to focus on creating advertising content that speaks differently to different audiences. Some people love music. Other people watch every sport no matter what time of year. Our brands are already visible in those spaces, and we're working hard to use data to bring branded content that aligns with people's passions." This world-class company demonstrates the importance of audience segmentation and personalization for marketing success.
Learn more about SBU's Online MSBA
Deliver Elevated Customer Experiences
After conducting exhaustive research and completing the planning phases of the marketing campaign, marketers can use these data-driven insights to fuel memorable, powerful, and profitable experiences that customers love. Brands want customers to hear them amongst all the noise; to do this, they must deliver a message that their customers are eager to listen to. In a famous example, Netflix tracks data from over 100 million subscribers to curate each home page to reflect a user's personal preferences. The company uses big data analytics to suggest hyper-personalized content, from daily movie suggestions to which actor or actress is featured on the front cover of a poster. Netflix took personalization a step further when the company started creating movies and television shows based on their most-loved content. Each form of customization helps attract and impress customers.     

How Do Marketers Leverage Customer Retention Analytics? 
It's essential for marketers to attract new customers to build their business, but how can companies use customer retention analytics to keep their audience interested? Customer retention includes all company actions to keep existing customers, reduce churn, and encourage brand loyalty. Marketers use several strategies and business analytics tools that generate customer retention analytics.
Utilizing customer retention analytics bears several similarities to the process of attracting new customers. First, marketers need a clear strategy that allows them to outline objectives, target the right customers, and measure outcomes using key performance indicators (KPIs). There are three focus areas marketers can use to direct retention efforts.
Determine Low-Quality Vs. High-Quality Leads
Before investing time and resources to convert your past consumers into brand fans, separating qualified leads from unqualified leads is important. For example, imagine a customer from Seattle bought a local service for their sister in New York City. No matter how many follow-up emails you deliver to the consumer's inbox, it doesn't change the fact that you're contacting an out-of-town consumer with little to no interest in your offering. Marketers must use data from multiple sources to evaluate which consumers are most likely to convert again. Then, companies can nurture these qualified leads to improve lifetime customer value (LCV), boost the overall return on investment (ROI), and support long-term loyalty.
Monitor Social Mentions And Past Behaviors  
While it's important to understand your audience's likes and wants, it's equally useful to understand what they don't like. Feedback can inform product or service changes that may appeal to even wider audiences. Marketers can track brand mentions on social platforms and monitor the conversation surrounding their product or service. Additionally, businesses should pay attention to product reviews to identify success stories and problem areas.
Past actions are excellent indicators of future behaviors. One of the primary ways to encourage customers to repurchase a product or service is by delivering recommendations and cross-sell based on past interests and actions. Amazon is known for its advanced recommendation features powered by machine learning (ML). The online store dedicates an entire section to past buying decisions, encouraging customers to repurchase items. The site also designs each page with a rotating selection of related items to cross-sell. For example, if a customer purchased a juicer, their Amazon storefront may recommend supplements, protein powders, or exercise equipment after identifying a health-conscious consumer. 
Strengthen Existing Customer Relationships
Don't overlook your existing customer base. Instead, companies should turn their current supporters into superfans by exchanging value. A company can offer its audience several types of value, including relevant curated content, convenience, special deals, and loyalty programs with benefits. For example, Walmart launched Walmart+, a special membership that allows loyal customers to scan and go on a convenient mobile app, free shipping, and additional benefits. At the same time, the big box stores started hosting drive-in movie nights in parking lots across the country. These programs led to a 37% increase in online sales and a 6% increase in total sales in the United States.   

Become A Data-Driven Marketing Expert With An Online Master's In Business Analytics 
Are you passionate about data analytics and marketing? St. Bonaventure's online Master of Science in Business Analytics prepares you for high-paying, in-demand roles that enable marketers to launch data-driven campaigns. Gain hands-on experience with powerful technologies, and learn to communicate solutions underpinned in analytical and visualization methods confidently. Advance your career or learn the basics with nearly 20 electives, including finance, marketing, communication, cybersecurity, leadership, and more.
As a business analytics student, you will develop real-world experience analyzing information using data warehousing, business intelligence, and advice from expert faculty. Our courses are grounded in Franciscan values and embody ethical leadership – at a time when technology creates new challenges to privacy, security, and sustainability.
Flexible: 100% online coursework. Study anywhere at any time 
Become proficient in industry-leading software like Tableau, SQL, Python, Excel, and more 
Easy enrollment: No application fee. Apply with a BA or BS in any field. No GRE or GMAT is required. 
Competitive tuition 
Graduate in just under two years
St. Bonaventure University's dedicated staff are ready to answer your questions and help you prepare for what's next in your career. Schedule an appointment with an Enrollment Advisor to discuss your future in business analytics.