Making a Career Change: Marketing Career Path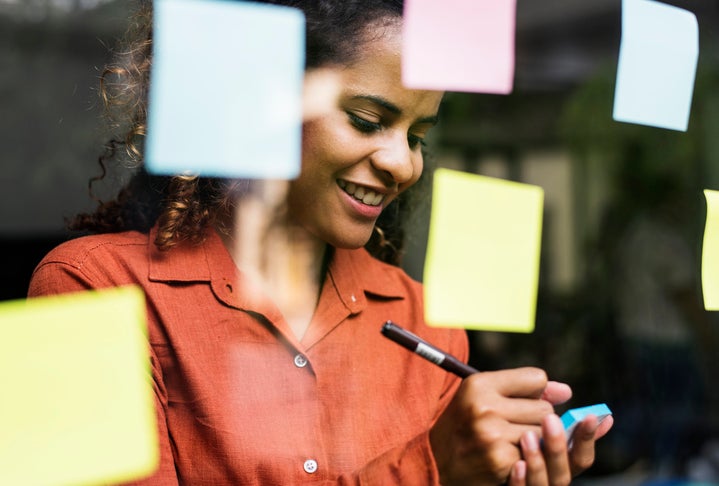 Are you wondering if it is possible to transition from your current profession and set foot on a marketing career path? If so, the answer is yes! Marketing is a growing, dynamic, and fulfilling field that both attracts and benefits all types of people. Whether you have a data-oriented skill set or a penchant for creativity, the field of marketing is an exciting place to work. 
Not only does the field of marketing provide professionals with many opportunities in terms of role or position, the field itself is growing quickly and features competitive salaries. Consider the United States Bureau of Labor Statistics (BLS) data regarding projected job growth between 2020 and 2030, as well as annual salary information as of May 2021, for several marketing positions:
With an online master's in communication, candidates from any professional background can join the marketing field. Consider some of the skills in other fields that transition well to the world of marketing. 
4 Skills Needed for Marketing Professionals
From data analysis to problem-solving, skills developed in all types of workplaces can be a valuable asset to professionals interested in a career change to marketing.
1. Data Analysis
Modern marketing is largely built around data analytics that provide insight into consumer trends and customer behavior. The ability to use analytical tools and create data visualizations that present information in compelling ways is an essential skill for today's marketer. Past experience as a data analyst or data scientist in another field can quickly and simply translate into a marketing role. 
2. Cross-Cultural Understanding
From healthcare to business and manufacturing to nonprofits, the career skill of cross-cultural understanding is a key part of professional life today, and marketing is no exception. By approaching their work with empathy and insight, individuals who have gained cross-cultural understanding through prior jobs can create powerful marketing campaigns that communicate value and care to the consumers they desire to reach.  
3. Communication
Professionals who listen well, speak with clarity and kindness, and are able to express their opinions well both in writing and verbally are essential to every industry. When it comes to marketing, the communication skills that professionals may have developed during prior careers as managers or salespeople, for example, are useful in marketing in several ways. While marketing campaigns themselves may be the first thing that comes to mind, communication skills are also useful as marketers often work on teams and need to communicate and create collaboratively.
4. Creativity
While it's easy to think of creativity as simply referring to artistic talent, it has many more aspects and implications. For example, great problem-solvers are, fundamentally, creative thinkers. People who excel at organizing teams, spaces, or agendas also tend to have highly-developed creative skills. Industry experts, nonprofit leaders, and journalism professionals often enter the marketing field with well-honed creativity. Of course, creativity can also come into play through visual and communication design—a skill that graphic designers and web professionals are likely to have developed.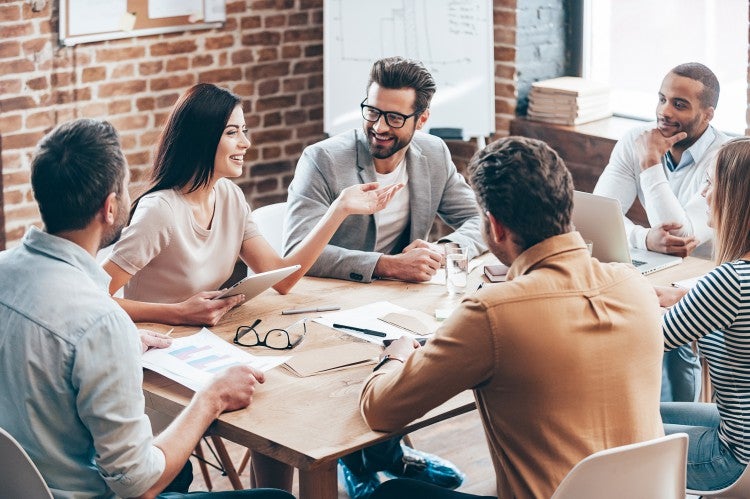 7 Professional Backgrounds that Can Transition Well to Marketing
With an online master's in communication, candidates from any professional background can make a career change to marketing. Below are just some of the careers that typically allow professionals to pivot to marketing with ease.
1. Sales Representative/Service Associate
While sales, service, and marketing are inherently connected, sales and service personnel looking to pivot to a marketing career path should note a few key differences. For example, marketing typically involves more big-picture strategizing, while sales and service professionals tend to focus primarily on micro-level interactions and customer relationships.  
Sales representatives and service associates who want to move toward marketing career paths should consider earning official credentials in marketing, such as master's degrees. These credentials show employers the professional's depth of marketing knowledge.
Furthermore, candidates should consider applying for marketing roles within their current organizations or industries to simplify the transition. For example, a candidate with several years of automotive sales experience and a degree in marketing may be particularly suited to a marketing role at an automobile manufacturing company. Or, a service associate from a clothing store may be well-prepared for a marketing role in the retail industry. 
In interviews, sales-to-marketing candidates should:
Demonstrate an understanding of the difference between marketing and sales or service
Highlight achievements in strategy and analytics as opposed to individual sales or service achievements
Share what they have learned about consumer behavior through their sales or service career
2. Professionals with Specific Industry Experience
Candidates who demonstrate in-depth industry knowledge can find themselves, especially appealing to companies within a given sector. After all, each industry presents unique challenges and opportunities for marketers.
Mid-level managers with several years of industry experience know the quirks that the marketing teams face. Combine this experience with a master's degree in communication, and these candidates often fit well into marketing management roles.
For example, a manager at an airline company is well versed in the importance of data analysis, travel trends, and quirks like credit card miles. Meanwhile, experienced professionals in healthcare may understand the clinical, legal, and ethical challenges this industry faces. 
When changing to a marketing career path, these professionals likely need accredited marketing experience to convince employers that they can succeed in marketing roles. In interviews, they should showcase their deep industry knowledge and willingness to learn.  These professionals should also highlight projects completed during their marketing program, including experience with recent software and strategies.
3. Advertising Professional
From an outsider's perspective, advertising and marketing may seem like one and the same. However, these are two unique professions. Before pivoting to marketing, it's crucial for candidates to understand the differences between marketing and advertising:
Marketing consists of all the ways in which brands connect with their audiences. Marketing connects themes from a company's advertisements with overall branding, storytelling, and consumer engagement. Advertising, on the other hand, is one important component of marketing that only includes paid media. Although there are significant differences between marketing and advertising, they share many similarities as well. For example, both types of professionals use creativity and data analysis to craft campaigns that connect brands to their customers. 
When advertising professionals seek career paths in marketing, they should make clear that they understand the difference between marketing and advertising while also emphasizing the similarities. For example, candidates may say something like, "I have spent my career creating engaging content, analyzing its effect, and changing tactics according to the data. While I have used these skills in one area of marketing—advertising—I look forward to applying what I have learned to broader marketing strategies."
4. Store or Office Manager
Professionals with backgrounds in management, whether within stores or offices, have many transferable skills that will perform well in a marketing position. For example, insight discovery is a significant component of success in the marketing field. Managers spend much of their time studying the needs of their workplace and gleaning key insights so that they can make effective decisions about staffing, prioritization, and team leadership. 
Additionally, managers are often key leaders when it comes to creating a workplace or team culture. While marketers may not be the ones creating culture themselves, they are often responsible for communicating it to the outside world in a compelling way.  
Managers who are interested in marketing roles can hone their digital, strategic, and creative skills through a master's degree in communication. Marketing roles in the same company or industry may be ideal for the former store or office manager who can then apply their marketplace knowledge to their new marketing role. For example, an individual who has worked as the office manager in a doctor's office may succeed as a marketer in healthcare due to their perspective on patient needs and desires. 
5. Assistant/Administrative Positions
While administrators and administrative assistants are often thought of as performing general tasks, they tend to have quite specialized roles and responsibilities. For example, the executive assistant to a technology CEO will have a considerably different workday than the office administrator at a dentist's office. 
Because of their industries, office environments, and supervisor's roles, each administrative professional has unique skills they have developed through their work. These unique skills can serve as opportunities for easing the transition from administrative careers to marketing roles. Administrative professionals aiming to make a career change to marketing should highlight specific experience such as coordinating projects, managing budgets, or innovating solutions. Many assistants compile data and produce reports for company leadership — another great skill to highlight for assistants interested in a marketing career path. 
By pairing skills gained through administrative work with a master's degree in communications, administrative professionals can greatly broaden their marketing career horizons.
6. Data Analyst
Market research analysts are experiencing some of the fastest growth in marketing and the country as a whole. While the BLS expects most jobs to grow at the rate of 7.7percent over ten years, the demand for market research analysts is set to grow by 22 percent over that same time period. 
Market research analysts conduct studies on consumer habits, such as which segments of the population buy certain products and services, as well as the factors that influence purchasing decisions. They then analyze the data and compile reports that guide the creative side of marketing departments.
Candidates who have experience analyzing financial, information technology, operations, or management data can transition into market research careers. Furthermore, research classes in master's degree programs help candidates strengthen these skills. 
7. Graphic Designer/Web Designer
Graphic and web designers have several skills that can help them find success in the field of marketing, including creativity and an understanding of what consumers want to engage through looking, clicking, and reading. Oftentimes, these professionals will also have a solid understanding of data analytics, as they may have created or edited designs or web pages in order to drive statistics like click-through rates, web traffic, or time on page.
Graphic and web designers will be well-equipped for the parts of marketing that include visual awareness and style. A master's degree in communication can help them build upon those skills through education in areas like audience research, metrics, and campaign creation. 
Professionals with a graphic or web design background who want to transition into a career in marketing should make clear that they understand the differences in the two roles, while also articulating their overlap and partnership. By communicating a clear understanding of the marketing industry, and clarifying how graphic or web design fit into marketing, graphic and web designers can make clear that they are prepared for their new career path.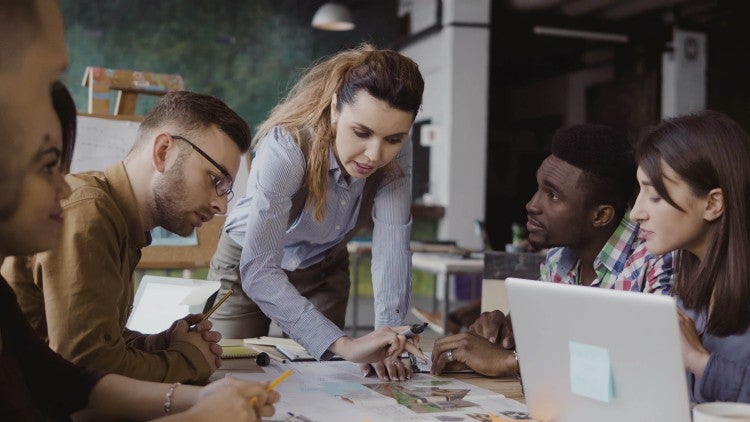 Prepare Yourself for a Marketing Career Path
The professional skills and career paths shared here represent just some of the many opportunities for people who are interested in a career change to marketing. Whatever your career background, St. Bonaventure University's online MA in Communication program can build on the skills and experience you have gained. 
Our communication graduate degree program can be completed in just 22 months and features 100% online coursework. Students can choose from three specializations, including Integrated Marketing Communication, which includes coursework such as:
Embracing the Audience: Empathy & Ethics
Embracing Strategic Thinking: Marketing Strategy & Planning
Embracing Analysis: Making Meaning from Data
Confidently enter the next phase of your career in a new field with our Online Master of Arts in Communication – Integrated Marketing Communication.