MBA vs Master's in Communication: Which Master's Degree Is Right for Your Marketing Career?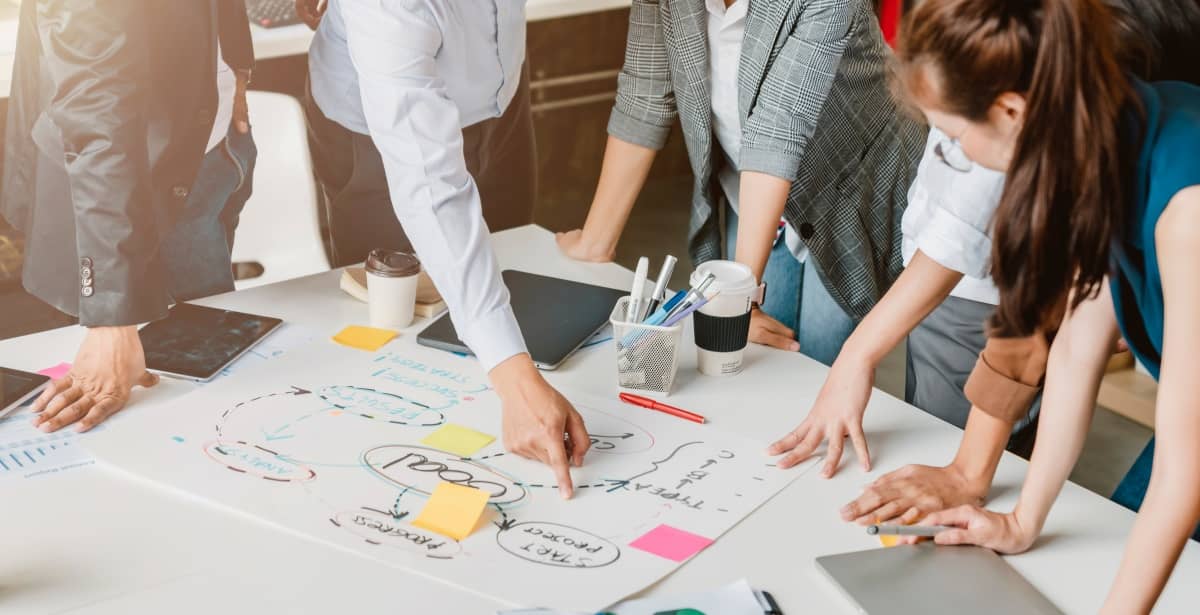 If you're ready to advance your marketing career, you may be wondering — when it comes to an MBA vs Master's in Communication — which is right for you? Both programs develop critical skills for successful career paths and will enhance your job opportunities. But they also have distinct qualities. One may be better suited to you depending upon your career goals. 
An MBA program is a great fit for marketing professionals who want to enhance their overall business skills and knowledge. An MBA program includes foundation and business core courses that equip students to develop an advanced conceptual framework for analyzing and solving business problems.  
A master's in communication, on the other hand, is better suited to professionals who want to focus on a marketing communications career, or even those who want to transition to a marketing communications career from another profession. Rather than emphasizing marketing as a business function in concert with other business functions — like students learn in an MBA program — a MA in Communication focuses on the skills, technology, and mindset needed for creative marketing work. 
In this blog post, we'll walk you through the tools and knowledge that the MBA vs Master's in Communication offer. We'll look at the curriculum for each program and consider the positions that each degree may equip you to take. And we'll share the job outlook and salary ranges for the marketing industry.
Let's get started with the skills that each degree program can help you develop.
MBA vs Master's in Communication: What Skills Will I Learn?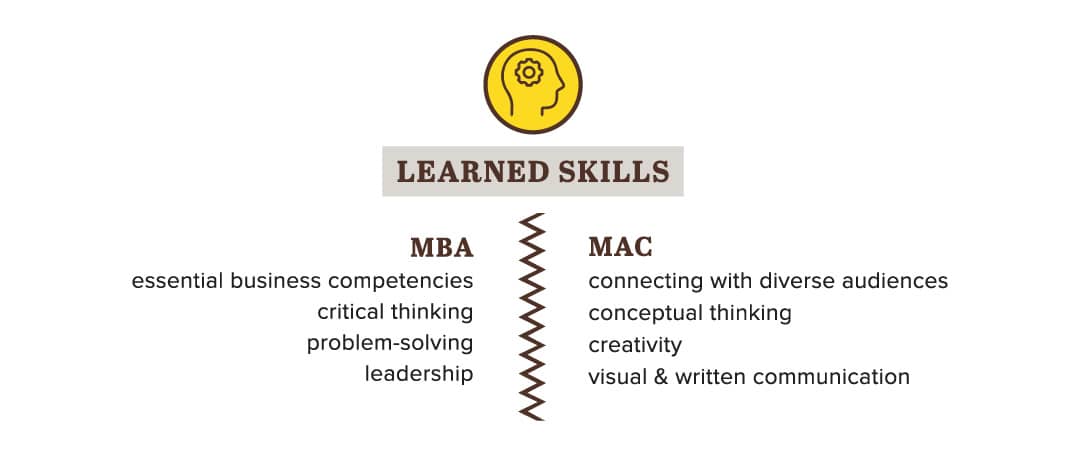 MBA Skills
A Master of Business Administration degree will equip you for a host of business, leadership and innovation roles. Let's take a look at some of the skills you will develop during an MBA degree program.
Critical Thinking
According to 5 Critical Thinking Skills to Use at Work (And How to Improve Them) at Indeed.com, "critical thinking is the act of analyzing facts to understand a problem or topic thoroughly. The critical thinking process typically includes steps like collecting information and data, asking thoughtful questions and analyzing possible solutions." 
The article goes on to describe observation, analysis, inference, communication and problem solving as critical thinking skills that empower professionals to "work well independently and with others to solve problems."
During a Master of Business Administration program, you will develop those vital critical thinking skills to apply in your career. Whether through business core courses like Organizational Behavior and Accounting Practices and Analysis or elective courses like Marketing Analytics for Data-Driven Decision Making and Legal Environment of Business, your MBA curriculum will develop critical thinking skills that enhance your daily work, collaborative projects, and marketing career possibilities.
Problem-Solving
According to Problem Solving in Business by the Center for Management & Organization Effectiveness, "Problem-solving is a valued skill in the workplace because it allows you to:
Apply a standard problem-solving system to all challenges
Find the root causes of problems
Quickly deal with short-term business interruptions
Form plans to deal with long-term problems and improve the organization
See challenges as opportunities
Keep your cool during challenges"
Similarly, in The Best Career Skills to Have for Any Job, Alex Janin at The Wall Street Journal writes that problem solving is one of the most important soft skills that professionals can develop. An MBA program will help you develop your problem-solving skills in ways that increase your personal tenacity and curiosity, facilitate creativity and collaboration in your workplace, and foster innovation.
An MBA curriculum will teach you both how to develop and apply problem-solving skills to technical projects as well as managing people and employees. For example, if you are interested in the ways that the law and ethics pertain to a marketing career, you can opt for electives that will teach you to apply your problem-solving skills to the legal components of business. Or, you can take elective courses where you will learn how to solve problems that arise when trying to understand consumer behavior.
An MBA program empowers marketing professionals to develop problem-solving skills that enhance both their daily work and long-term careers.
Leadership
As the modern marketplace faces rapid technological and economic changes, companies are looking for professionals with developed leadership skills. According to Lucas Miller in "3 leadership skills you need to pull your business through the coronavirus crisis" at Business Insider, "It's important for leaders to be open-minded to different solutions, stay true to their company's values, and develop both short and long-term plans for how to bounce back."
Leadership advisor and coach Mark Nevins recently told Forbes that "leadership is a dynamic idea, not a static one." An MBA program teaches leadership skills themselves, as well as helping students cultivate the habits necessary to become lifelong learners when it comes to leadership qualities. 
Whether you're a natural leader or a self-described "follower," you will find yourself better equipped for a successful career as you enhance your leadership skills, which can be used in a variety of ways, through an MBA. 
Master's in Communication Skills
An MA in Communication will prepare you to leverage both left and right brain thinking (or conceptual thinking) and storytelling to develop a marketing vision, craft a strategy, develop content marketing, manage communication channels, analyze data, and measure success. Take a look at some of the skills you'll gain during a master of communication degree program.
Conceptual Thinking
Indeed.com describes conceptual thinking as "the practice of connecting abstract, disparate ideas to deepen understanding, create new ideas and reflect on past decisions. Conceptual thinkers can understand abstract concepts, like the function of a complicated business or a non-linear digital process, easily."
The skill of conceptual thinking empowers marketing professionals to approach challenges creatively. 
Mark Miller, VP of Marketing at Emergenetics International, writes in Lead Employee Creativity Through Conceptual Thinking that "everyone has the ability to think Conceptually—it's about finding your sweet spot…how you best work through your Conceptual brain." 
A master's in communication degree will help you find that sweet spot.
Creativity
According to leadership consultant Bianca Finkelstein, "Businesses are increasingly looking for ways to boost the creative capabilities of their workforce." Further in her article entitled "This is how to declutter your 'inner' workspace and get more creative" for Fast Company, Finkelstein writes, "Creativity is largely a subconscious and intuitive experience, which means that our internal environment ultimately determines our creative potential. We may call it our inner workspace. It's the place within each of us that houses our creative potential." 
Students in a master's in communication program learn to cultivate and harness their creativity in order to identify communication problems, create strategic campaign plans, and use data analytics to measure public relations and content marketing campaign goals.
Visual & Written Communication
In a communication master's degree program, students learn to create engaging, integrated content and visuals across all major media platforms that demonstrate an understanding of diverse audiences and messages. 
Midori Nediger at Venngage writes in How to Use Visual Communication: Definition, Examples, Templates, "Visuals can help create understanding where words alone cannot. They can help bridge the gap between concepts and words, especially when appealing to an audience with diverse needs and backgrounds."
In an increasingly digital age, excellent visual and written communication couldn't possibly matter more. They also can't be thought of solely in terms of content without context. We live in a global world full of complex ethical, social, and personal issues. In a master's in communication program, students learn how to compose and create compelling visual and written messages that communicate clearly, empathetically, and beautifully.
MBA vs Master's in Communication: What Is the Curriculum?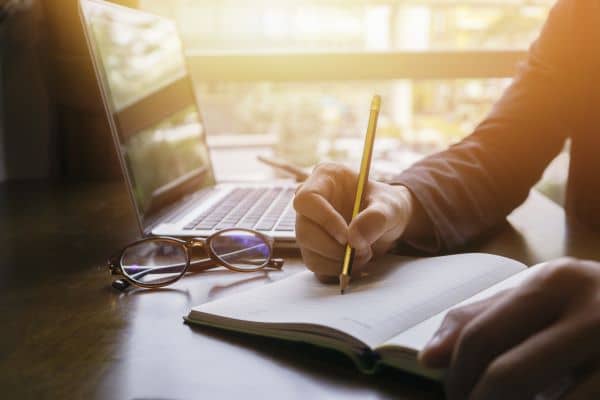 MBA Curriculum and Concentrations
MBA students will gain a broad view of the ways various business functions work with marketing. An MBA equips students to understand the role of marketing within the business world through a combination of core business courses and, if chosen, marketing elective courses.
These course offerings include:
Quantitative Foundations for Management
Accounting & Finance Foundations
Economic Foundations
Financial Management
Marketing Management
Organizational Behavior
Accounting Practices and Analysis
Business Policy
Students can then build upon those initial courses through a concentration in an area of special interest, such as legal and ethics, accounting, finance, marketing, or business analytics. Courses for these concentrations include:
Legal and Ethics
Legal Environment of Business
Business Ethics
Accounting
Financial Statement Analysis
Advanced Cost Accounting
Financial Statements Presentation
Business Analytics
Marketing Analytics for Data Driven Decision Making
Data Visualization and Analysis
Project Management
Financial Modeling
Finance
Investments
Managerial Economics
Behavioral Finance
Marketing
Marketing Research
Consumer Behavior
International Marketing
Master's in Communication Curriculum and Concentrations
An online Master of Arts in Communication offers a curriculum that provides students with broad communication skills, strategic thinking, and hands-on skills they need to build a strong portfolio in a marketing communication field. MA in Communication students will learn to use industry-leading software, including Adobe Creative Suite, Google Analytics, Facebook Ad Manager, Google Ads, Canva, and Qualtrics. They will also complete their certification in Google Analytics during their degree program.
A Master of Arts in Communication curriculum includes core courses in topics such as:
Finding Your Voice: Introduction to Marketing Communications
Embracing the Brand: Branding, Strategy & Execution
Embracing the Audience: Empathy & Ethics
Embracing Strategic Thinking: Marketing Strategy & Planning
Embracing Analysis: Making Meaning from Data
Embracing Research: Marketing Communications Research
Students can then build upon those initial courses through a concentration in an area of special interest like integrated marketing communications, content marketing and public relations. Courses for these concentrations include:
Integrated Marketing Communications
Integrating Digital Media, Mobile, and Emerging Technologies
Integrating Creative Strategy and Design
Integrating PR in a Global Market
Integrating Visuals: Communications Design
Content Marketing
Integrating Digital Media, Mobile, and Emerging Technologies
Integrating Content Marketing: Planning and Strategy
Integrating Content Creation: Visuals, Copy, and Optimization
Integrating Visuals: Communications Design
Public Relations
Integrating PR in a Global Market
Integrating Media Relations
Integrating Crisis Management
Integrating Event Management and Experiential Marketing
MBA vs Master's in Communication: Career Outlook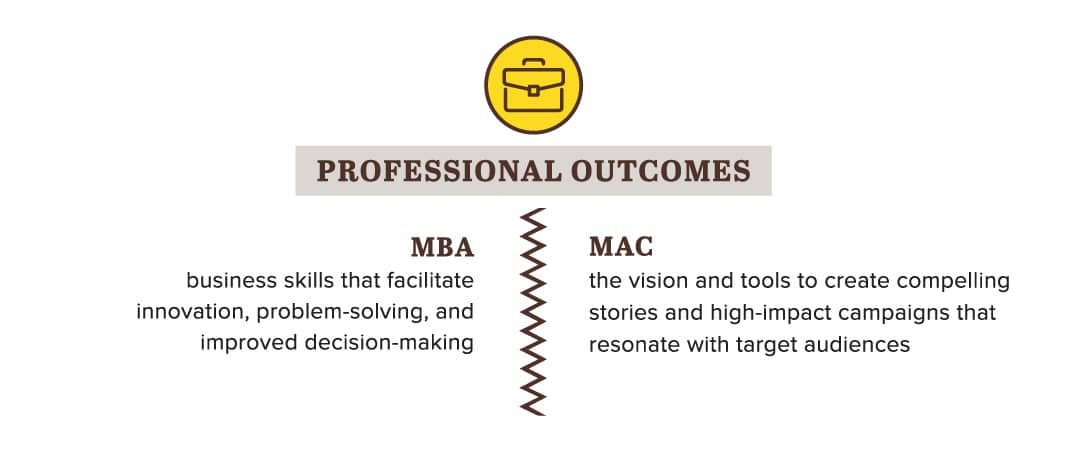 Marketing Career Paths for MBA Graduates
Graduates of MBA programs are often sought after in the job market due to their specialized knowledge, honed leadership skills, and ability to apply analysis, problem-solving, and reasoning to decision making. Employers appreciate professionals who can think differently — seeing the big picture even when tackling the smallest of problems or projects. 
According to 5 Hot Jobs for MBA Graduates by Ilana Kowarsk at U.S. News and World Report, "prospective MBA students who are unsure whether an MBA is worth pursuing may find reason for optimism if they take a look at MBA employment statistics." 
The top jobs included in the article are:
Marketing manager
Medical and health services manager
Financial manager
Database administrator
Business operations manager
In addition to these trending jobs, MBA graduates can also have marketing titles such as: 
Market Research Analyst
Product Manager
Project Manager
Sales
Product Development
New Business Development
Pricing Manager
Job Outlook
According to the Bureau of Labor Statistics, "Employment in management occupations is projected to grow 5 percent from 2019 to 2029, faster than the average for all occupations and will result in about 505,000 new jobs." 
Business and financial occupations are also projected to grow by five percent within that time period, which means around 476,200 new jobs. Human resources manager positions should grow by six percent, as should positions for advertising, promotions, and marketing managers. 
Marketing Career Paths for Master's in Communication Graduates
One of the best marketing jobs for master of communication graduates is marketing manager. According to U.S. News and World Report, marketing managers rank #1 in Best Sales and Marketing Jobs, #15 in Best Paying Jobs, and #45 in 100 Best Jobs. Additional marketing career paths for master of communication graduates include:
Art Director
Creative Director
Communications Director
Content Manager
Copywriter
Digital Marketing Manager
Email Marketing Manager
Public Relations Manager
Social Media Specialist
Videographer
In addition to these marketing-specific positions, master's in communication graduates also may enjoy roles in:
Writing
Social media
Customer relationship management
Public relations
Brand management
Content development and management
Promotions & campaigns
Web analytics
Marketing, Communications, and Creative Positions
Jenell Telley at MediaBistro describes the role of a digital marketing manager in What Does a Digital Marketing Manager Do?
She writes, "a digital marketing manager is responsible for developing, implementing and managing marketing campaigns that promote a company and its products and/or services," she writes. "He or she plays a major role in enhancing brand awareness within the digital space as well as driving website traffic and acquiring leads/customers.
"A digital marketing manager also identifies and evaluates new digital technologies and uses Web analytics tools to measure site traffic to better optimize marketing campaigns, email marketing, social media and display and search advertising."
 According to zippia.com, a director of communications and marketing earns an average salary of $90,693 per year. Their Director Of Communications And Marketing: What They Do article describes the position as one of planning and directing, as well as establishing "overall objectives and priorities." Duties and responsibilities may include managing and executing communications initiatives, promoting and maintaining brand consistency, developing social media strategy and determining the appropriate KPIs and providing detailed reporting, analysis and insights.
Corporate communications managers earn an average salary of $83,781 year according to Payscale.com. Zippia.com describes the role as one of "being primarily responsible for overseeing the external and internal communications in a company, ensuring everything is running smoothly. They are also responsible for managing marketing communications and public relations and even developing various marketing content. 
"There are also instances where they must handle a company's social media platforms, review communication materials and provide progress reports of different projects and programs. Furthermore, as a manager, it is essential to lead and encourage team members, all while implementing the company's policies and regulations."
According to the Bureau of Labor Statistics, market research analysts received a median pay of $63,790 in 2019. BLS describes the market research analyst's role as one of studying "market conditions to examine potential sales of a product or service. They help companies understand what products people want, who will buy them, and at what price."
Average Salaries for Communication Master's Degree Holders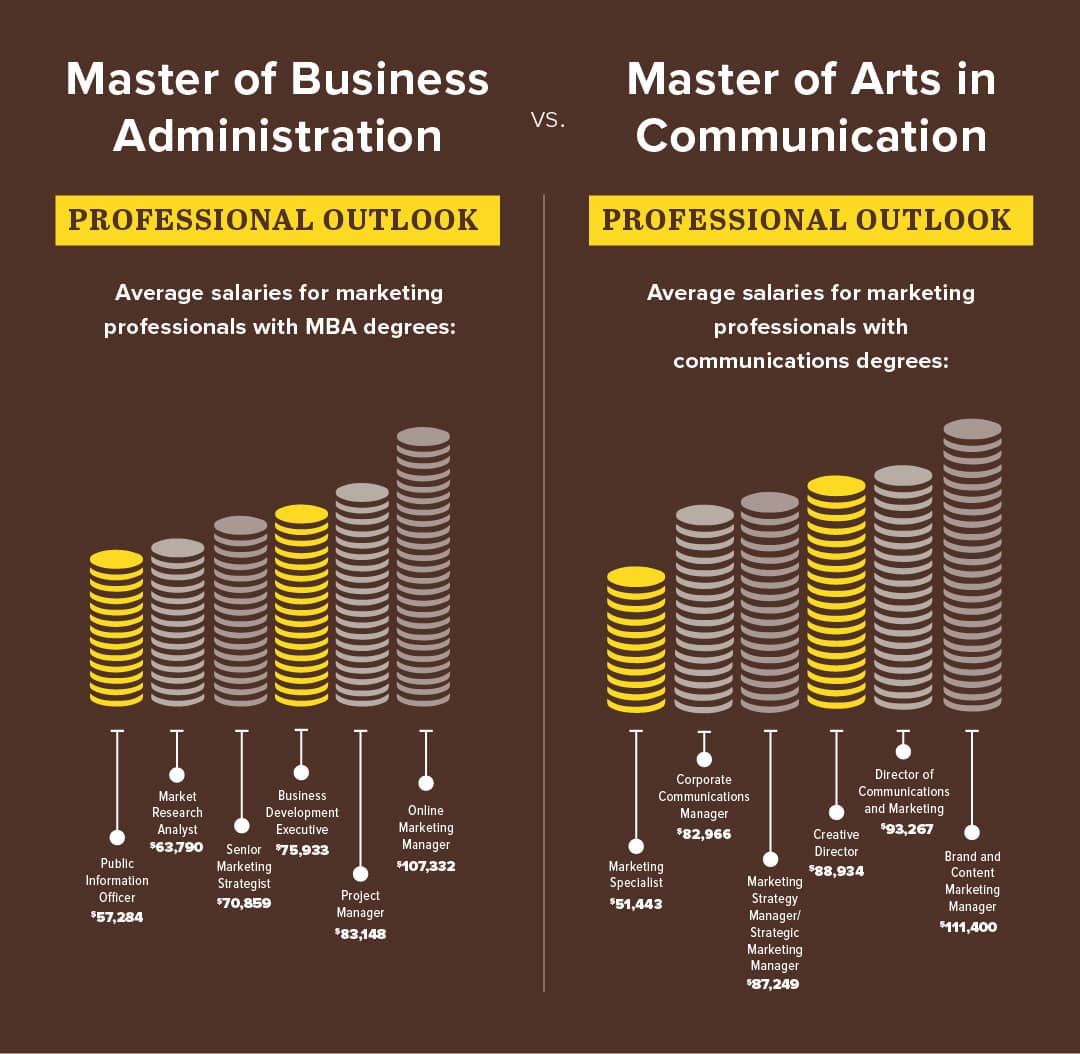 According to PayScale.com, the average salary for someone with a communication master's degree is $71,736. However, this number may not give the clearest picture of your career trajectory, as there's a wide variance across roles and specializations. Let's dig a little deeper.
PayScale.com reports that the average salary for a marketing specialist is $51,441. Indeed.com describes a marketing specialist as someone who is "part of the marketing team and assists in developing and executing campaigns to gain prospective customers and increase sales." 
An online marketing manager averages an annual salary of $65,221, according to PayScale.com. Online marketing managers may also be known as digital marketing managers, according to Betterteam.com, and are "responsible for generating brand awareness, implementing online marketing strategies, and generating higher traffic numbers. They coordinate with the sales and marketing team to promote new and existing company products or services."
A marketing strategy manager (or strategic marketing manager) receives an average annual salary of $87,249. Zippia.com describes its role as one of "developing strategies to optimize a company's marketing procedures and outcomes. Their responsibilities revolve around performing research and market analysis to identify new marketing opportunities, producing sales forecasts and risk analysis, overseeing the budgets and schedules, determining customer needs, and setting goals in adherence to the company's vision and mission."
According to the U.S. Bureau of Labor Statistics, the median pay for art directors, who "work primarily in visual communications media, including advertising, publications, video games, theater and film," is $94,220 per year.
A sample job description for creative directors at Workable.com describes their responsibilities as "conceiving and implementing concepts, guidelines and strategies in various creative projects and overseeing them to completion, collaborating with account executives to obtain knowledge of the clients' requirements and directing and motivating teams of art directors, illustrators, copywriters etc. to help them use their talents effectively."
Jenell Talley at MediaBistro describes the role of a creative director, whose average salary according to Payscale.com is $88,754 annually, in her article What Does a Creative Director Do? 
Talley writes, "A creative director determines the creative vision of a brand or project and manifests that vision through digital, print and film installations. The job is to maintain a cohesive look and feel of a project—be it an advertising campaign, fashion line, video game or magazine—by ensuring the visuals, messaging and/or interactive and motion designs are on point. A creative director also establishes budgets and timelines and manages client relationships."
Job Outlook
The Bureau of Labor Statistics projects positions for marketing managers will grow by seven percent between 2019–2029, which is faster than the average growth rate for all occupations. Market research analyst positions are projected to grow at a remarkable rate of 18 percent between 2019–2029.
Advance Your Marketing Career with a Master's Degree
If you've figured out which side of the MBA vs master's in communication equation fits you best, we have great news. Whichever you choose, St. Bonaventure University has an accredited online program designed just for you.
Visit our MBA page and Master's in Communication degree page to learn more about the ways that St. Bonaventure University Online is here to empower you in your marketing career.