Q&A with Rayna Banks - Senior Managing Producer at ESPN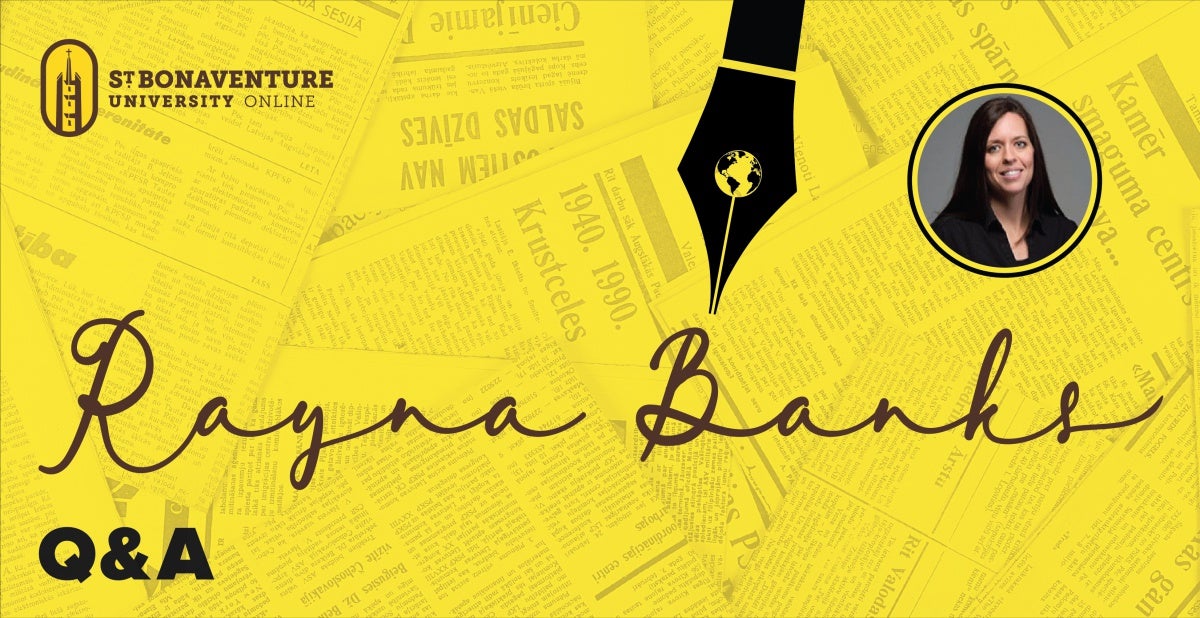 You may have noticed we adore shining spotlights on our hard-working students, exceptional faculty and incredibly talented alums. Next in our Q&A lineup is Rayna Banks, Senior Managing Producer at ESPN's Investigative Unit.
Rayna graduated from St. Bonaventure in 2003 and currently sits on our Journalism master's program advisory board. Students gain valuable insights from accomplished members with wide-ranging experience in journalism at major news outlets and organizations. We jumped at the opportunity to ask Rayna some questions that will be of interest to all you budding journalists out there.
Thank you Rayna for your time.
---
Can you tell us about your role in ESPN's Investigative Unit?
I oversee video projects for ESPN's investigative/Enterprise unit. I work with producers and reporters on stories that range from breaking news to long-form investigations. One aspect of my job is determining how best to present these stories for various platforms - linear, digital, social, podcast, etc. 
What story are you most proud of and why?
In 2015, I saw an AT&T commercial on distracted driving, and I couldn't stop thinking about it. It motivated me to find the right people to tell a texting and driving story for the sports audience. It wasn't a sports story, so it was a hard sell. However, after much research and communication, I earned the trust of families who lost loved ones as a result of texting & driving, as well as a young man whose truck collided with a cyclist, who died on impact. Sitting next to these grieving families, sharing the darkest days of their lives - their sadness, their guilt, the lessons they learned - has had a life-long impact on me. The feature ended up becoming the lead on a special that included a talkback with a doctor who explained his research on the neurobiology of compulsive internet and smartphone use.
Of all the stories I have produced, it is the one that still resonates every time I am in the car, or on a run or bike ride. It changed my habits, along with so many others who have reached out to me afterward, expressing the same sentiment.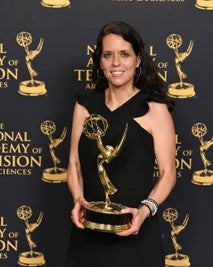 Rayna received two awards at the 39th Annual Sports Emmy Awards in New York in 2018 for "Fight On," - the inspirational story of USC blind long-snapper Jake Olson, and "The Dictator's Team," - the story of a former Syrian national team player who traded a lucrative career as a soccer star for a life in a refugee camp.
From all reports, you're a proud Bonnie and give back to the university whenever possible. Can you tell us about your experience as a student there?
When I was a freshman at St. Bonaventure, I had so many hopes and dreams of things I wanted to do and who I wanted to become, yet I lacked confidence. However, the close-knit Bona community changed that.
At St. Bonaventure there are opportunities to grow intellectually and spiritually, which is life-changing. From traveling to Vietnam on a service trip and returning the following year to direct a documentary for my Senior Capstone Project, to playing DI softball, to filming and producing news packages and highlight reels for the men's basketball team, I was able to pursue my passions and develop the skills needed to succeed while being challenged and supported by the faculty and my coaches who believed in me. I am forever grateful and am blessed my path led me to St. Bonaventure. 
What is your primary goal in being part of the advisory board for the Journalism master's programs?
I want to share my knowledge, expertise, and experiences with the hopes it can impact someone's life. Additionally, it's a wonderful opportunity to meet and learn from some distinguished alumni while helping the Jandoli School of Communication.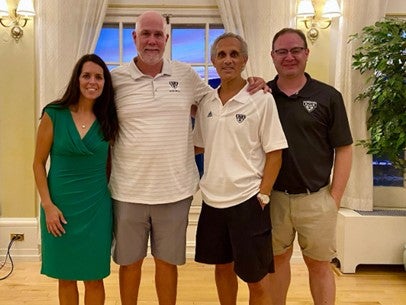 Rayna was the keynote speaker at the Coaches Vs Cancer fundraiser last year. Here she is pictured with SBU's Head Men's Basketball Coach Mark Schmidt, ESPN's Adrian Wojnarowski and ESPN's Chris LaPlaca.
Can you tell us about the Woman of Promise award you won in 2003? Did it give you the confidence to step into a male-dominated industry?
When I was told I was being named the Woman of Promise in 2003, I had been applying for dozens of jobs all over the country, yet I never received a callback. My confidence was low, but after being presented this Woman of Promise Award, everything changed. On that day, I saw so many people who believed in me. They saw potential in me that I didn't know I had. And as a result, I knew I had to live up to that promise. Ultimately, this award ignited a fire within.
What advice do you have for incoming students / those wanting to break into journalism?
Develop a beat, get involved, and build relationships, especially with St. Bonaventure alumni. I'd also say that since the media landscape is always changing, you need to develop a diverse skill set, and be adaptable. It's a competitive business, so be persistent. It will pay off.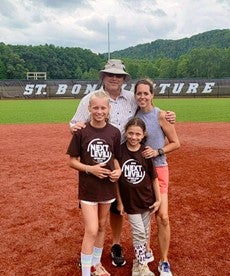 SBU's Head Softball Coach Mike Threehouse invited Rayna back to help coach his elite softball camp this Summer. Both daughters got to attend and play on Joyce Field.
---
The best way to check out Rayna's work is by heading to her Twitter page or the ESPN website. A stand-out article was this one published last year about her time at St Bonaventure and her father's battle with glioblastoma. Also, if you're reading this, you might be interested in our Donna Ditota Q&A or Tim Bontemps Q&A.