Student Spotlight: Hannah Gonsiorek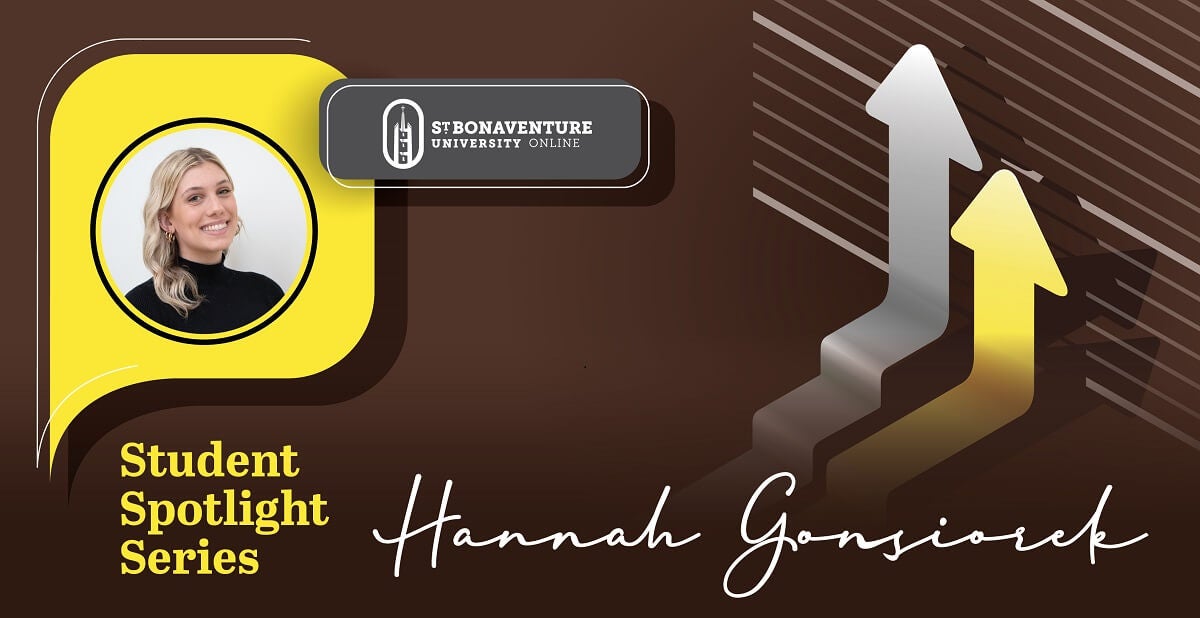 In 2007, world-renowned psychologist, Carol Dweck, published decades of research about the power of one's mindset to achieve desired goals. In her book, Mindset: The New Psychology of Success, Dweck popularized the Growth Mindset vs. the Fixed Mindset theory. Having a fixed mindset means believing that intelligence and knowledge are fixed and leads individuals to avoid challenges like skill-building and information-seeking. Conversely, maintaining a growth mindset means enjoying the process of continual learning and utilizing feedback and mistakes as growth opportunities. Those with a growth mindset are also known as lifelong learners; self-motivated individuals with an ongoing thirst for knowledge.
Introducing Hannah Gonsiorek
Hannah Gonsiorek is a shining example of an avid learner with a growth mindset. Hannah reached a pivotal point in her education and career when she considered returning to school to pursue a Master's in Business Administration (MBA). Hannah had recently graduated from St. Bonaventure University, completing a major in Psychology and a minor in Marketing. However, in the months leading up to her graduation, Hannah was struck by a question that bewilders many graduates in their career pursuits, "What's next?"
In the final semester of her undergraduate studies, Hannah completed a marketing project that went beyond the boundaries of the classroom. Her professor prompted Hannah to join a group of students, partner with a local business, and build a marketing plan to leverage online engagement data to attract and retain new customers. This project immediately sparked her passion for business and marketing, a passion that would later pilot her career path. Throughout this project, she familiarized herself with how to develop creative content, communicate with business owners, and further her business aptitudes. This hands-on project further inspired Hannah to complete her MBA and enhance her existing skills to become a well-rounded business professional.
Hannah was familiar with the prospect of an MBA degree but never seriously considered it.
"I never before would have considered an MBA because I truly did not know I was capable of it with my undergraduate experience until I found a professor willing to share their educational journey with our class," she says.
On the first day of her final semester of the undergraduate program, Hannah's professor shared that they held a Bachelor's degree in a non-business-related major and decided to complete their MBA. Hannah suddenly realized what the next step would be in her personal and professional growth, enrolling in St. Bonaventure's MBA program.
The flexibility of St. Bonaventure's MBA allowed Hannah to work two part-time jobs and juggle additional courses to support her financial and educational goals. Hannah says she plans her schedule around the due dates posted at the beginning of each week. Courses with a remote, study-from-home model also allow students like Hannah to join Zoom meetings with professors and other students from the comfort of their homes.
"I always thought that reaching professors online would be harder, but in reality, it is just as easy. Each time I have attempted to reach my professors, they were able to assist me within 24 hours and sometimes even offer the option of providing their personal phone numbers for even quicker responses. I have found that the professors at St. Bonaventure want to get to know you on a personal level and work to establish mutual trust through the course of your time here, whether on-ground or online," she says.
Yet another benefit that students cite during their experience completing the online MBA at St. Bonaventure is the close-knit community of students and lasting connections. The program involves group work and collaborative projects hosted on a seamless virtual platform with a forum where students can post and interact.
"In my coursework thus far, I have been in several online group activities that created bonds with classmates that seem to continue on into future courses. That being said, I just recently connected with an online classmate, and we made plans to go out for dinner," Hannah shares of her experience.
"At the end of this course, I knew that an MBA would allow me an even greater opportunity to grow beyond my current skill set. For me, I always knew I didn't want to be just a "number" in a course but rather find where I truly belong through interactions and experiences just like this."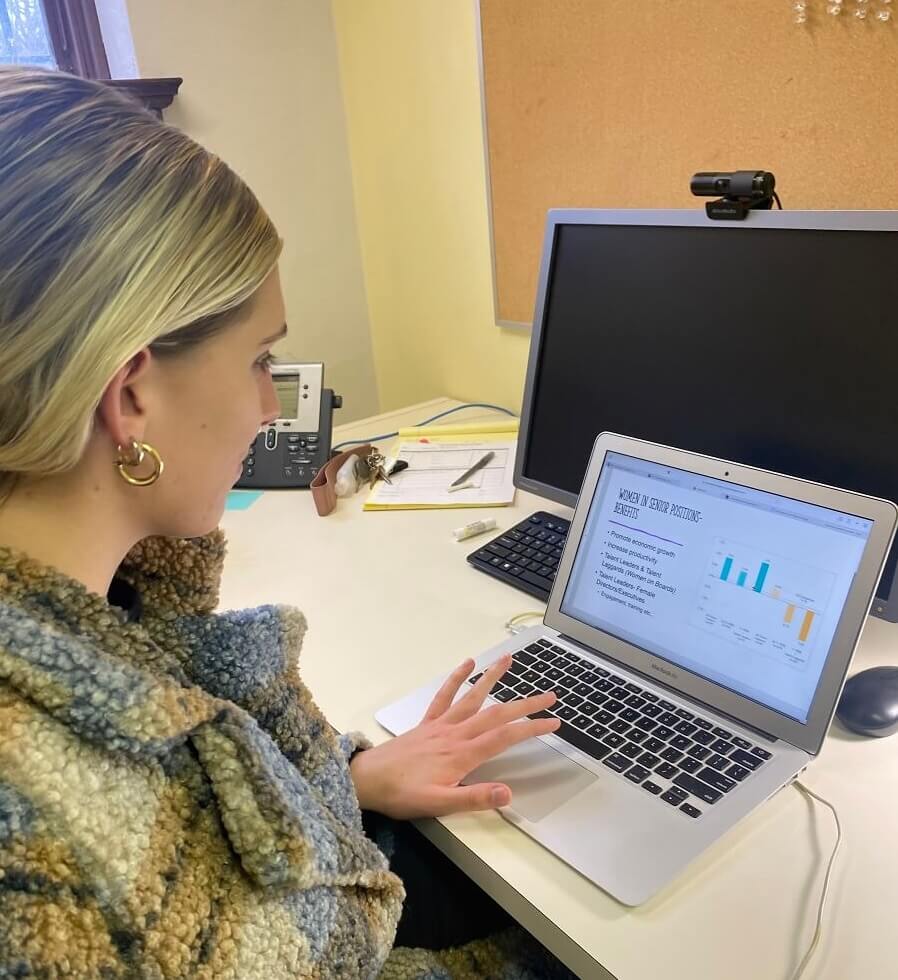 As a lifelong learner interested in marketing, Hannah enrolled in the International Marketing course as part of her MBA to gain insights into the global world of marketing, the intricacies of data-driven research, and the social and cultural implications of marketing campaigns and execution.
"Currently, we are working on two projects. The first one is an individual project where we must research a global for-profit company, where I chose Gap Inc. I must give a brief history of the firm, identify its global strategies, incorporate the marketing mix, offer a competitive analysis, and recommend solutions and ways the company can be adjusted to strengthen its competitive advantage," she says.
The first project introduced Hannah to future career opportunities, allowing her to dissect marketing strategies, track competitive markets, and measure the goals of a large enterprise through a Strengths, Weaknesses, Opportunities, and Threats (SWOT) analysis. For the second project, Hannah will work alongside two students on a group paper to develop an international marketing plan for a domestic nonprofit organization, a project that incorporates the St. Bonaventure Franciscan values to drive local change.
"Throughout my time thus far in the MBA program, I have come to realize that hard work really pays off when you love what you're learning. Of course, undergraduate courses are a lot of fun, but when you understand the expectations of a graduate-level program and realize this could be your future, you tend to pay a lot more attention to the fine details. For me, this is where I find a passion," says Hannah.
In this statement, Hannah embodies the spirit of the growth mindset; she pushed through feelings of self-doubt, connected with mentors, collaborated with her peers, and followed her passion by continuing to upskill for the future.
St. Bonaventure's online MBA prepares professionals to lead and innovate in rapidly shifting business environments. St. Bonaventure's School of Business is among only 5 percent of business schools worldwide accredited by the Association to Advance Collegiate Schools of Business (AACSB). As a result, students graduate with well-rounded business knowledge from an accredited program and a school with an excellent reputation amongst organizations and top employers.
"The beauty of a school like St. Bonaventure is that I have the opportunity to see students develop as a student through undergraduate years as well as see how they perform as MBA students should they choose to take that next step with us. As MBA students they often tackle the same broad topics of study but take a deeper, more perceptive approach to analyzing and completing the cases and projects given to them. Hannah is one of those students that have shown tremendous growth and maturity as a grad student and it is both a joy and a privilege to guide her through her MBA coursework. I am certain that Hannah will achieve great success as she takes her attention to detail and her superior work ethic towards a career as an MBA graduate." -Dr. Dharti Trivedi
Hannah is currently completing her MBA while applying her advanced skills working as a Social Media Coordinator for a start-up company in Buffalo, New York. Hannah is also leveraging networking opportunities and connections with her professors to locate relevant full-time internships in her area.
Hannah reflects on her educational journey fondly, saying, "My journey thus far in the MBA program has been nothing but exceptional. I am happy with my decision to further my education at a place that makes it feel like home."
Learn more about St. Bonaventure's fully accredited online MBA