St.Bonaventure Online – Student Spotlight - Shawn Ellis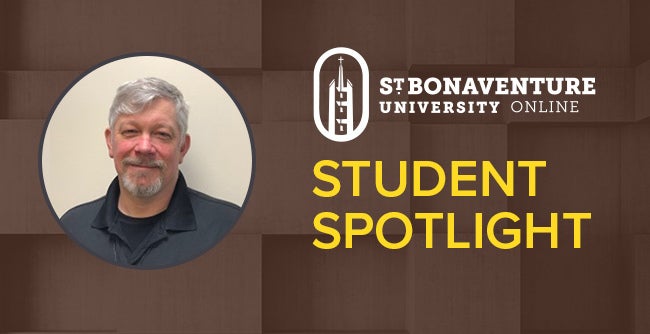 Shawn Ellis is a systems security engineering information systems security analyst at Thales Canada, Defence and Security in Ottawa. He is a graduate student in St. Bonaventure University's online Master of Science in Cybersecurity program.
Why did you choose to enroll in St. Bonaventure's online Master of Science in Cybersecurity program?
Shawn: During my research for an acceptable school that provided 100% online training, I came across St. Bonaventure and reached out. It took less than 10 minutes to determine that St. Bonaventure was the right school for me. The welcome was warm and I felt like part of a family and that the school actually cared.
How has your experience been with faculty in the program?
Shawn: The instructors are great and highly accessible! Being a remote student, having access to instructors who respond in a timely manner is critical for success. I was also a little apprehensive in attending the program as I am not a spring chicken (retired military). The staff were outstanding in reassuring me, checking up on me and guiding me along the way. As I said, it is more of a family feeling than a school.
Are you able to juggle the coursework with work and family obligations?
Shawn: A key element for me is the pace and workload. Being employed full-time and having a family can be very time consuming. This program has a nice pace and is appropriate for someone who is working full time. The instructors are very knowledgeable and consistently reach out to the students. Online training does have challenges, but the instructors are very well-prepared. The master's program content is perfect for providing the necessary knowledge base for a security leader. There are some challenges; for example, applied cryptology is very demanding but very rewarding.
Would you recommend this program to a friend or colleague?
Shawn: I have already recommended the program to Veterans Affairs and to our Transitions Services who assist veterans in switching to civilian world. Currently there is no program available in Canada that this one compares to.
To learn more about our online MS in Cybersecurity, connect with our enrollment advisor today.