The Three Leadership Styles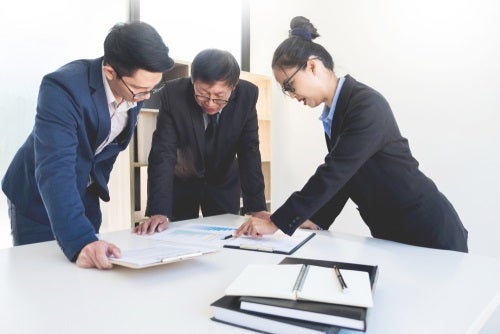 Leadership brings to organizations an intangible quality that determines whether a business turns a great profit or any profit at all; a military mission survives unforeseen battleground confusion; a project produces industry innovation; or a relief effort helps people in need. Leaders are effective because they've developed a successful leadership style out of a foundation of wisdom and knowledge.
St. Bonaventure University's Online Masters in Leadership degree helps professionals hone their leadership skills and pinpoint their leadership styles with courses such as Leadership Values and Diversity, Global Leadership, Organizational Structure and Behavior and Developing Human Resources. The courses cover a wide range of topics designed to impact individuals, organizations, and communities. Below we take a look at different types of leadership styles and summarize how the online MSL program may help you professionally.
Different leadership styles deliver better results in different situations. Leadership styles exist on a spectrum of control, time, and task complexity, but are only effective based on the motivation and level of experience of the followers. The three main leadership styles can be broadly defined as authoritative, participatory, and delegative.
Authoritative/Autocratic/Coercive/Command/Military Style
This is leadership demonstrated/given through directions, commands, orders. This approach is very hands-on, some might describe this style as micro-managing. The style is ideal in emergency situations or situations where tasks are simple and structured. Leaders with this style tend to be high-energy and highly competent, because the team tends to need direction. If the operation should fail, it's on the leader's shoulders.
Participatory/Democratic/Consensus/Affiliate Style
A participatory leadership style is exemplified by considering all possible points of view before the arriving at a decision. This is typically a time consuming style, and is ineffective in tight emergency situations where reaching consensus can cost precious time. Democratic styles tend to need highly competent team members to contribute, and are suited to situations where 'buy-in' is prioritized over time and resources.
Delegative Style
This hands-off approach gives the most control over to others, most frequently subject matter experts or professionals in a specific business department/sector. The intention of the style is to coax out creativity from the team and at the same time, create an opportunity for future leaders to emerge.
In addition to these main leadership approaches, there are other general leadership styles that address different situational aspects of leadership.
Transformational leaders, aka Visionary Leaders, tend to spark innovation, new ways of doing things and intend to change the world in some way, sometimes known as disruptive leaders. They are leading followers into the unknown or a new industry.
Charismatic leaders, much like visionary leaders, appeal to followers' sense of a greater whole or ideal. Charismatic leaders tend to exhibit a charm and motivate people to through a personal interaction/their personality. " Coaching leaders work to bring out the best in their team by working individually with each member on their strengths and weaknesses.
Pace-setter leaders tend to set a performance based objectives for their team while pursuing high standards of work.
Whether or not you ascribe to one of the leadership styles listed above, St. Bonaventure's online leadership postgraduate program helps gain a personal understanding of your role as a leader on an individual and organizational basis. At the heart of SBU's online MSL program are the values of discovery, community, and individual worth. Prepare to gain a holistic view of leadership and how to assess leadership decisions through an ethical lens.
According to MSL alumni Patrick Cluckey, "The leadership program at St. Bonaventure [offers] a broad curriculum to cultivate the attributes necessary to be a strong, confident and professional leader in today's business…This program will nurture the instincts of a leader and teach students to focus their knowledge into the workplace to enhance their potential as a leadership professional."