Business Analytics Master's Degree: What is It? (Infographic)
From banking to retail, companies around the world are adopting business analytics to stay competitive in their fast-growing sectors.
The World Economic Forum's Future of Jobs Report 2018 placed big data analytics as the most in-demand skill set for global firms by 2022. This report estimated that 89% of U.S. companies planned data analytics implementation over the same time frame (source).
An online business analytics master's degree program should produce graduates who can step into these positions and project the economic future.
A business analytics master's degree allows you to stand apart from other business school graduates. LinkedIn placed analytical reasoning among its five most important technical skills in its 2020 review of employer needs. The job site noted that every company relies on data streams to understand their customers, supply chains and outlets (source).
Before jumping into a business analytics master's program, it is helpful to understand the nuances of business analytics.
See the full infographic here.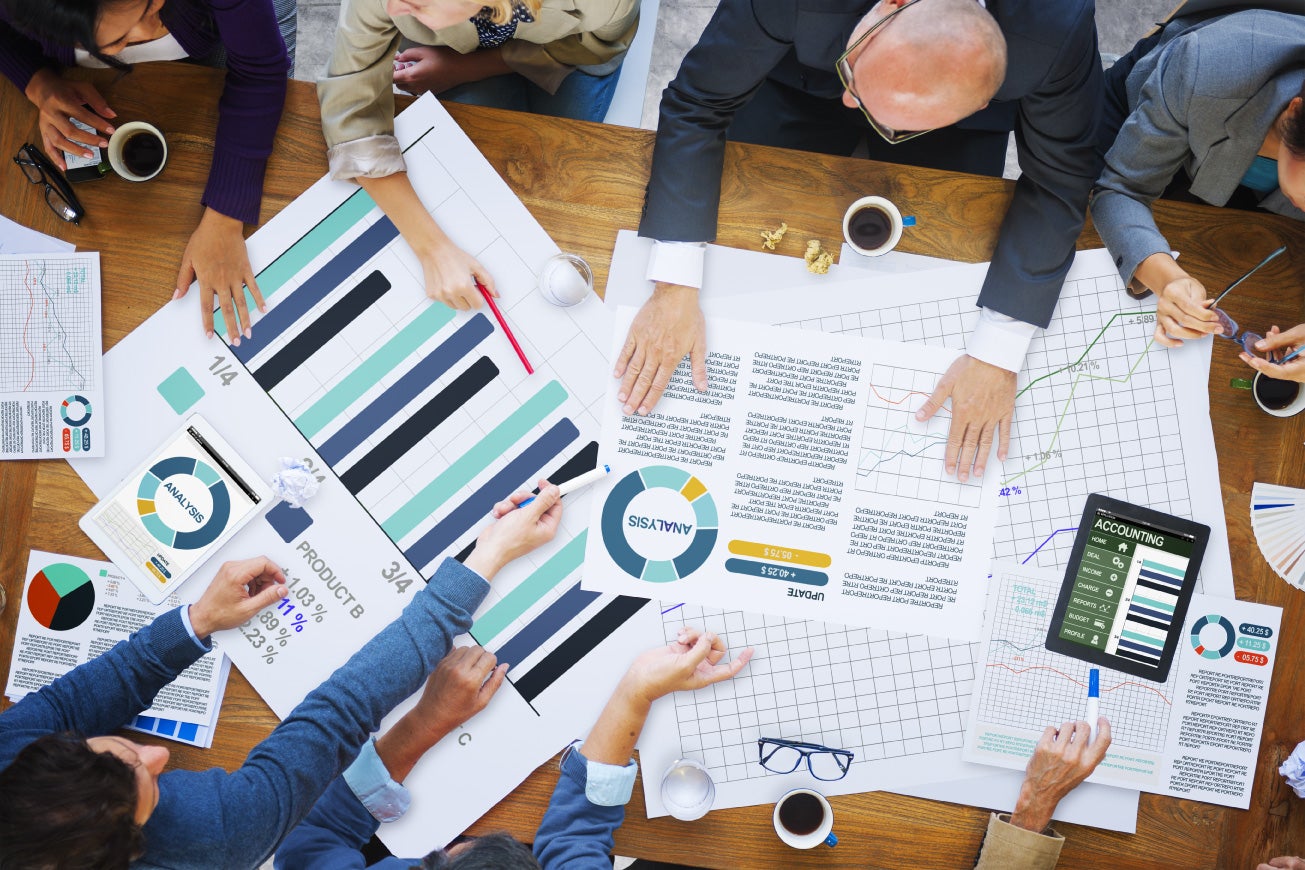 What Is Business Analytics?
On first look, the term business analytics elicits thoughts of massive spreadsheets and dense reports. TechLogic defines business analytics as an "iterative, methodical exploration of an organization's data, with an emphasis on statistical analysis" (source).
Business analysts don't just look at data and translate this information for stakeholders. The analysis and learning gleaned from the data require more than simply a knowledge of statistics and models.
The TechLogic definition of business analytics implies important questions to be asked of any data set. Using quantitative analysis and predictive modeling, business analysts answer the following questions for their employers:
What caused an event captured in data?
What is the likelihood of this event happening again?
How do changes in particular variables impact business outcomes?
What underlying issues in the data need to be addressed?
Business analysts must possess business administration, data management and investigative skills to answer these questions. A business analytics master's degree from a leading program will hit on all three of these skill sets.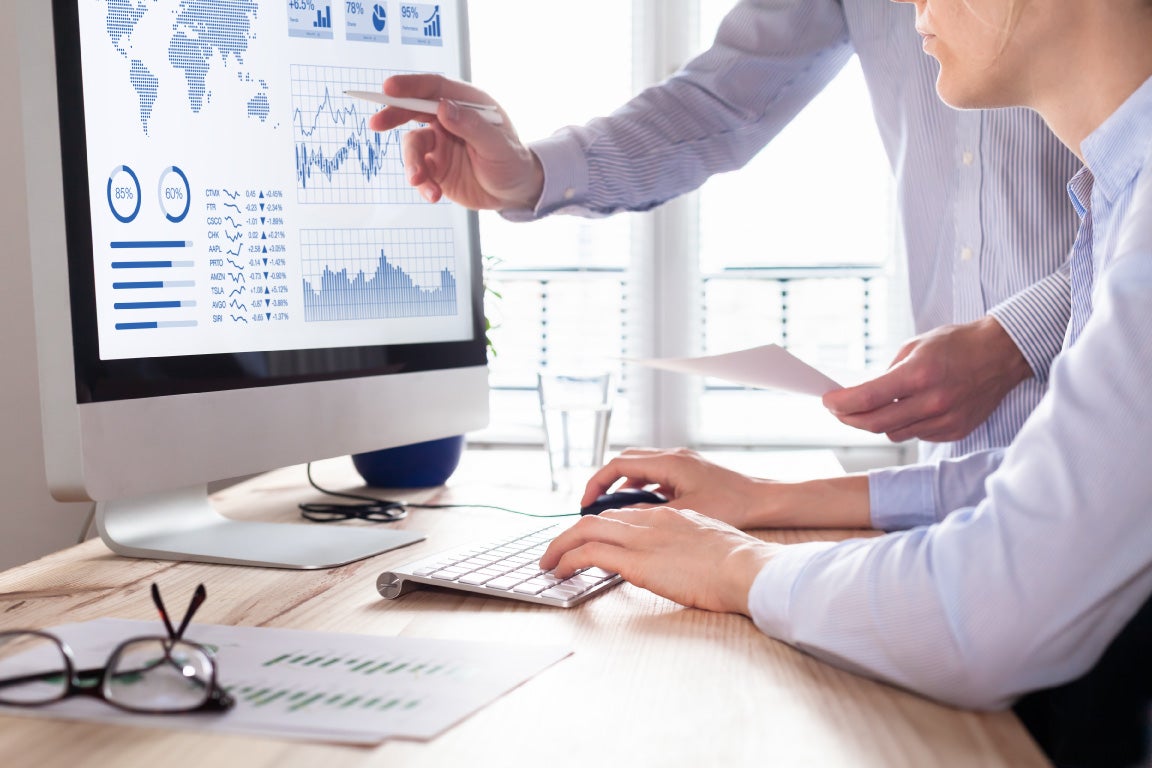 Types of Business Analytics
Business analytics is not a monolithic profession. Analysts typically specialize in one of three areas: prescriptive, descriptive or predictive analysis. Business analytics master's programs like SBU's encourage specialization to meet employer demands. The following capsules summarize these disciplines to guide decisions for prospective analysts:
Descriptive analysis:

Business analysts in this discipline are data historians who offer objective views of the past.
A descriptive analysis uses data sets to paint a picture of what has happened.
This discipline allows sure footing for businesses to learn from past mistakes and repeat successes.

Predictive analysis:

Predictive analysts are the oddsmakers of the business world, using data to estimate future outcomes.
A combination of data mining and machine learning processes answers the question, "What could happen?"
Companies rely on practitioners to anticipate stock performance, seasonal demands and credit ratings.

Prescriptive analysis:

This discipline answers the question of how a business should respond to challenges.
Prescriptive analysts deploy predictive tools to create data-driven recommendations.
These recommendations may be used to improve logistics, counter a fast-rising competitor and enhance employee productivity.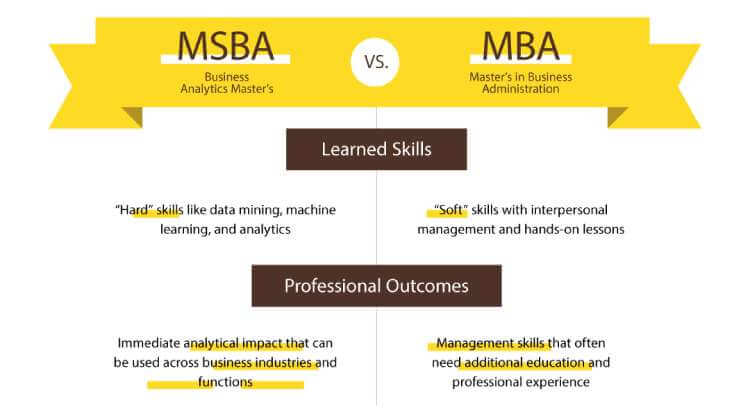 How Is a Business Analytics Master's Different from an MBA?
You may wonder why you should pursue a business analytics master's over an MBA. The MBA has become a standard credential for business leaders and managers as companies increase their expectations of employees. This means an MSBA could provide more specialization to set you apart.
Business analytics master's and MBA programs differ in several important regards that can make the degree decision easier for you.
Learned Skills
In general terms, business analytics master's programs are geared toward "hard" skills in the workplace, and MBA programs focus on "soft" skills. Hard skills—like data mining, machine learning and analytics—require the intense focus of a specialized degree. MBA programs combine lessons in interpersonal management with hands-on lessons in non-technical areas like advertising and finance.
See the full infographic here.

Professional Outcomes
The professional outcomes of a business analytics master's and an MBA program differ thanks to this hard vs. soft skills divide. Graduates of business analytics master's programs straddle the divide between business administration and IT departments.
This flexibility means that a business analyst can move into analytics positions involving marketing, finance and IT, to name a few. Chief analytics officers are becoming more commonplace in corporate structures, creating an executive path for analysts.
MBA graduates possess management skills that are attractive to employers but they may lack on-the-job specialization that can limit job mobility. For example, an MBA graduate specializing in finance needs additional education and entry-level work to move into another specialization.
The proliferation of MBA programs in the 21st century also makes for greater competition for positions. Choosing a business analytics master's is likely to yield better results due to its specialization in data.
Trends in Overall Interest
Google Trends offers a clear view of how business analytics master's and MBA programs have trended in search engines over the past decade. Since 2008, Google searches for "master of business analytics" grew from non-existence to a peak popularity of 100 by October 2019 (source). The term "MBA" declined from a search rating of 77 in 2008 to 46 in December 2019 (source). Prospective students and others are interested in both programs.
One reason for the increased search popularity for business analytics master's programs is because advanced analytics skills are essential to the global economy.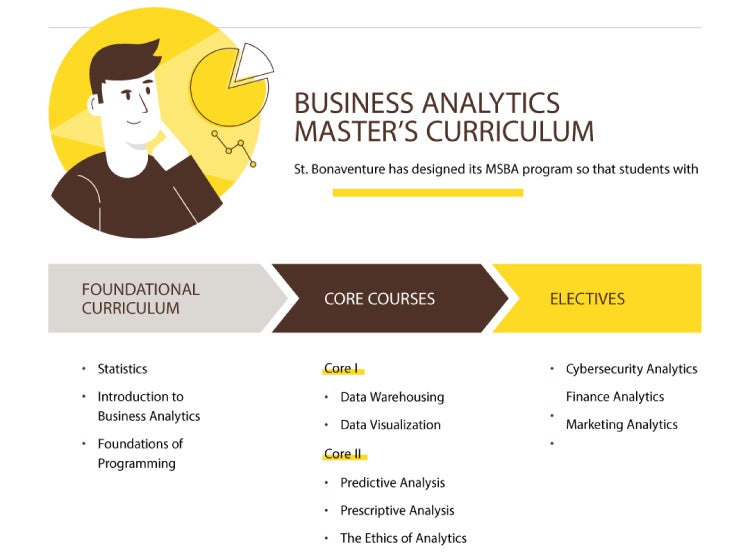 What Does a Business Analytics Master's Teach?
A business analytics master's program is a rigorous path to a rewarding career. Any program worth its salt will turns ambitious degree earners into successful analysts.
A Master of Science in Business Analytics (MSBA) program builds from foundational courses through a final capstone project.
Foundation
Well designed MSBA programs will impart students with a bachelor's degree in any field with a strong foundation as they move into becoming data scientists.
You will complete three foundation classes before advancing to the five core courses. The foundational curriculum teaches:
Statistics
Introduction to business analytics
Foundations of programming
Core Courses
You will continue with two sets of core courses.
Core I is essential to creating effective analyses:
Data warehousing
Data visualization
Core II builds on that knowledge:
Predictive analysis
Prescriptive analysis
The ethics of analytics
After completing the foundation and core courses, you will be ready to further your education through electives.
See the full infographic here.

Electives
Pursuing a business analytics master's degree is a balance between theoretical and practical lessons. Three commonly offered pathways are:
Cyber analytics
Finance analytics
Marketing analytics
Each pathway features two courses that connect classroom lessons with real-world data issues. Cyber analytics students complete foundations and data mining courses, while finance analytics learners take on management and modeling classes. The marketing analytics pathway includes marketing management and analytics courses.
If none of these pathways are relevant to your career goals, many programs will instead allow you to select from an assortment of electives. This lets you customize your business analytics master's degree to best further your career goals.
Aspiring business analysts can prepare for future leadership positions with courses in leading change and leading in the digital world. Electives in mobile marketing communications and consumer insights in social media connect data analysis to consumer-facing products.
Don't forget that an online business analytics master's program should culminate in the requirement of a capstone project prior to graduation.
This requirement is intended to synthesize all of the previous courses into a project that connects to the business world. You will work with your advisor to develop a capstone project that demonstrates your skills and advances the data analysis field.
Skills Outcomes
The main value of a business analytics master's program is its direct connection between coursework and professional skills. Your MS in Business Analytics program should focus on five core skill areas:
Strategic mindset: A skilled strategist identifies project goals, challenges, metrics and feedback mechanisms based on available information.
Business acumen: Analysts evaluate how data-based solutions fit into the context of company missions, customer expectations and market factors.
Quantitative methods: This is the core of an MSBA, boiled down to storing, processing and presenting data for various audiences.
Technological aptitude: You will learn current tools like Tableau, SQL, Python and Excel with the flexibility to learn the latest technology.
Connective communication: Analysts are only as successful as their ability to use all of the aforementioned skills to communicate with non-analysts.
Who Gets a Business Analytics Master's Degree?
Business analytics masters' degrees benefit a wide range of individuals.
Career Changers
Professionals interested in an advanced degree in business analytics may assume they need to hit certain benchmarks before enrollment. A business analytics master's program should recognize the realities of the analytics profession and create a solid career path for students of any background.
All Educational Backgrounds
The International Institute of Business Analytics (IIBA) gathered data on the degrees held by business analysts to determine if there is a likely path to success in the field.
The review found 45% of analysts held bachelor's degrees and 34% held master's degrees in 2019. The share of business analysts who hold master's degrees will rise in the next decade as the profession becomes firmly entrenched in the business landscape (source).
It is perfectly acceptable and quite common for MS candidates to hold undergraduate degrees in everything from computer science and finance to communications and management information studies. The online business analytics master's degree also attracts liberal arts, social science and natural science graduates looking for careers in the corporate world.
There isn't just one path to a business analysis career. The best analysts are highly motivated to learn new skills no matter their undergraduate degree.
Any Gender
A common thread of the corporate world in recent years is a persistent gender imbalance. McKinsey & Company's Women in the Workplace 2018 evaluated employment data from 279 companies from 2015 to 2018.
The report concluded that the share of women in corporate positions shrank higher on the corporate ladder. Women represented 48% of entry-level employees and only 23% of C-suite executives. In short, the pipeline for job mobility among women is not functioning well (source).
IIBA found that 52% of business analysts in 2019 were women. This field remains in its early stages of growth, providing an opening for women with analytical skills unavailable in traditional corporate jobs. Business analytics master's programs help create a more level playing field based on race, gender and other demographics than other business specialties.
See the full infographic here.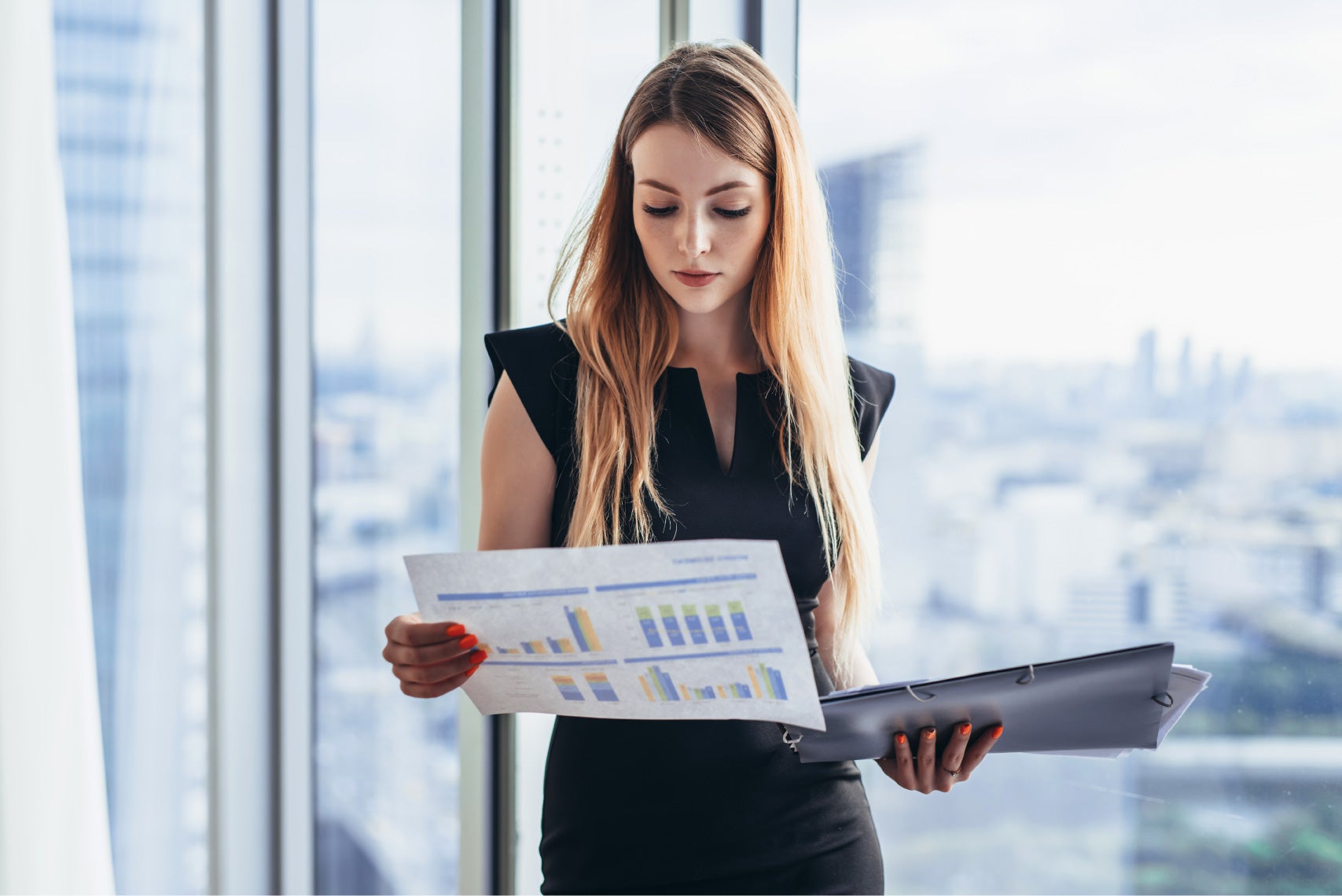 Where Can a Business Analytics Master's Take You?
Big data software firm Splunk worked with TRUE Global Intelligence to survey 1,300 global business executives about their data use. This survey found that 55% of all data gathered by businesses is not processed for use.
The most common responses for why "dark data" existed was that businesses lacked resources to analyze data (85% of respondents) and data sets were incomplete (66% of respondents). The next generation of business analysts can use their business analytics master's degrees to solve these problems (source).
Demand for Analysts
With these responses in mind, it should not surprise you that business analysts are in high demand.
The U.S. Bureau of Labor Statistics estimated a 26% growth in jobs for operations research analysts from 2018 to 2028. This growth far exceeds the estimated 5% growth for all jobs and the 14% growth for management analysts. The operations research analyst description most closely aligns with the business analysis position among all BLS listings (source).
A more detailed look at industrial demand shows where analysts can find the most opportunities. The following list details the greatest demand for analysts by job type and industry according to the IBM and Burning Glass Technologies report The Quant Crunch(source):
Data system developers (41% of analyst positions in the professional services sector)
Analytics managers (41% of analyst positions in the finance & insurance sector)
Data analysts (34% of analyst positions in the professional services sector)
Functional analysts (34% of analyst positions in the finance & insurance sector)
Data scientists and advanced analysts (31% of analyst positions in the professional services sector)
The Quant Crunch concluded that 2,350,000 data science and analytics jobs were listed in 2015. An additional 364,000 jobs were estimated to be created in 2020. The aforementioned "dark data" issue means that more jobs are on the way. A business analytics master's degree is a valuable asset in the current economy.

Salary Outlook
The burgeoning business analyst profession translates to strong salary projections.
The average operations research analyst received a salary of $83,390 in 2018, and management analysts received $83,610 on average. The BLS listed a median salary of $38,640 for all occupations in 2018, showing the high relative value of analysts in today's economy (source).
These figures are left in the dust by salaries for specialized analysts in the finance, marketing, and healthcare fields. The Quant Crunch lists a $105,000 average salary for data scientists. This figure jumps to $113,754 for data-focused financial analysts and $114,000 for analysts who possess machine learning skills (source).
Analyst salaries show the time and money you invest in a business analytics master's degree pay off quickly after graduation.

Career Paths
IBM and Burning Glass Technologies offer a helpful framework for thinking about data-focused jobs. The DSA Framework lists six job categories with varying demands for quantitative and technological skills (source):
Data-driven decision makers (project and department managers)
Functional analysts (human resources and operations analysts)
Analytics managers (chief analytics officers)
Data system developers (systems analysts)
Data analysts (business intelligence analysts)
Data scientists and advanced analytics (data scientists)
IIBA's 2018 Salary Survey showed the industrial distribution of business analysts around the world. This survey included data from 5,030 participants in 116 countries and identified the percentage of analysts working in the following fields (source):
IT industry: 30%
Finance and insurance industries: 23%
Public sector: 10%
Business consulting and healthcare: 37%
IIBA also noted that 70% of participating companies planned or started digital transformation initiatives in 2018 (source). In addition to the existing career paths, the evolution of business analytics will mean new job titles and paths to address unanticipated developments.
A well-rounded, high quality MSBA program prepares the student for any of these jobs via a rigorous and thorough course of study.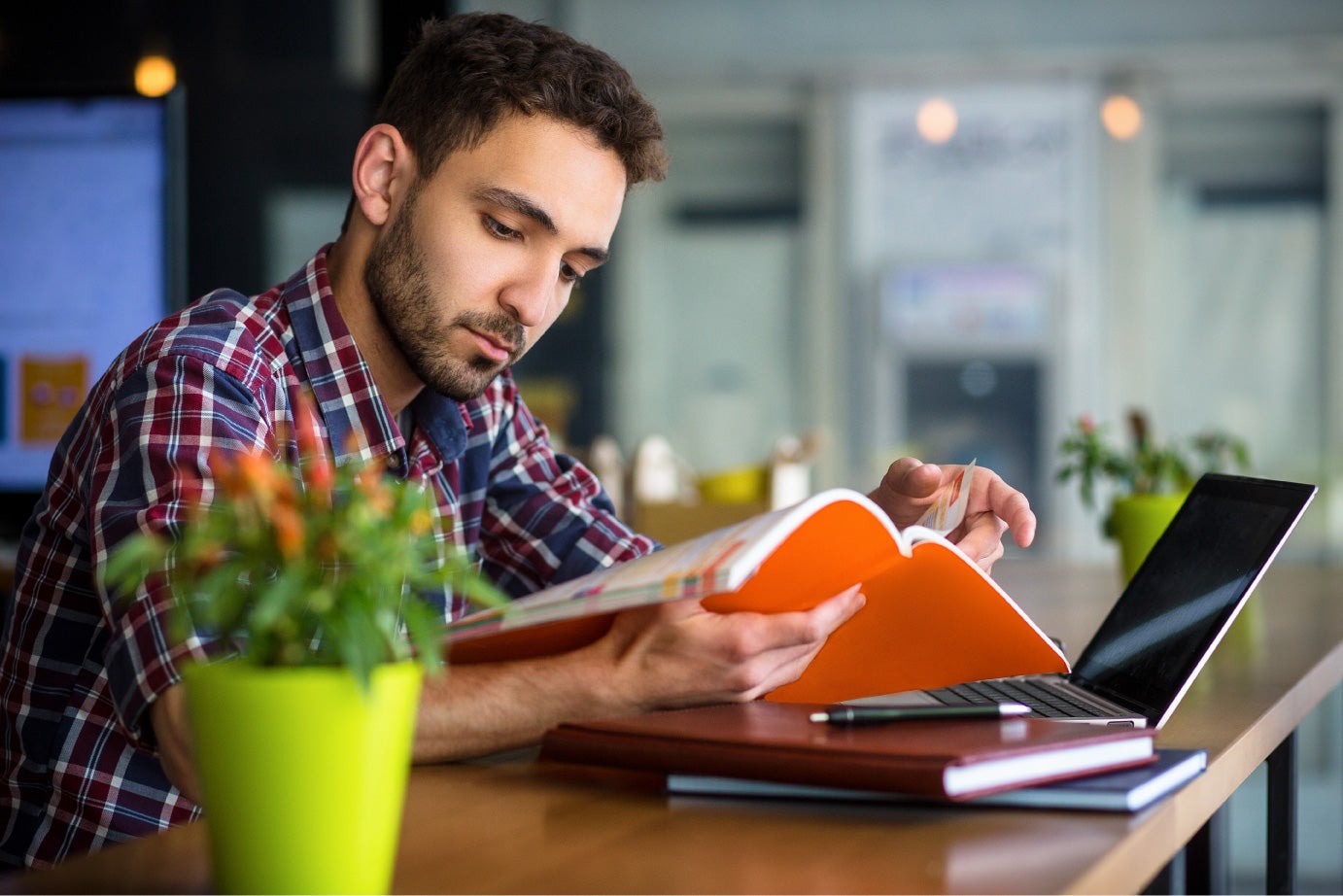 How Does St. Bonaventure University's Program Differ?
St. Bonaventure University delivers its online business analytics master's program with a long history of educational excellence and up-to-date industry information.
Built for Career Impact
The curriculum is designed to prepare you with the skills employers currently need. It also welcomes students with a bachelor's degree in any area—no prerequisites required.
Courses teach interpersonal and critical thinking skills in addition to giving you hands-on experience with the latest technology, such as:
Tableau
SQL
Python
SPSS
Excel
Mongo
IBM Optimization Studio
Lifelong Learnings
The School of Business frames its mission as the development of "responsible leaders for the greater good and the bottom line." This mission is achieved by following five values that translate well across your home, school and work life:
Contemplation
Love
Joy
Peace
Compassionate service
St. Bonaventure instills these values in its students, hoping graduates carry them into the corporate world.

Accreditation
The online MS in Business Analytics—along with other offerings from SBU's School of Business—is accredited by the Association to Advance Collegiate Schools of Business (AACSB).
This professional organization has been critically reviewing and accrediting schools since 1919. An AACSB accreditation is no sure thing—only 5% of all business schools worldwide achieve this distinction. Schools like St. Bonaventure University celebrate this distinction for good reason.
The AACSB review process involves meeting or exceeding 15 standards that ensure success for business schools, including (source):
High-quality intellectual contributions
Support for faculty-student interactions
Sufficient staff to support degree requirements
Effective program design
Students of St. Bonaventure University benefit from this accreditation process because it guarantees high value for your business analytics master's degree.

Rankings
U.S. News & World Report placed St. Bonaventure University high in its university rankings for the 2019-2020 school year.
The university placed no. 3 in Best Value Schools in the North due to affordable tuition rates and strong financial aid programs (source). This value extends into your career as a relatively low debt load eases financial stress and creates a higher return on investment.
The successes of the online MBA translate into the relatively new MS in Business Analytics given their shared department. St. Bonaventure University's MBA is highly ranked in Best Online MBA Programs, placing it in the top 40% of all online MBA degrees. The school's program also placed in the top 20% of private colleges with online MBAs (source).
With these high rankings, a degree from St. Bonaventure acts as a currency for you as you compete for jobs, clients and promotions.
Check out St. Bonaventure University Online's Top Blog Posts:
1. Multicultural Counseling: the Ultimate Guide
2. Top Career Paths With a Master's Degree in Integrated Marketing Communications
3. What is an Integrated Marketing Communications Plan?
4. ICYMI: Where Kodak Failed and Netflix Didn't
5. Why Earn an MSED in School Counseling?
6. Education and Training for Clinical Mental Health Counselors
Please use this embed code to share the infographic on your site: