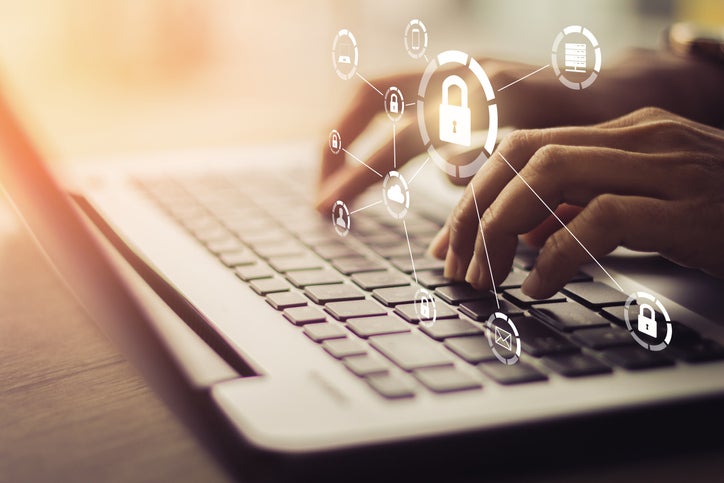 There's a good chance you've heard about – or even been a victim of – a major data breach in the past couple of years. Millions of Americans have had their personal information (passwords, social security numbers, account numbers, and more) compromised, resulting in fraud, identify theft, and a general feeling of mistrust.
Cybercriminals gained access to more than 4.5 billion data records in the first half of 2018 alone, according to a report from PCMag.com. And according to a 2018 Consumer Cybersecurity Study by First Data, 34 percent of consumers surveyed reported having their data compromised within the past year. Major companies like Marriott, Yahoo, Equifax, Macy's, and Target have all experienced major data breaches.
These breaches happen when a company's cybersecurity fails, costing them millions and damaging their reputations. They aren't the only type of cyber attack – there are data loss events, ransomware attacks, state-sponsored attacks, crypto-jacking incidents, and malicious DDoS attacks that can render a company's website useless.
Cybercriminals can gain access to a company's data warehouses and systems and stop operations, extort money, or steal personal data via many methods: phishing, malware, software vulnerabilities, social engineering, APTs (advanced persistent threats) and weak user account authentication systems, to name a few. As criminals continue to get more sophisticated, these methods of attacks – and their frequency – will continue to grow.
The only way to keep to these attacks from happening: stronger cybersecurity.
What is Cybersecurity?
Cybersecurity is the protection of a company's systems, networks, and programs from cyber attack. It's all about playing an effective defense: One small vulnerability can cause a large-scale attack. Cybersecurity professionals must be able to guard everything.
Cybersecurity professionals are IT pros tasked with securing a company's systems. They play a crucial role at businesses and organizations across several industries, from technology and finance to power companies, government agencies, and hospitals.
Establishing, monitoring, and executing a strong cybersecurity plan involves identifying and assessing all software vulnerabilities and weaknesses, establishing framework systems that offer around-the-clock protection, installing firewalls, monitoring suspicious activity, and more. Cybersecurity professionals often conduct penetration testing – hacking into their own systems the same way a criminal would – to look for vulnerabilities and other weaknesses. Cybersecurity professionals are becoming machine-learning pros too, as automation can free up time for more advanced cybersecurity work.
Beyond preventing cybersecurity attacks, these employees also work to investigate and recover from previous attacks (cybersecurity forensics), and they're responsible for training and educating other employees about how to identify phishing attempts and other ways cyber-attackers might try to trick them into accessing confidential info.
Cybersecurity professionals are experts in analytical thinking, secure software design, networking, data mining, cryptography (solving codes), and cybersecurity forensics. They must have a genuine passion for cybersecurity and information technology.
Positions That Masters in Cybersecurity Grads Might Pursue
Chief Information Security Officer
Computer Crime Investigator
Information Security Analyst
Network Security Engineer
Security Architect
There's a Growing Demand for Cybersecurity Professionals
The World Economic Forum listed cybersecurity as a threat in its 2019 Global Risks Report. As a result, companies are increasingly realizing the importance of cybersecurity, and they're getting serious about having the right people in place. (These days, they pretty much have to, as federal regulators are also making cybersecurity a priority, penalizing companies that fail to protect a customer's personal information.)
According to Cybersecurity Ventures, cybersecurity positions should triple in the next five years, with 3.5 million jobs available by 2021. They also reported that 65 percent of large U.S. companies had a CISO (Chief Information Security Officer) in 2017, but that number will likely grow to 100 percent by 2021. The U.S. government is spending $15 billion on cybersecurity in 2019. Simply put: We need more cybersecurity professionals.
The Bureau of Labor Statistics lists the median salary for an Information Security Analyst at $95,000. And because this IT offshoot is still a new field, growth opportunities are common. Professionals can find clear paths to senior-level positions – especially if they have the right education and willingness to coach people.
How to Become a Cybersecurity Professional
Cybersecurity professionals sometimes transition from other IT careers or security-focused roles. There are also many degree programs (including masters in cybersecurity and masters in cybersecurity online) that offer targeted education and training for pursuing a role in the field. Opportunities are available in-house with major companies and with third-party security firms.
Beyond an initial degree program, employers often expect cybersecurity professionals to continue their education on their own: As technology evolves, so do cyber attacks and cybersecurity methods. It's also not uncommon for a cybersecurity employee to work off hours (nights and weekends) and often be on call – threats can happen anytime.
For IT professionals or other students with an interest in cybersecurity, a masters in cybersecurity provides specialized training in the field. St. Bonaventure University's Online Masters in Cybersecurity covers machine learning, cybersecurity forensics, data protection, and other fundamental cybersecurity skills. Because of the school's partnership with the WNY Cybersecurity Research Center, students work in cloud-based labs with real cybersecurity professionals on real cybersecurity challenges. Online programs are great options for working professionals – the flexibility is hard to beat, and the school offers multiple start dates per year with varying schedules in mind.