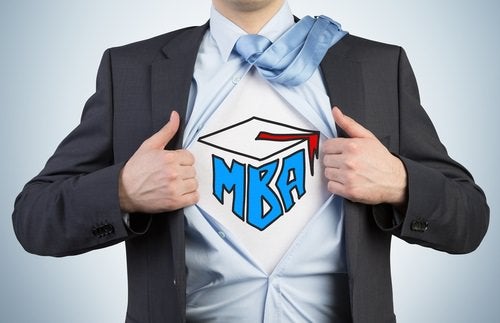 If you are considering obtaining a Master's of Business Administration (MBA) from St. Bonaventure University Online, it is likely you are weighing the advantages of the degree. The benefits of an MBA are many, including enhanced career opportunities, high employment growth, increased salary, and the chance to be groomed for leadership.
Advantages of an MBA
An MBA degree can be a path to many different roles within an organization. Perhaps the most important difference between an MBA and a bachelor's degree is the greater possibility for advancement with an MBA. A bachelor's degree in business, finance, or accounting, for example, can be an important qualification to get you a job as a business analyst, junior financial analyst, or accountant. A bachelor's degree in communications or English can get you a position in a marketing department.
An MBA, though, will put you on a track to higher level positions and to lead departments. At SBU, you'll become a specialist in your concentration of choice: business analytics, finance, or marketing. Online SBU graduates with MBA concentration in finance or accounting, for example, can be on track to become the chief financial officer (CFO) of an organization. Graduates with a marketing concentration with MBAs in marketing are on track to lead marketing campaigns and entire departments.
Mike Iulianello, Management Development Associate at Mondelēz International, holds the SBU MBA program in high regard. As he explains: "My decision to pursue an MBA at St. Bonaventure University is one I will be forever grateful for and is one I recommend to anyone considering a graduate program."
In terms of differentiating the program from other schools, Iulianello explains, "Some key benefits offered that made a difference to me [are]: the flexible...online class schedule. [There's also] a range of electives to peak your specific field of interest. The smaller, tight-knit class sizes that allowed an in-depth discussion to be had with peers and each professor. The communication and interpersonal skills gained in this environment are invaluable."
Summarizing his experience at SBU, Iulianello said, "Earning my MBA at St. Bonaventure has opened up a world of opportunities and the experience is one I will lean on throughout my professional career."
Tackling Real World Problems
Another advantage to the SBU online MBA degree is that the skills one learns can be deployed in a wide range of roles across an organization. An AACSB-accredited MBA means that you can work in finance, accounting, marketing, human resources, development, supply and procurement, logistics, and more.
In fact, new roles for MBAs are becoming available as well. U.S. News and World Report points out that new roles for MBAs have arisen to meet corporate demands. St. Bonaventure University online creates work ready graduates whether you're a full-time student or working professional.
Christy A. Williams, Director of Key Accounts - Craft & Import Brands at Try-it Distributing Co. Inc., expands on the benefits of an SBU MBA degree for adult learners working full time. "St. Bonaventure's MBA program is incredible. Not only is the structure of the program accommodating for the working professional, but the class sizes allow for both one-on-one interaction as well as group participation," Williams said.
SBU's program allows students to specialize while gaining a better general business acumen creating work-ready graduates who can apply practical classroom applications to real-world situations. Williams recalls her experience with SBU MBA online, "Because of my experience at St. Bonaventure, I have a much better understanding of the ins and outs of a business, what truly makes a business successful and where I see myself in the future. SBU was the perfect fit for me." All coursework comes together in the capstone class that applies all the coursework they've taken into a collegial project with other fellow students tackling existing problems in today's businesses.
Earning An MBA Online
Whether you are thinking of moving from a current position to an MBA in the same field or want to move into a different area, an online Master's Degree in Business Administration from St. Bonaventure University is a convenient way to gain the skills and strengths of an MBA. The classes can be taken anywhere it is convenient for you.