7 Valuable Skills You Will Learn in an MBA Program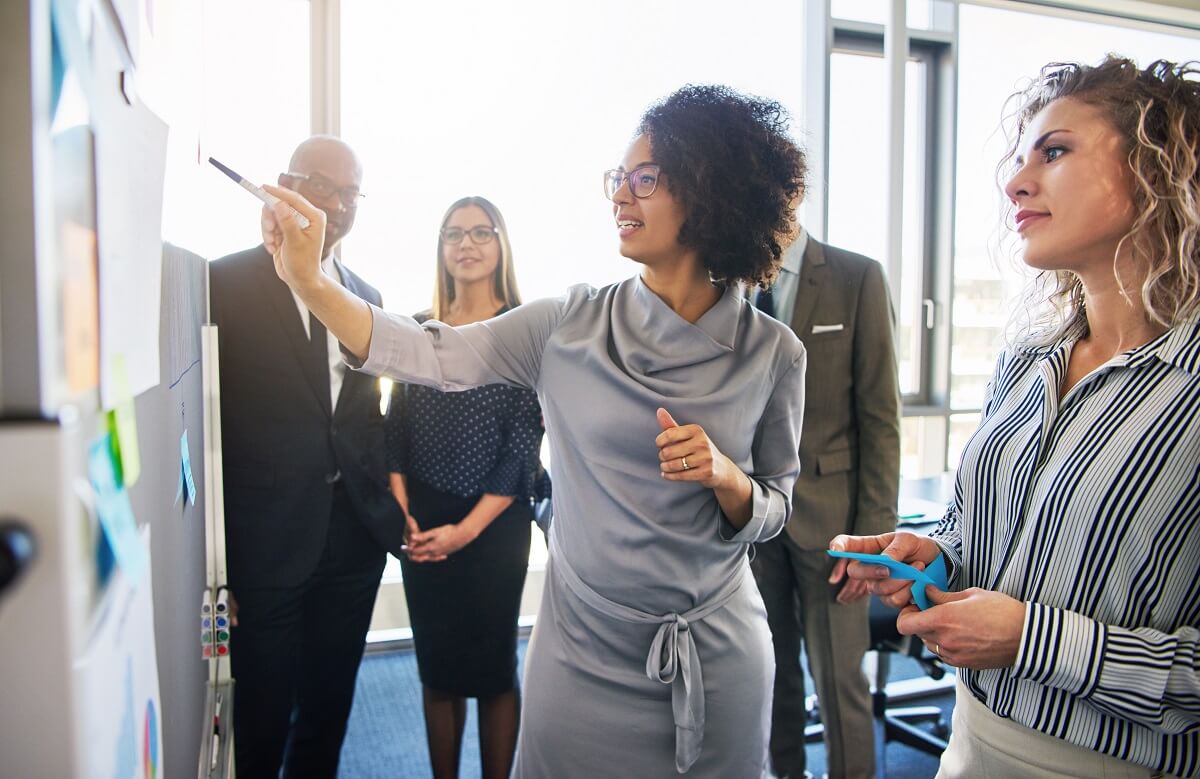 If you want to build your business acumen and solidify your career for the years ahead, you've probably wondered if MBA skills will provide you with a solid foundation for your future. Earning an MBA requires a threefold investment of time, money, and effort – so it's wise to determine if that investment will be worth your while.
A master's degree in business administration may not offer an instant solution to difficulties in your current job or provide you with a leadership role right after graduation. The full impact of your education may take a few years to develop. However, an MBA will teach you valuable skills that will help you accelerate your career, work well with others, develop as a leader, and create the future you want. If you want to set yourself apart and set yourself up for lifetime success in business, earning an MBA is a great first step.
What Skills Does an MBA Give You?
An MBA offers students a wide range of skills and experiences that will serve them well on dozens of career paths. Have you ever asked, "What do you learn in an MBA?" The answer: you learn a diverse set of skills that can set your career on an upward trajectory. If you're wondering how an MBA degree can help you, here are seven valuable skills you'll gain along the way.
1. Business Principles
To excel in any field, you should have a firm grasp of foundational business principles that will prepare you for management positions and leadership roles. No matter what career path you choose, the core curriculum of an MBA program will help you develop into a well-rounded leader. You'll gain fundamental knowledge about analytics, finance, ethics, marketing, and leadership in your classes. You can also pursue one of these areas in-depth by selecting an MBA specialization that fits your goals. An MBA program will help you look beyond the day-to-day tasks of running a business to see the big picture. Every great leader must have the knowledge and vision required to propel their company forward into the future.
2. Networking Ability
The business world is interconnected in countless ways. The conversational skills you will develop as you earn your MBA will serve you well as you build your network. Building great people skills will in turn build a far-reaching network. That network may help you find a great job after graduation. Even more importantly, it will help you find great people to bring onto your team once you're in a leadership position. To network well, you must become a great communicator and a great listener. An MBA will teach you how to develop these skills and leverage them to land promising jobs and build great teams throughout your career.
3. Software Competency
In this ever-changing digital landscape, all business leaders should stay up to date on the latest software developments and technological trends. An MBA program will ensure that students are prepared to face the digital future of business, providing training in a wide range of online skills. This could include digital marketing tools, programming and coding skills, UX and UI design. Even if your future career is not directly involved in these departments, you will be able to lead your teams more effectively if you're familiar with the tools they use every day.

4. Data Analysis Capabilities
If you want to prepare for a career in business analytics, mastering data analysis will set you apart as a leader in your field. Many MBA programs offer an analytics specialization, which typically offers courses in information technology, business intelligence, and data analysis. These skills help you to clearly assess your company by studying various data points. They also allow you to plan for a better future through predictive analytics and modeling.
5. Market Research Expertise
Consumer behavior evolves every year, especially as digital trends and platforms change rapidly. A career as a market research analyst is currently ranked #4 in Best Business Jobs, and an MBA with a marketing focus will help you become a great candidate for this role. As a marketing professional, you'll analyze consumer behavior and marketing trends to create an effective strategy for your business's brand. Your MBA education will help you create strategic plans, pitch them to shareholders or executives, and execute them with the help of your marketing department.
6. Financial Forecasting
Every business needs leaders who are skilled financial analysts and ethical decision-makers. While you earn your MBA with a finance concentration, you can prepare for a career as a future CFO, investment analyst, or investment banker, among other great career options. Financial decisions can be complex, especially for large corporations, but with an MBA, you'll be prepared to lead your company to a stable financial future. In your degree program, you'll study finance theory, compliance, budgeting and accounting, and investing, all of which will help you make financial decisions that are ethical and data-driven.
7. "Soft" Skills
While the technical skills mentioned above are highly marketable, most businesses are looking for future leaders with something more to offer their organization. Recent research suggests that most recruiters are looking for leaders who have both business acumen and "soft skills" – a set of qualities that can be hard to quantify but invaluable to possess. These skills include problem solving, time management, adaptability, willingness to learn from and collaborate with others, communication, and motivational skills. Great leaders possess these skills in addition to their technical knowledge, and they stand out in any candidate pool because of their well-rounded development.
Why An MBA Matters at Work
As you develop both technical skills and soft skills during your MBA program, you "future proof" your career. In the wake of the COVID-19 pandemic, many companies are reassessing their needs and determining which processes can be digitized or outsourced to artificial intelligence. But strong human leadership is still necessary for every growing company, and the skills you develop with an MBA degree can help you secure a job artificial intelligence could never replicate.
In your degree program, you will carefully study current challenges facing businesses today, as well as learn about potential future issues. Your coursework is designed to help you remain relevant as a business leader in the years ahead, even with impending changes to the workforce. An MBA could make you the strongest candidate in a pool of applicants, giving you negotiating power with potential employers in a season with low unemployment rates.
An MBA provides graduates with versatile career options, allowing them to make a career change or advance in their current field. MBA graduates secure jobs in a wide variety of business leadership roles, including:
Business Consultants
Chief Data Officers
Chief Financial Officers
Chief Marketing Officers
Creative Directors
IT Directors
Marketing Directors
Financial Advisors
HR Managers
Investment Bankers
Tax Consultants

Earn Your MBA Online at St. Bonaventure University
You can become an innovative leader of tomorrow while retaining the balanced life you desire today. An online MBA program provides many advantages, including convenience, affordability, and flexible scheduling. If you want to cultivate business skills, grow as a leader, and stand out in the business world of tomorrow, consider earning your MBA online at St. Bonaventure University (SBU).
At SBU, you can trust that you're earning a degree from a top MBA program. Our School of Business is accredited by the Association to Advance Collegiate Schools of Business (AACSB), an accreditation awarded to only 5% of business schools worldwide. We offer 100% online coursework, which allows you to build connections and earn your MBA while advancing your career in the workforce or retaining a work-life balance.
As an SBU student, you can tailor your degree to your educational needs and career goals. We offer three specialized concentrations to prepare you for the career of your dreams. Select a specialization in Marketing, Business Analytics, or Finance to study your desired field in-depth or gain foundational knowledge about all aspects of business in our generalized program.
Even if you don't hold a business undergraduate degree, an online MBA at SBU is a great fit for you. No matter what kind of business career you hope to pursue, the future is brighter with an online MBA from SBU.
Learn more about St. Bonaventure's fully accredited online MBA