Career Change: How to Move Into Cyber Security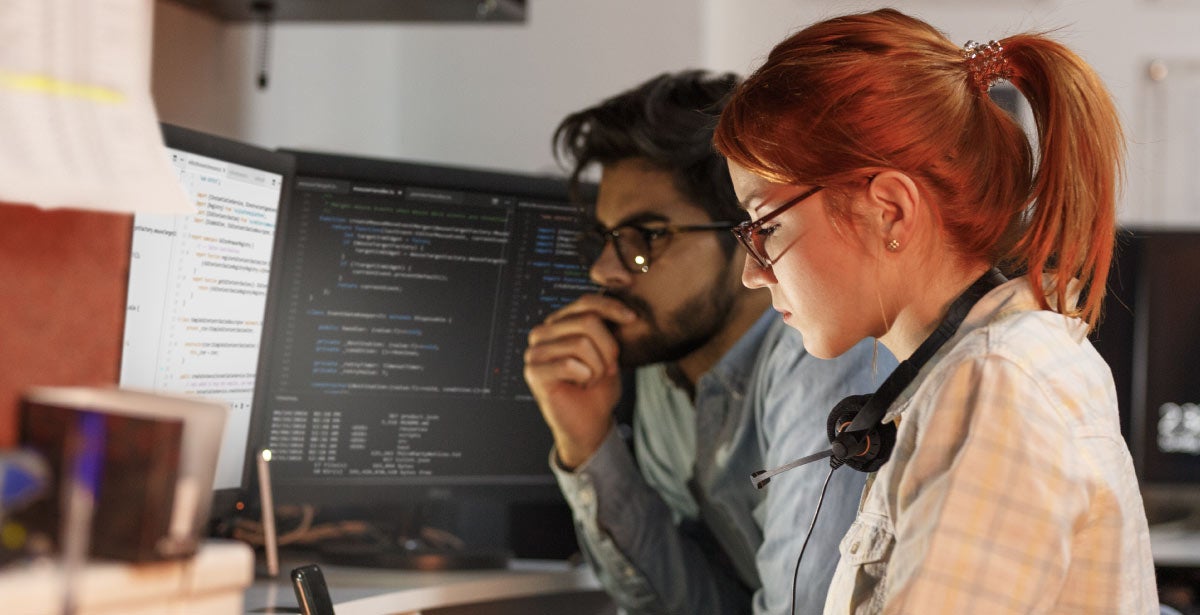 Governments, businesses, and other organizations need reliable cybersecurity practices to engage their users. Global e-commerce sales reached $3.53 trillion in 2020 and an increasing number of public functions occur online. Rogue hackers and state-sanctioned attacks threaten to disrupt our growing reliance on digital services.
The urgency of this moment has led to increased demand for cybersecurity experts. Burning Glass Technologies found a 94 percent growth in cybersecurity jobs from 2013 to 2019. This growth far outpaced the 30 percent growth across IT careers during the same period.
A key problem for any organization building a cyber security infrastructure is finding qualified professionals. The average cyber security job takes nine days longer to fill than the average IT job. The future of this field will be built as much by those who make cyber security career changes as career-long experts.
Before we dive into how to transition to cybersecurity, let's review why this field is experiencing so much growth.
Why Are Cyber Security Careers Growing So Rapidly?
Newcomers to the cyber security field will build digital walls and traps that protect sensitive information. IBM's Cost of Data Breach Report 2020 placed the current state of affairs in stark relief. The computing giant produced the following topline numbers about cyber security threats:
The average cost of a data breach was $3.86 million
Healthcare breaches cost an average of $7.13 million
Victims took an average of 280 days to identify and remedy their breaches.
The volume of cyber security attacks in the United States increased from 157 in 2005 to 1,506 in 2019. National and international firms are not alone in dealing with digital threats. Hiscox concluded that 65 percent of small businesses failed to adequately respond to breaches.
These statistics show that cyber security experts aren't bolstering existing systems but building from the ground up. Software and cloud solutions need to be accompanied by detailed guidance and best practices that address an organization's needs. Professionals making cyber security career changes fill critical gaps in the public and private sector.
Placing Cyber Security Career Growth in Context
The U.S. Bureau of Labor Statistics (BLS) estimates a 31 percent growth in information security jobs from 2019 to 2029. Employers are searching near and far for qualified professionals as attacks become more sophisticated. A cyber security career change takes advantage of a favorable market for motivated professionals.
(ISC)² calculated a worldwide shortage of 3.12 million cyber security professionals compared with job openings. These shortages are most pronounced in the following countries:
United States: 359,236
Brazil: 331,770
Mexico: 195,594
Germany: 61,525
South Korea: 44,102
Career changers not only fill these jobs but reassure their employers and clients that they will be safe from online attacks. (ISC)² found 56 percent of surveyed employers considered talent shortages to be moderate or significant threats to their businesses.
Sheethal Surendran, a technical recruiter with CyberArk, applies a personal angle to the demand for cyber security practitioners:
"All of us have had experience where, in some way or the other, you would have been a part of a breach or your information was stolen. You'll get information or emails regarding that. That means that we need professionals who can keep that information safe, or protect that data."
How Can Cyber Security Professionals Benefit from Continued Growth?
The clearest benefit of making a cyber security career change is your salary. The BLS found an average salary of $99,730 for information security professionals including cyber security specialties. New professionals can level up their salaries by committing to this ever-evolving field.
Early-career professionals and industry leaders alike also express fulfillment with their career choices. (ISC)² found 75 percent of respondents to its 2020 survey were somewhat or very satisfied with working in cyber security. A comparable survey in 2019 found a 66 percent satisfaction rate, showing that this line of work remained attractive despite a global pandemic.
Boosting Career Prospects with an In-Demand Specialization
Federal special agent James Donoghue explained how cyber security specialists fill needs in the public and private sector:
"There are many different specialties that you can go into that all fit within cyber security. While it's nice to be a jack of all trades, so to speak, even just focusing on one or two of those areas can open up a lot of opportunities for you within the federal government."
Donoghue's view from the Department of Homeland Security is shared by major employers around the world. Cyber security programs are being built from the ground up and specialists are needed to address specific challenges.
Burning Glass Technologies studied the quickest-growing cyber security skills over a five-year period. The most in-demand skills reflect the early phases of cyber security development by employers:
Application Development Security: 164 percent growth
Cloud Security: 115 percent growth
Risk Management: 60 percent growth
Cyber security professionals don't just find work faster with specialties. Employers pay salary premiums on top of standard salaries to attract talent. Burning Glass Technologies estimated premiums for the following in-demand talents:
Cloud Security: $15,025
Risk Management: $13,379
Compliance and Controls: $12,423
Professionals considering cyber security career changes can incorporate specialized coursework and certifications into their transition. Cyber security experts are constantly adding to their skill set to stay ahead of new threats. Incoming professionals can merge easily into their new profession with focused expertise.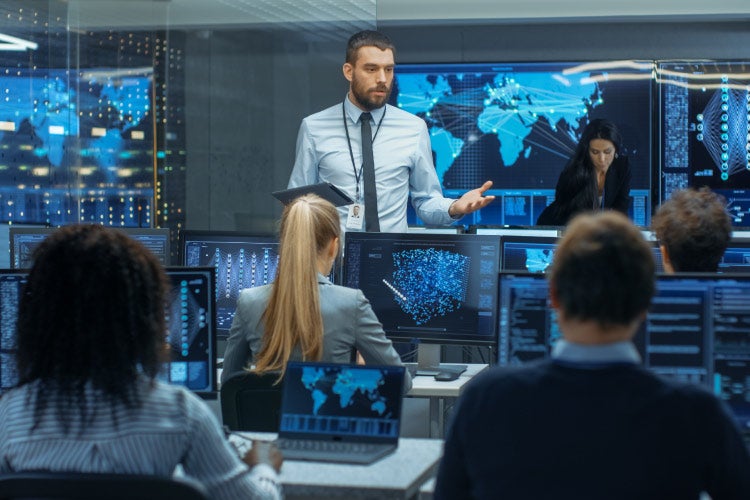 How Do I Change Careers to Cyber Security?
Learning about promising cyber security careers will lead to the inevitable question, "Can I change careers to this field?" Professionals in other fields should feel little trepidation about making the change. The favorable job market, above-market salaries, and growth opportunities are worth the effort.
Careers ranging from law enforcement to software development include skills that transfer to cyber security. Cyber security jobs require technical skills that can be learned and honed in graduate degree programs. A master's degree in cyber security plus the drive to learn new technology help make cyber security career changes possible.
The SANS Technology Institute offered the following explanation why non-cyber security professionals should consider career changes:
"The key is not a technical background, but your willingness and desire to learn how technology works and to never stop playing. In addition, there are a growing number of fields in cyber security that do not focus on solving technical problems, but instead more human-focused problems. These require softer skills, such as privacy, security awareness and training, governance, security communications, or cyber law and ethics."
Completing a Graduate Degree for a Cyber Security Career Change
Melvin Thomas - the director of service delivery at Chiron Technology Services and student in St. Bonaventure's master's in cybersecurity program - asks job applicants and employees two questions about their career prospects:
Where are you going to be in five years?
What do you do to stay current in the industry?
Cyber security professionals can build the skills and mindset to answer both questions with graduate degrees. A cyber security degree opens avenues to promotion all the way to executive offices. Graduate students also learn that the cyber security field grows by the day, placing increased importance on continuing education.
Master's degrees in cyber security are relatively new in the academic world. Non-cyber security professionals are pleased to find many programs offer online options to reach more students. Successful applicants typically meet the following requirements for admission:
An undergraduate degree with transcripts
A minimum GPA of at least 2.5
A current resume
Demonstration of foundational courses in a technical area
Additional coursework, graduate certificates, and professional experiences can boost applicant prospects. Graduate programs attract exceptional candidates from a variety of professional backgrounds. The common thread for cyber security career changers is a desire to be the best in this growing field.
Changing Careers from Information Technology to Cyber Security
IT professionals are the most obvious candidates to change careers to cyber security. The IT field includes careers ranging from in-house support to network engineering. Cyber security is often grouped into the IT field but there are important gaps to fill during career transitions.
Support staff, technicians, and engineers are concerned with how their system's data functions for end users. A company's IT team considers security among dozens of other criteria including efficiency and operational costs. IT staffers think about internal passwords, permission, and data storage when considering system security.
The cyber security realm thinks holistically about system safety from outside threats. Experienced IT professionals learn about risk management and external defenses when changing careers to cyber security. A graduate degree in cyber security also provides collaborative opportunities that expedite career transitions.
Completing the Change from Data Science to Cyber Security
Data science and cyber security are two of the largest career growth areas in the past decade. The steady rise of data created by connected systems produces valuable resources for organizations. In 2020, people across the world created 2.5 quintillion bytes of data that can be used to improve daily life.
Data scientists produce models and analytical systems that turn raw data into predictions of future behavior. Cyber security teams already use data scientists to determine the causes and effects of digital attacks. Infosecurity Magazine explained how these two areas overlap:
"Cyber-attacks may initially appear quite minor, but machine learning can find patterns with minor outliers that could lead to larger threats. There is a constant battle between cyber-criminals and cyber security teams. Data scientists are challenged with staying ahead of threats, balancing predictive and reactive methods."
Cyber security career changes allow data scientists to use their analytical and technical skills to protect critical systems. A data science professional is methodical about their work but capable of adaptation based on their models. These attributes are invaluable for cyber security professionals as they tackle the new frontier of digital threats.
Using Software Development Skills in a Cyber Security Career
Software developers find skill overlaps with their cyber security colleagues. The software development life cycle below shares many characteristics with how security practices are designed:
Requirement gathering
Design
Implementation
Testing
Deployment
Maintenance
The testing phase offers a glimpse into how software developers connect to cyber security jobs. Developers use automated tools and manual checks to determine if the software meets their client's needs. These tests look for errors, vulnerabilities, and underperformance in individual components.
Cyber security practices and systems require similar levels of testing. Software developers changing careers into the cyber security field are already accustomed to months or years spent refining their work. These commonalities make the transition from software to security possible for motivated professionals.
Shifting Careers from Military and Law Enforcement to Cyber Security
Veterans of the military and law enforcement officers are poised to change careers into cyber security. Technological advances in both areas mean that soldiers and police officers use the latest innovations in their work. From drones to advanced forensic techniques, professionals in these fields are comfortable with the evolving nature of technology.
These fields require security clearances and administration of sensitive data. Security Boulevard explains how these experiences translate to cyber security:
"...they often work with highly sensitive information that is stored on networks that are some of the most targeted by hackers anywhere in the world. As such, their military jobs require intelligence gathering, situational awareness and maintaining security protocols—all important skills that translate well to any number of cyber security positions."
Police and military professionals develop non-technical skills that are critical for cyber security career success. Investigative skills and familiarity with criminal behavior are useful when considering the sources of online attacks. Precise forms of communication in past jobs can help career changers quickly identify the next steps following attacks on clients and employers.
Making the Career Change from Public Administration to Cyber Security
Local, state, and federal government workers are at the frontlines of cyber security attacks. BlueVoyant's study of local government hacks found a 50 percent increase in incidents from 2017 to 2020. This trend included an increase in average data ransoms from $30,000 to $500,000.
Ransomware attacks represent a common tactic for perpetrators. In these attacks, government systems are disabled until ransoms are paid. Public administration professionals are motivated to protect systems for essential services to the community rather than wait for the attacks used.
The increasing digitization of government services has led to specialized security training for public administration professionals. Government workers are familiar with complex bureaucratic processes that can leave gaps in digital security. Familiarity with legal requirements for privacy and records management are useful when thinking about cyber security needs.
A career change from public administration to cyber security is not as daunting as it appears. Government agencies are prime targets for digital attacks and employees are experienced in managing the aftermath. Graduate courses in cyber security provide the technical skills to move from damage control to proactive security work.
St. Bonaventure Professor James Donoghue, whose career experiences including serving as special agent for the U.S. Department of Homeland Security, explains the various opportunities for public employees in cyber security:
"You may find yourself in a position where you can work as a contractor for a government agency or maybe you could be the contractor for the government agency providing some of those services. Not every government agency has an internal cyber security department, but every agency needs one. For the agencies that are smaller and don't have as large a budget as the DHS has, they're still contracting those people out, so those opportunities are there."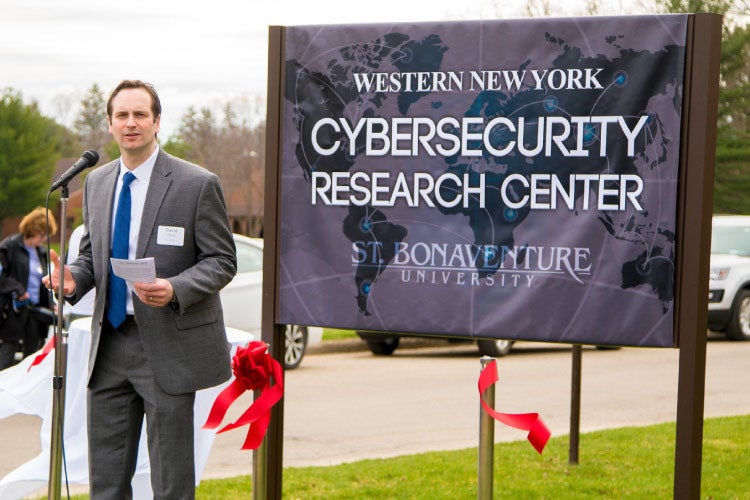 How Does St. Bonaventure Help Cyber Security Career Changes?
A graduate degree can help make these cyber security career changes possible. The growing market of cyber security degrees and certifications mean that applicants need to be selective. Your career change is made easier when you learn the latest skills from a top-flight university.
U.S. News & World Report shows St. Bonaventure University as a national leader in cutting-edge and affordable education. The university excelled in the following rankings from the respected publication, including No. 3 in New York for Best Value Schools.
A Cyber Security Degree Built for the Global Market
St. Bonaventure University built its cybersecurity degree for the problems of the present and the future. Degree candidates learn the following skills from professors with decades of experience in the field:
Data mining
Cyber security forensics
Risk management and system hardening
The Master of Science in Cybersecurity is geared toward candidates who want to change careers. Applicants without coding competencies can begin with the school's Online Graduate Certificate in Cybersecurity before moving on to the master's program. Applicants don't need specific undergraduate degrees or graduate test scores to gain admission.
The curriculum for this program benefits from a university partnership with Cisco Academy and EC-Council. Graduates are in a prime position to earn distinctions like Cisco CCNA and the Certified Ethical Hacker certification. A Master of Science in Cybersecurity plus the latest certifications place you at the top of the list for the industry's leading jobs.
Read more of SBU online's top cyber security blogs below:
1. Women in Cybersecurity: 7 Reasons to Enter the Field
2. Cybersecurity Degree: Everything You Need to Know About Earning an MS in Cybersecurity
3. Cybersecurity: Your Complete Guide
4. How to Become a Cybersecurity Specialist
5. 3 Ways a Master's in Cybersecurity Can Lead to a Lucrative IT Career