How to Become a Cyber Security Specialist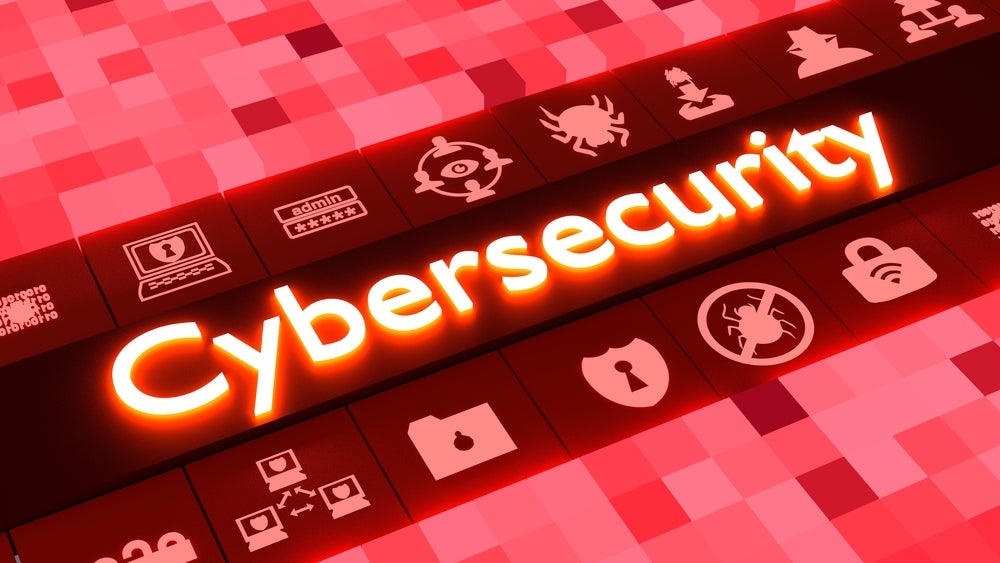 A world where instant communication is possible has endless opportunities for connection. Laptops, smart devices, tablets, video game consoles, and other devices make up a vast network that has become vital to people's lives and work. But as wonderful as this technology can be, it also offers opportunities for new kinds of criminal activity.
Cybercrime is an ongoing and potent threat. Devices that depend on access to an internet connection are vulnerable to attacks that seek to steal data and manipulate servers. 
The way to prevent cybercriminals from exploiting the Internet of Things (IoT) is to hire cyber security specialists. These are professionals who have the tools and knowledge to keep devices (and the people behind them) safe. 
Business organizations, nonprofits, celebrities, and private individuals are beginning to understand that cyber security specialists are the key to keeping their information systems secure and running smoothly.  That's why an estimated $1.7 trillion is spent on cyber security globally each year.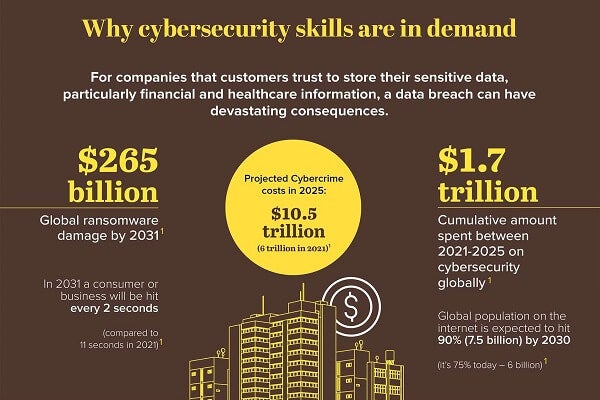 Source: https://cybersecurityventures.com/cybersecurity-almanac-2022/
View the full infographic here.
Demand for cyber security professionals continues to soar. The U.S. Bureau of Labor Statistics estimates that the need for Information Security Analysts, who earn a median income of $102,000 per year, will grow 33 percent before 2030. That breaks down to over 47,000 new jobs in this sector within the next decade. This demand is on top of a preexisting shortage of qualified individuals. It's expected that 3.5 million cyber security jobs will remain unfilled until 2025.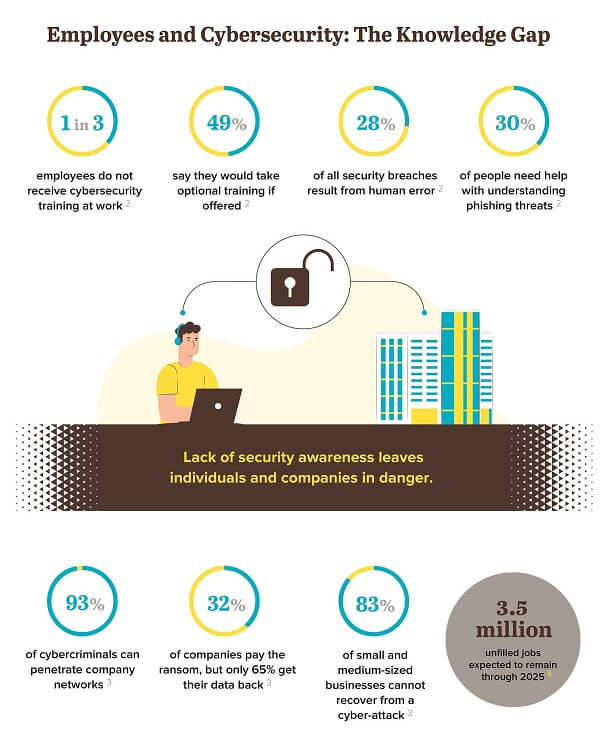 Sources
View the full infographic here.
With this much opportunity, it makes sense that ambitious, intelligent people are curious about how to get started in a cyber security position.
Let's break down the basics of how to become a cyber security specialist, no matter where you currently are in your career. 
How to Get into Cyber Security
Cyber security is a wide field that includes dozens of different job titles. Each one has its own possibilities when it comes to getting qualified. 
Maybe you already have a background in computer science or information technology. If that sounds like you, an online Master's of Science in Cybersecurity might be a logical educational step. Through this two-year program, you will acquire skills that equip you for leadership and specialized roles alike. 
Fields that are open to MS in Cybersecurity graduates include:
Enterprise security 
Risk management 
Offensive and defensive security 
Data mining 
Machine learning
Cloud Security
Ethical hacking 
Cybercrime 
If you would like to enroll in an MS in Cybersecurity at St. Bonaventure University, you don't need to have any cyber security experience. However, you will have to take two cyber security foundations courses to get the basics before you start the Master's program. 
Various certifications are also available to get you prepared for a cyber security position. In a recent cyber security webinar Pouya Ghotbi, Associate Director of MS. Cybersecurity Program, Security, Risk & Compliance Advisor for Public Sector - Amazon Web Services, discusses how a Master's in Cybersecurity serves as a solid foundation. 
"..in my view, the difference between certifications and doing a formal degree is that a formal degree stays with you, and you learn all the basics of security across different areas. And then that's something that you can carry with you in life, and that's your status.
Certifications are great. I deal with certifications all the time, myself as well. But they expire, the technology changes, and then they often become irrelevant. 
So having that foundation, this is what we offer as part of this program, is to give you a good solid foundation in different areas of security. And then, you can take it to the next level by doing different certifications." 
Who should become a cyber security specialist?
People who are independent thinkers and adaptive problem-solvers tend to seek out cyber security roles. If you've ever tried hacking for fun in the past, you might enjoy the challenge of seeing things from the other side and have insight into building digital fortresses that no hacker can scale. There's a huge demand for cybersecurity specialists, and those without experience are looking to upskill with graduate degree programs. 
People who work in information technology or other computer science-based fields are often well-positioned to use cyber security education as leverage to move to the next level of their career. Cybersecurity specialists should be interested in breaking technology news and tools for protection, as well as paying attention to how hacking is evolving.  Current issues in cybersecurity include data privacy, machine learning, AI, cryptocurrency, and increasingly sophisticated cybercrime strategies. 
What kinds of jobs can a cyber security specialist get?
If you are looking toward leadership positions in the cyber security space, you'll need to find a program that will develop your management and communication skills. The right program will  also train you on the technical tools that you need. 
There is no single role that encompasses the entirety of cyber security. You can determine the career path you wish to follow based on your current skills or the skills you want to acquire. There are technical roles, such as security architects, as well as public-facing roles, like cyber security awareness managers. There are also sales, marketing, and training positions. 
Management titles in the cyber security space include:
Chief Information Security Officer
Lead Software Security Engineer
Network Engineer
Network Administrator
Solutions Architect
Application Developer
Security Architect
Security Manager
Senior Security Analyst
Information Security Analyst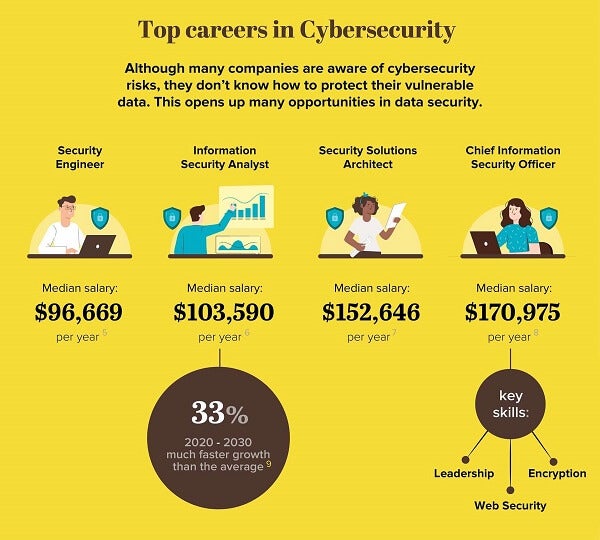 Sources
View the full infographic here.
Salary Expectations
A cyber security specialist's salary will vary according to the role you are hired for, as well as the cost of living where the job is located. A security engineer earns a median average salary of $96,669 per year, while a chief information security officer will earn a median average income of $171,453, according to PayScale.com. (note: this number is slightly different as the amount has gone up as of 2022)
Upskill with a Master's in Cybersecurity from St. Bonaventure University
Study anywhere at any time with our Online Master's of Science in Cybersecurity program, and complete your course load from the comfort of home. 
Graduate in as little as 18 months with courses that will equip you with a fundamental understanding of cyber security and cyber risk management. 
Other benefits of our online Cybersecurity Master's Degree include:
Key partnerships with Amazon Web Services Academy, Cisco Academy and EC Council​
Hands-on Learning — Work with active cyber security professionals and engage in hands-on learning opportunities via cloud-based labs to tackle real cyber security challenges.  
Easy enrollment: No application fee. No GRE or GMAT is required. Six start terms per year. ​
Rated by Security Degree Hub as #11 for Best Cybersecurity Master's Programs.
If this program sounds like a fit, you can contact one of our knowledgeable advisors. Our advisors can help you move forward with our online cybersecurity master's program and answer any questions you might have. 
It's the right time to enter a career in the cyber security field, and we can help you take the next steps to secure your dreams. 
Learn more about SBU's Online Cybersecurity Master's Program
View the full infographic: "What the Cybersecurity Skills Shortage Means for You"