Q&A with Kristy Williams - School Counselor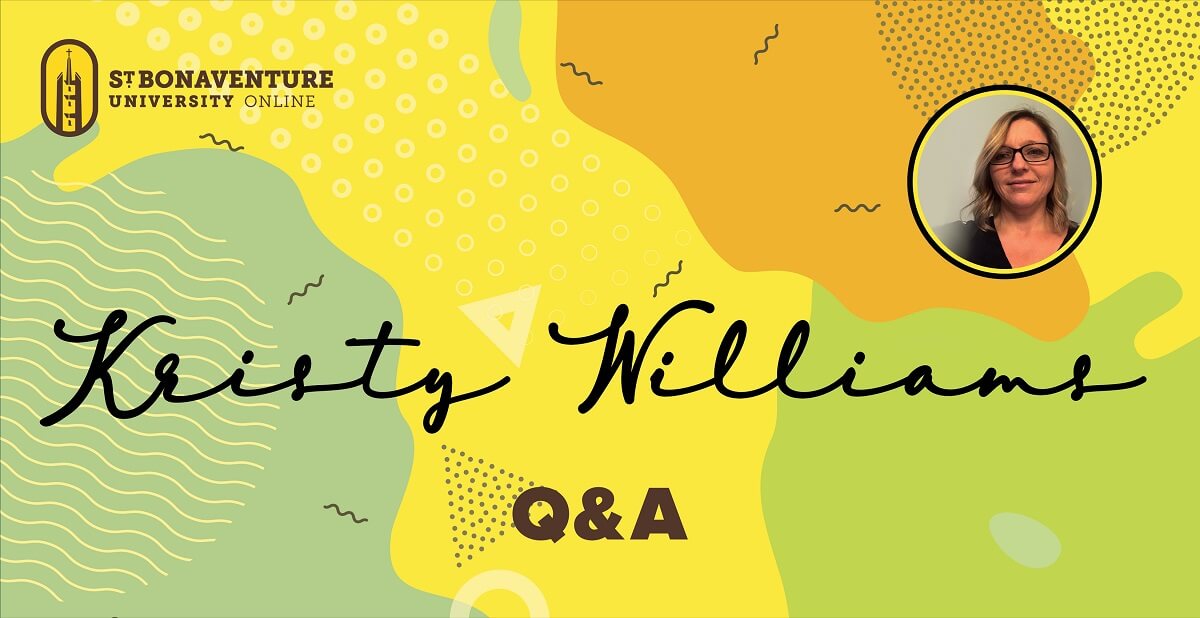 We've taken a few opportunities lately to bring awareness to the mental health crisis that's taking our nation by storm. Over 150 million people live in federally designated mental health professional shortage areas - that's almost half the country.
Fixing a big problem is overwhelming, but we can make inroads if organizations hit it from all angles. One thing St. Bonaventure can influence is shaping the next generation of qualified counselors, and rest assured, we're throwing our best resources at it. You only have to listen to the passion in Program Director Ashley Luedke's voice to see how much we care about bridging this healthcare gap.
If you're looking for a rewarding career change and have a natural desire to help people, we highly encourage you to look into our online Masters in Clinical Mental Health Counseling or Masters in School Counseling programs. Our graduates are now out in the community, helping people overcome personal challenges and giving them goals to strive towards, but they can't do it alone.
Q&A with 2020 graduate Kristy Williams
We often get questions from teachers who want to switch to school counseling, so we thought it might be helpful to interview a recent graduate to understand her motivations and experience so far.
What motivated you to pursue school counseling as a former middle school teacher? 
My first few weeks in the classroom were eye-opening. I had a group of students for an advisory in the middle of the day. We began with icebreaker-style activities and ended up spending the entire time discussing our lives. I quickly realized that almost every student had a family member who had been or was incarcerated. These daily sessions were the highlight of my day. I loved building relationships with students and the times we could celebrate successes and support each other as needed. The following year we did not have a school counselor, and I knew that role was meant for me, so I began looking for an online program to pursue. 
What does a typical day look like for a school counselor? Do you find there's more flexibility to drive your schedule?
At the elementary level, I spend a couple of hours each day in classrooms providing classroom lessons. This is probably the most fixed part of my daily routine. The rest of the day is spent conducting group counseling and individual counseling. I also support the school by providing supervision at breakfast and dismissal. I plan my lessons, contact caregivers, collaborate with teachers, and connect families with community resources throughout the day as needed. It is more flexible than when I was a classroom teacher. At middle and high school levels, you spend less time in classrooms and more time on academic planning with individual students.
What do you enjoy most about your role? Are there challenging parts that you're working to improve?
I enjoy working with the kids most. They bring joy to my day and the satisfaction that you are making a difference. The challenging parts of the job are the days when you feel the burden of being unable to help everyone in every situation. Advocating for systemic change is hard when there seem to be so many obstacles to doing what is best for all students. Finding allies to help with this work has been crucial to keeping perspective and knowing you are not doing the work alone. 
The American School Counselor Association (ASCA) recommends a ratio of 250 students to 1 school counselor, yet the national average is 424:1. Do you feel under-resourced at your school? Is demand higher these days for counseling services?
There is a higher demand for counseling services in the school setting. Sometimes this can be discouraging because I do not always feel every student is receiving the support they need. I think it is important to lean on the available resources in your area. Creating relationships with social workers, mental health counselors, and community agencies in the area can help support your students and yourself. 
Was there anything in particular that stood out to you when comparing St. Bonaventure with other universities? 
One of the non-negotiables I had when looking for a program was CACREP accreditation, which was an easy check-off at SBU. I also looked at other online programs that could be completed almost 100% online. SBU was among the more affordable options I found that met my criteria. I also connected with the faculty member who completed my interview. I felt like I would have a supportive community and not be learning all by myself. 
How was your experience with the placement services and setting up your internship and practicum in your local area?
I had an easy time setting up my internship and practicum experiences. 
How did you manage shadowing hours, classes, assignments, and personal responsibilities while working towards your counseling graduate degree?
I advocated for time to do my shadowing hours as a professional development time that would benefit my employer. I planned time to work on assignments after my kids were in bed or on the weekends. I knew my workload wouldn't always be this way and reminded myself of the end goal. 
What was the biggest highlight of your experience with the online Masters in School Counseling program at St. Bonaventure? 
I loved meeting people from all over the country and growing professionally together. We developed a community where we could learn from each other and encourage each other as our skills grew. 
Do you have advice for those considering an online Masters in Counseling?
Remain open to the experiences you will encounter during the program. Sometimes the material and discussions can be intense, but they will benefit your future practice. Going into this experience, I didn't want to work at the elementary level, and I found out during my practicum that I loved it and ended up with a full-time job in that setting. I also never planned on pursuing my Professional Counselor License (PLC), but I am also now on that path. I am grateful to Dr. Luedke for constantly telling us not to sell ourselves short as school counselors. It has reminded me to be confident in my training and helped me pursue professional opportunities I would not have had before this program. 
For more information on the mental health crisis, visit the Mental Health America website. For a list of resources for immediate mental health support, click here.